Everything you need to know as a high school track and field athlete to be recruitment ready.
The recruitment process can feel overwhelming and complicated. Lucky for you, at Streamline Athletes, we make the recruitment process quick, simple and easy. You might have lots of questions on how to get started, what the recruitment process entails , how to contact coaches, recruitment standards and MORE! Don't worry, we've got you covered - scroll through our frequently asked questions list below ↓
1. Who do we help?
Streamline Athletes is for cross country and track and field athletes looking to compete at the collegiate level. Whether you are a sprinter, distance runner, jumper, thrower, multi-eventer or race-walker, we are here to help you. More specifically we help high school student-athletes grades 9-12 (freshman-seniors), CEGEP student-athletes, transferring collegiate student-athletes and international student-athletes.

Coaches can also get in on the action. We use data-driven, custom solutions to help recruiting coaches better their recruitment process and increase their ability to recruit the right athletes. No spam. Just a genuine connection to the athletes you're looking for. And our site is full of athletes waiting to get recruited!
---
2. What is Streamline Athletes?
Streamline Athletes is an online platform that helps track & field/cross country  athletes find the right university/college for them - academically and athletically. Student-athletes can create their own athlete profile, input their academic and athletic  information, research schools  and easily connect with recruiting coaches. Since we are the only sports recruiting platform that focuses specifically on track field/cross country, we are well-equipped to give you all the right information you need to make your recruitment journey easier!
Our staff is composed of athletes who have competed in a sport at various levels throughout university and/or post-collegiate. We care about the success of athletes and the growth of sport, as we have had first hand experience in collegiate athletics and with the recruiting process ourselves.
Our team is here to help you feel more confident about your recruitment journey by providing you support with creating an account, connecting with coaches, recruitment tips, and educating you on all you need to know about collegiate recruitment.
---
3. How does our platform work? Do I need to pay?
Streamline Athletes works in three easy steps:
Create your profile
Browse/filter through university/college programs (based on what is important to you)
Connect with coaches.
To create a profile, simply input your academic information, athletic performance(s),  your basic personal information, along with any achievements or accomplishments you wish to highlight.
Next, you have the ability to browse and filter through hundreds of universities/colleges, across multiple athletic associations, and narrow down your top picks! While being recruited onto an athletics team is the main goal, it is important to think about other components that will contribute to your overall university experience! Some components to consider when searching for a school are location, academic programs and student body population. (All of the information is available on our platform).
Lastly, build your own list of schools and start connecting with coaches. Once you find a school you're interested in, you can add it to your "Opportunities" and then use the "Contact Coach" button to start your conversations with coaches! Keep in mind, you must have a completed Streamline Athletes profile to start contacting coaches. Coaches will be able to contact you, too!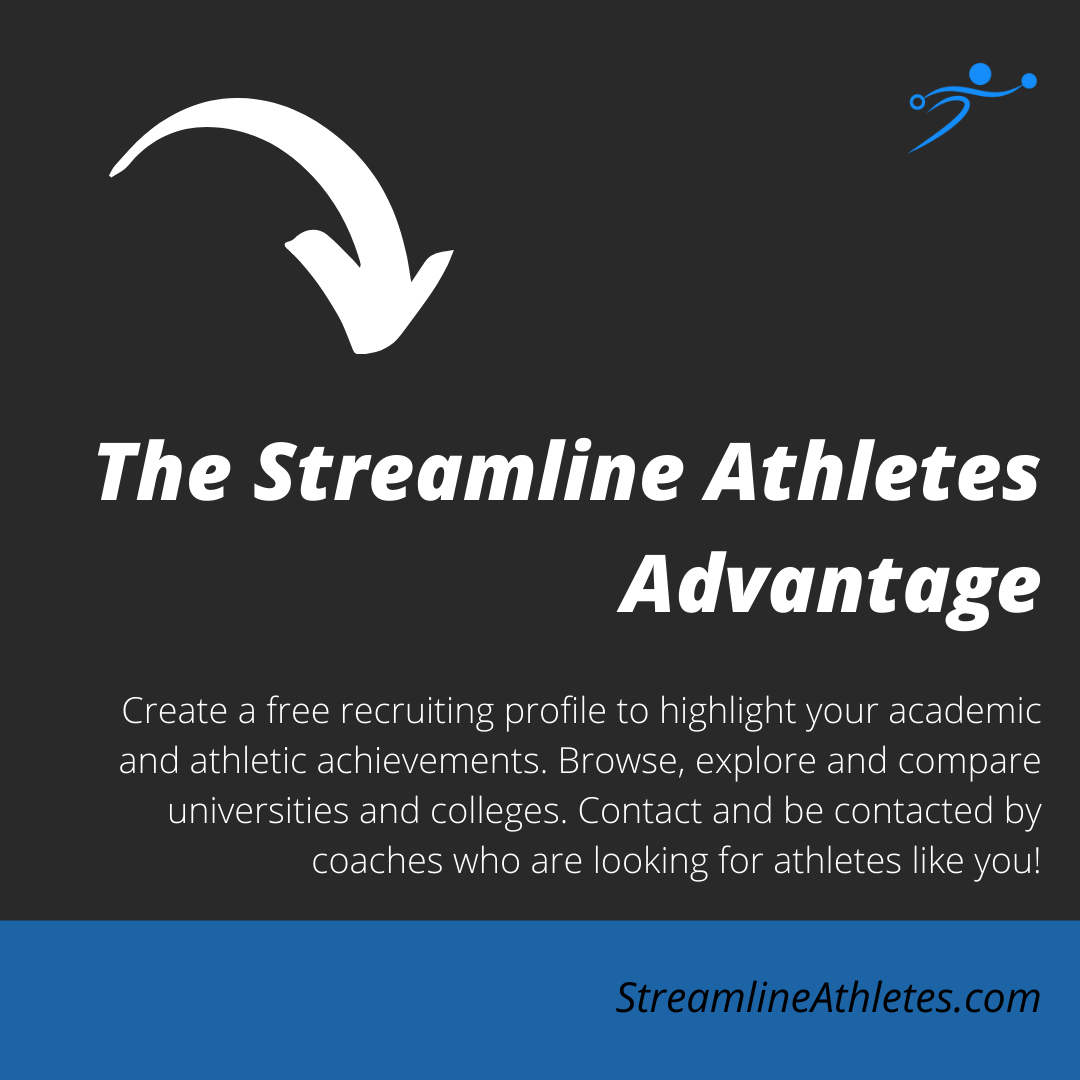 Do I need to pay?
What sets us apart from other platforms is that we have a free option for all athletes. Streamline Athletes offers three membership tiers, so you can get the most out of your athlete account - at an accessible price. Essentials has and will always be free. This free membership option offers athlete users the ability to to create their profile, research programs, and be contacted by collegiate coaches. Outbound contact is capped at one athlete-initiated message to a coach.
For full platform access, including match labels on schools where you meet recruiting standards, advanced filters to identify the best potential schools, a downloadable athlete profile, coach response rates, priority customer support, and unlimited outbound contact to collegiate coaches, among other tools and features, Plus is available for USD 14.99/month.
Get started with Streamline Athletes Essentials or Plus →
For parents/guardians and student-athletes seeking hands-on support for an unrivaled comprehensive recruitment experience, Streamline Athletes Pro offers 1:1 advising every step of the way. Paired with a Canadian Olympic track and field athlete as their personal Recruiting Expert, families can be certain every post-secondary option available will be explored. In addition to full platform access (Plus), Pro members have access to:
Personal advising sessions (two per month with their Olympian Recruiting Expert)
A custom recruiting plan
Direct email support from their Recruiting Expert
Included SAT & ACT tutoring

Questions about standards and how you stack up? Key dates on the recruiting calendar? Scholarships? Eligibility? Academic options? Whatever your recruitment journey entails, the Pro plan leaves no stone unturned and is a completely personalized approach that prioritizes only the student-athlete and family's best interests.

Learn more about Streamline Athletes Pro and book a no-strings-attached info call →
---
4. What athletic standards do I need to get into my dream school?
Standards vary from association to association, conference to conference and team to team. There is a place for everyone, it just comes down to which program is the right fit for you. The best thing you can do is create a Streamline Athletes account and start getting in contact with the coaches/schools you are interested in to see what they expect from you.
We have also created our own recruiting standards based on data from different NCAA programs and analyzing meet results.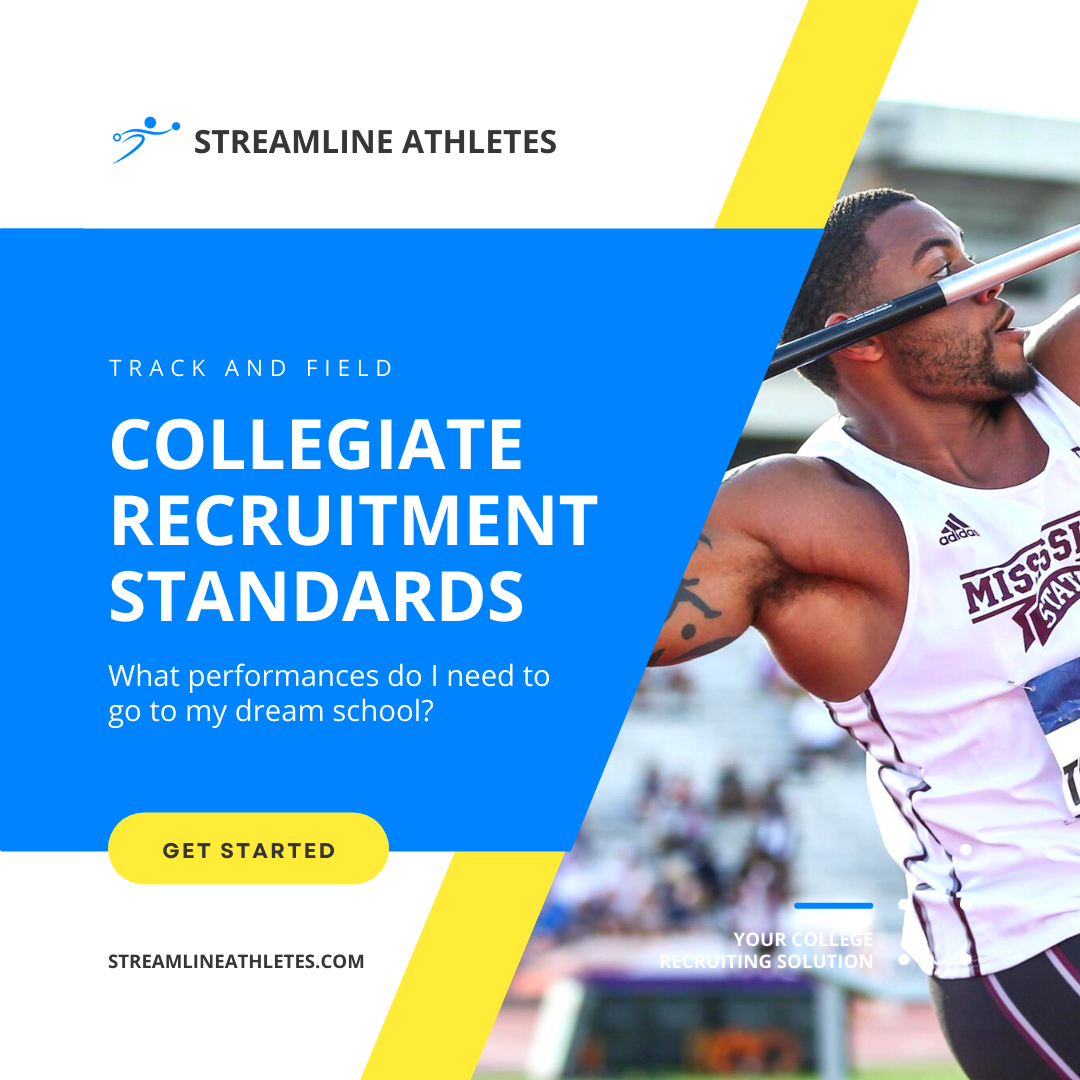 Streamline Athletes Track and Field Recruitment Standards
Keep in mind there is a wide range of factors that coaches take into consideration when recruiting as well; not only do they look at performances and athletes who can score at conference and national championships, but they look for athletes with potential, athletes with drive and passion, athletes who they can develop.
---
5. How do I get a scholarship?
Understanding how to navigate different athletic scholarships available to you can make your decision on where to go to university/college a lot easier! Essentially it comes down to both  academics and athletic performances.
There is a lot of money to go around, get in contact with coaches and do your research! For the full rundown on scholarships in Canada vs. the United States, the different types of scholarships offered, eligibility, and more, can be found in our Scholarships blog post.
---
6. How do I contact coaches and How do coaches contact me?

Contacting Coaches:
This is probably one of the most asked questions when it comes to recruitment! It is really important to make sure that you set up your Streamline Athletes account correctly. You will be considered a 100% recruitable athlete once you have inputted your personal information, academic information, and athletic performances into your Streamline Athletes account. You will be able to start contacting coaches through the "Contact Coach" button in your "Opportunities" section once your profile is complete. Additionally, based on the membership you selected (either Essentials , Plus or Pro), you will be able to contact two coaches or an unlimited amount of coaches.

Taking advantage of this feature is really important to show that you are taking initiative in your own recruitment! Dedication matters - stand out and reach out to coaches by actively following up and taking charge in your own recruitment efforts.
Tip: When you use the "Contact Coach" button on Streamline Athletes, we send the initial email for you. Our team knows exactly what information to deliver to coaches and we'll put you in touch as soon as the coach responds. Save time on crafting your emails by contacting coaches directly from your Opportunities list on Streamline Athletes.
Not sure what to include in your emails to coaches?
We've got you covered! For more tips and tricks on how to incorporate your academics, athletic performances, and taking that extra step to highlight special accomplishments, get your pen and paper ready and read along here: How to contact a college coach for T&F recruitment.
Let's move onto the most nerve racking and exciting part of it all, getting contacted by coaches!
How do coaches contact me?
You're probably wondering — I've made a Streamline Athletes account, when will coaches contact me? How are they using Streamline Athletes to actively recruit?
Here are some answers to your questions…
Once you have completed your profile, coaches will be able to see your athletic and academic results and will request to contact you if they think you could be a good fit for their team. You will receive an email with details about the school, and if you are interested, all you need to do is click one button and Streamline Athletes will connect you with the coach! Coaches may take some time to respond - so be patient!
Coaches  are often actively recruiting on our platform! Keep an eye out on your notifications and your email, as a coach may have sent an outreach email to you gauging your interest in attending their school. You can reply to these emails right from the platform.
---
7. I've set up my account. Now what?
After you have signed up with Streamline Athletes and completed the 'About Me', 'Athletic Information', and 'Academic Information' sections of your profile - and we've verified one of your performances - you'll be 100% recruitable and able to contact coaches!
Explore different programs on our site and contact coaches; this is your time to shine and take recruitment into your own hands!
For all the fun step by steps: How to Use Streamline Athletes for Collegiate Track and Field Recruitment.
---
8. How do I find the right college for me?
There are many components to consider while picking the right university/college for yourself! You can check out our article on all the things you should consider when deciding on the right school for you, but here are a few things to keep in mind:
School size. Some universities can range from student bodies with as little as a few thousand students to as many as 60,000 students.
Academics. Take the time to find what you want to study in the classroom.
Extracurricular Activities. There may be other interests outside of athletics that you want to pursue.
Facilities. Some schools tend to offer more on-campus services than others, such as dining options, sports fields, gardens, shops, museums, etc.
Community. Universities with smaller campuses may give you a more immersive school experience, since the classes tend to be smaller, while larger universities may have more undergrad societies and clubs.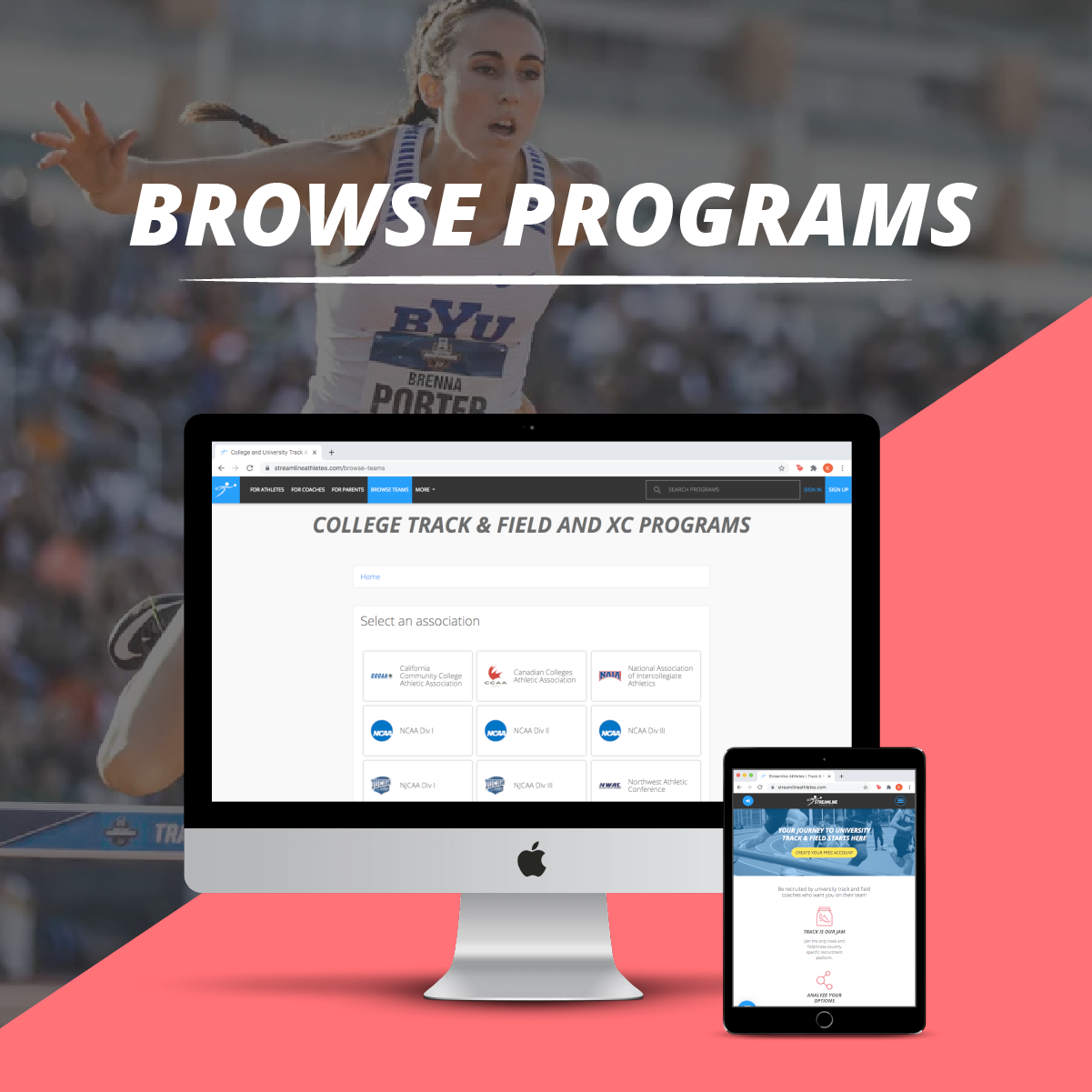 Be sure to do your research. Information about any school you could imagine is on our site!
---
9. What are some success stories?
The best part of our jobs is seeing athletes that succeed and thrive, making connections through Streamline Athletes. Our passion for the sport of track and field drives us everyday to help student-athletes find their right fit for university and college.
Here are some highlights:
Success stories and testimonials
8 of our athlete ambassadors competed at the Tokyo Olympic Games!
---
10. When should I start the recruitment process? How does it work?
It's important to know and understand that each athletic association and division starts recruitment at different times. It can start anywhere from Grade 10/Sophomore year of high school and go up to the last months of Grade 12/Senior year — the process is unique for everyone. More details on the breakdown between American and Canadian associations can be found here: Collegiate track & field landscape
We know the hundred of different deadlines and timelines can be confusing, we've broken it all down for you here: Key Dates for College T&F Recruitment
Still have questions? We are here to help! Contact us if you have any other questions @StreamlineAthletes on all social media.

Processing your application
There was an error sending the email, please try again
Great!
Check your inbox and click the link to confirm your subscription
Back to Homepage