How to contact a college coach for t&f recruitment
Simply sending an introductory email to a collegiate coach of an athletic program you are interested in can be your first step towards your journey to university. This email will give a coach the opportunity to conduct their initial impression of you as a possible recruit. But keep in mind, coaches are receiving hundreds (even thousands) of emails from athletes all over, so just sending an email is not enough. You need to grab the coach's attention, they want to get the best sense of you. Signing an athlete to a program is a big investment and coaches are just trying to make an informed decision after all. So it is understandable that you want to make a good impression on these coaches and to do so it is important to share the right information with them!
But how do you get your times, distances or heights to the eyes of university and college coaches? How do you make yourself stand out amongst hundreds of other possible recruits? How do you get in contact with a coach?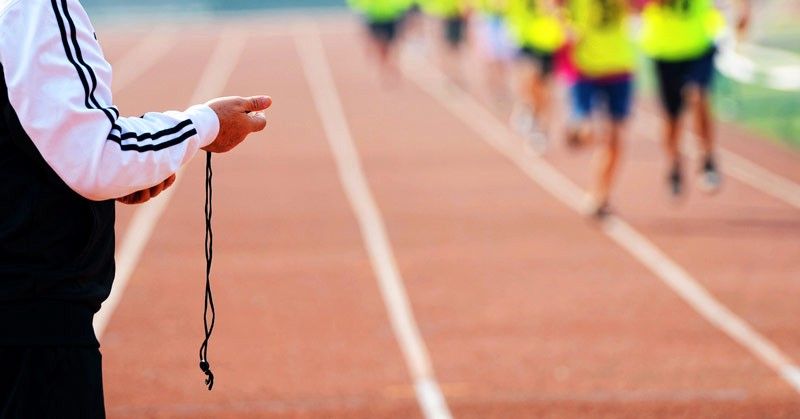 How do I contact a coach
Let's start off with the essentials.
You are starting to think about university, so by now you have probably seen a great selection of photos and descriptions of college programs across the continent — and I know, they all look pretty good.
You can imagine yourself stepping foot onto the track or field of any of these institutions, but there is more to it than that! You need to be realistic with your choices — what coach, what province or state, what size school, what academic program will be the best fit for you?
Narrow down your options and create a practical list of schools you would like to attend. Athletes should take the time to weigh their options with their parents/guardians; it is beneficial to have conversations with one another to talk about the pros and cons of the schools that are being considered. Be sure to take into consideration factors like finances, location, academics and programs, to name a few.
Once you've done your research and have your list of schools, it's time to start your conversations with coaches! Sending out that first email or making that first call is always the toughest, but don't be nervous, this is the beginning of an exciting future.
The goal of the initial email is to simply create a connection and leave a lasting impression with a coach. You want the email to be to the point and individualized, to show the coach you have taken the time to consider them and their program for your collegiate and athletic future.
Tip: When you use the "Contact Coach" button on Streamline Athletes, we send the initial email for you. Our team knows exactly what information to deliver to coaches and we'll put you in touch as soon as the coach responds. Save time on crafting your emails by contacting coaches directly from your Opportunities list on Streamline Athletes.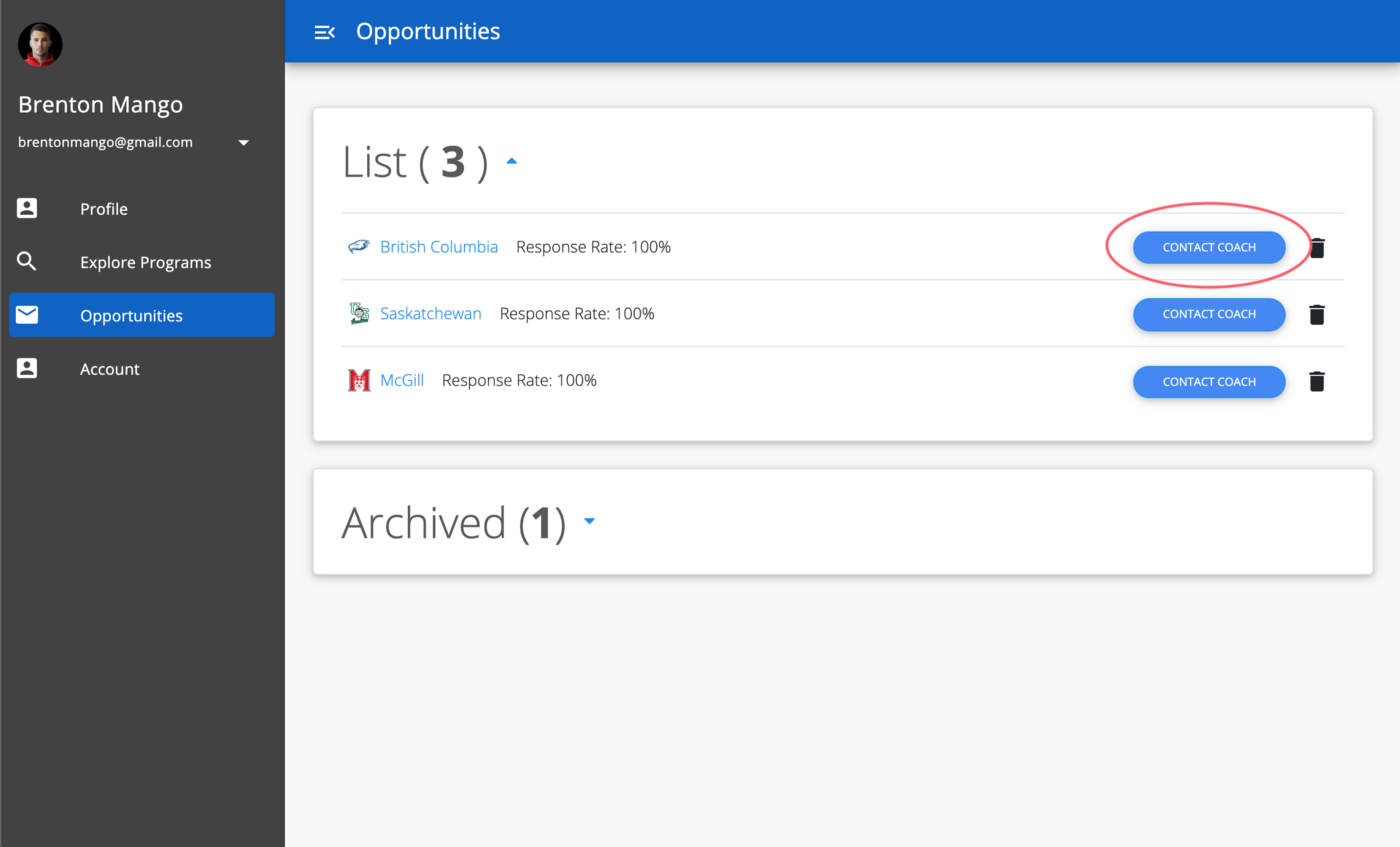 Note: Responding to coach emails is a job for the athlete. Parents/guardians, I know what you are thinking, you want to be fully involved in this process, but leave this task to your children — coaches want to hear directly from the athlete.
Some coaches may prefer to have a phone or video call after initial email engagements, so don't hesitate to reach out to a coach to suggest finding a time for a phone call. Be brave — be the exception.
When it comes to phone and email, it's crucial to know that coaches can not contact you by phone or email until your junior year (grade 11) of high school. However, that does not mean you can not contact a coach yourself. Athletes, if you have identified a program you are interested in, you can begin to contact coaches when you feel ready. Just be aware that it's unlikely you'll be offered scholarships or signed to a program right off the bat. Think of initial emails or calls as an opportunity to introduce yourself: the first steps in what could be a long recruiting process.
Next, let's take a look at what information you should include in these emails and calls.
Basic information
A coach needs to know your basic information: name, email, phone number, date of birth, citizenship, the grade you are currently in (year of post-secondary if you are a transfer student), high school graduation year, address, and whether or not you've been a previous collegiate competitor. The reason being, a coach wants to get to know you and in order to do so, they need to be able to connect with you! They want to be able to have honest conversations with serious recruits, all with the hopes of seeing if you would be a great addition to their team and program.
Athletic performances
Further, a coach is interested in your athletic performances — they are recruiting you onto an athletics team after all! When it comes to reporting your athletics performances, something to keep in mind is that specifics are important. What event(s) do you compete in? What are your personal bests in these mentioned events? You must be able to provide the dates of competitions in which you recorded your personal bests, as well as links to the results. It is crucial that the performances you send to a coach are verifiable because they need to be true. A coach wants to know how you will be able to contribute to their program, as well as where they will be able to help you improve and develop you as an athlete.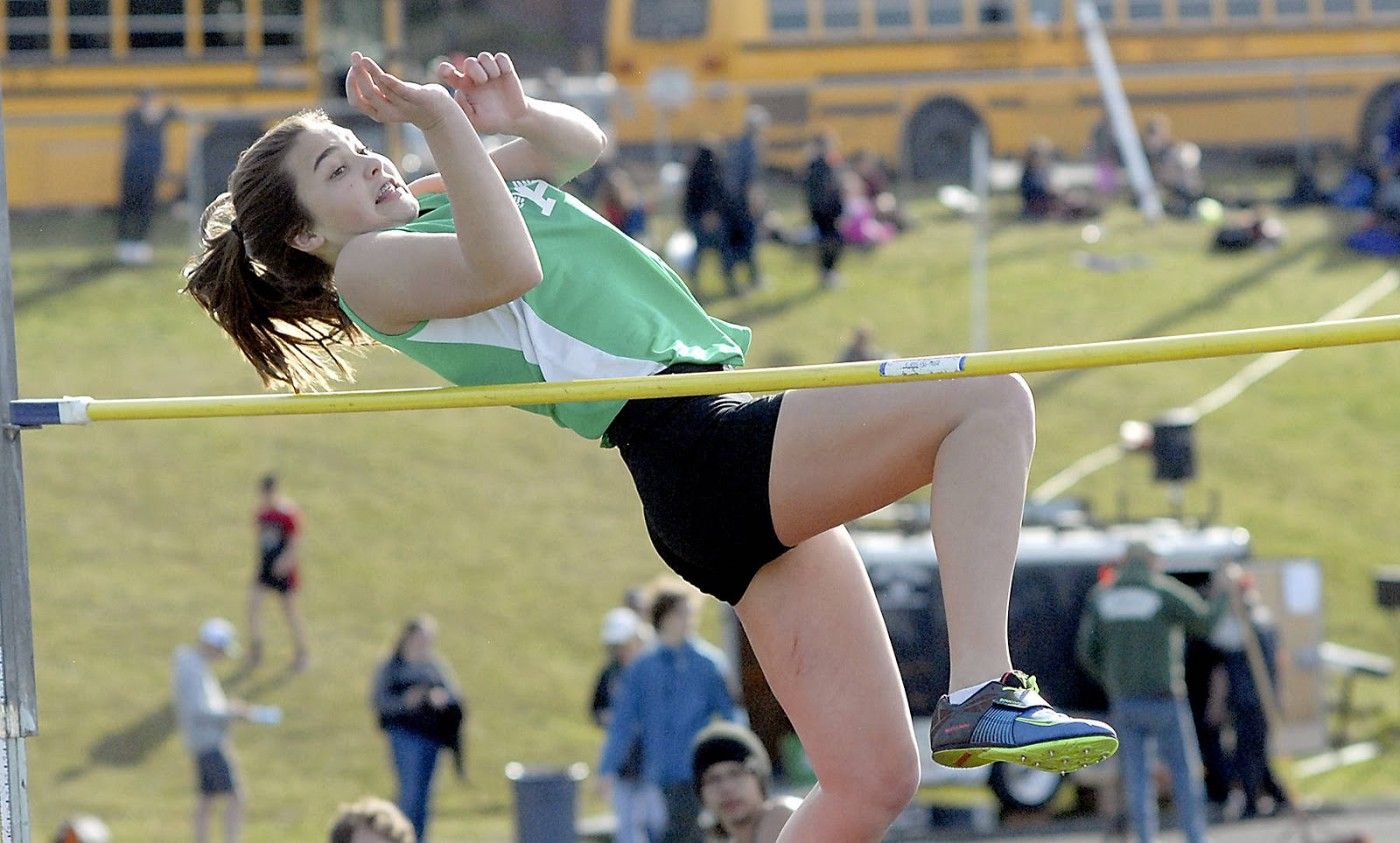 Academics
Coaches will also ask you about your grades, your academic average, what grade you are currently enrolled in at school, etc. You are a student first and an athlete second. Academics are a priority for most universities and coaches don't want to recruit an athlete who will struggle to stay eligible once competition season comes by. If you don't know your GPA or only provide a rough estimate of what you think your academic average is, it's a give away that academics probably aren't your priority. It is important to be upfront about your grades because you will be asked for an official transcript at some point during the admissions process. Coaches appreciate the truth and if you are on route to making improvements academically, just make that clear when talking to a coach.
Adding that little extra
While providing your basic contact information, performance results and academic grades to coaches is fundamental, you also have the opportunity to set yourself apart from other recruits. You can provide information about career highlights and accomplishments, what drives you both athletically and academically, or even long term goals in the sport. A coach wants to know what sets you apart from other athletes.
While the answer to these questions will vary for everybody, a thoughtful answer can take you a long way towards distinguishing yourself amongst others. This is your chance to convince your possible future coach as to why you are an outstanding athlete, a great student and a quality candidate for their team!
I know what you are thinking, that is a lot of information to give to multiple people, especially when you may not have certain contact information for specific coaches. Lucky for you Streamline Athletes fosters a platform that can do the job quickly and efficiently!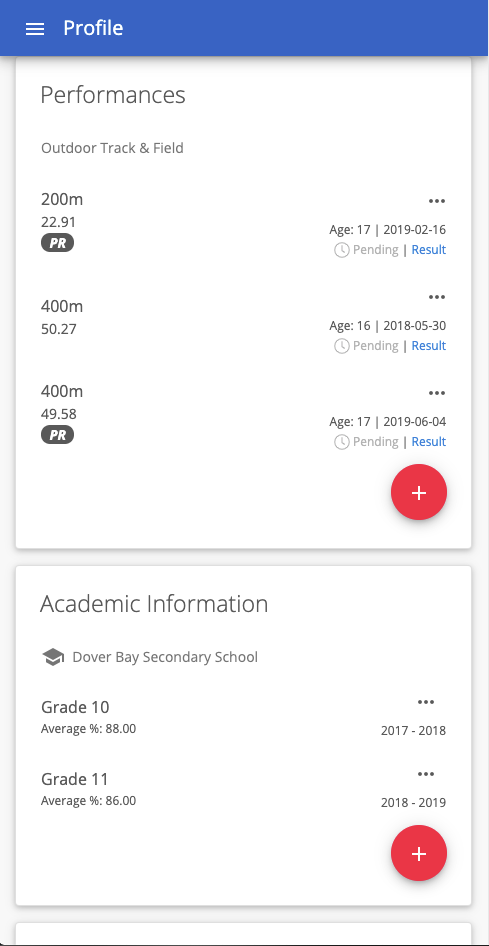 The easiest way to deliver all of this information to the coach of your choice and program of interest is to create an account with Streamline Athletes, complete your profile, and hit the "Contact Coach" button!
Wondering how coaches will contact you?
Tips and tricks are posted on our FAQ Blog!

Processing your application
There was an error sending the email, please try again
Great!
Check your inbox and click the link to confirm your subscription
Back to Homepage