Key dates on the road to collegiate track and field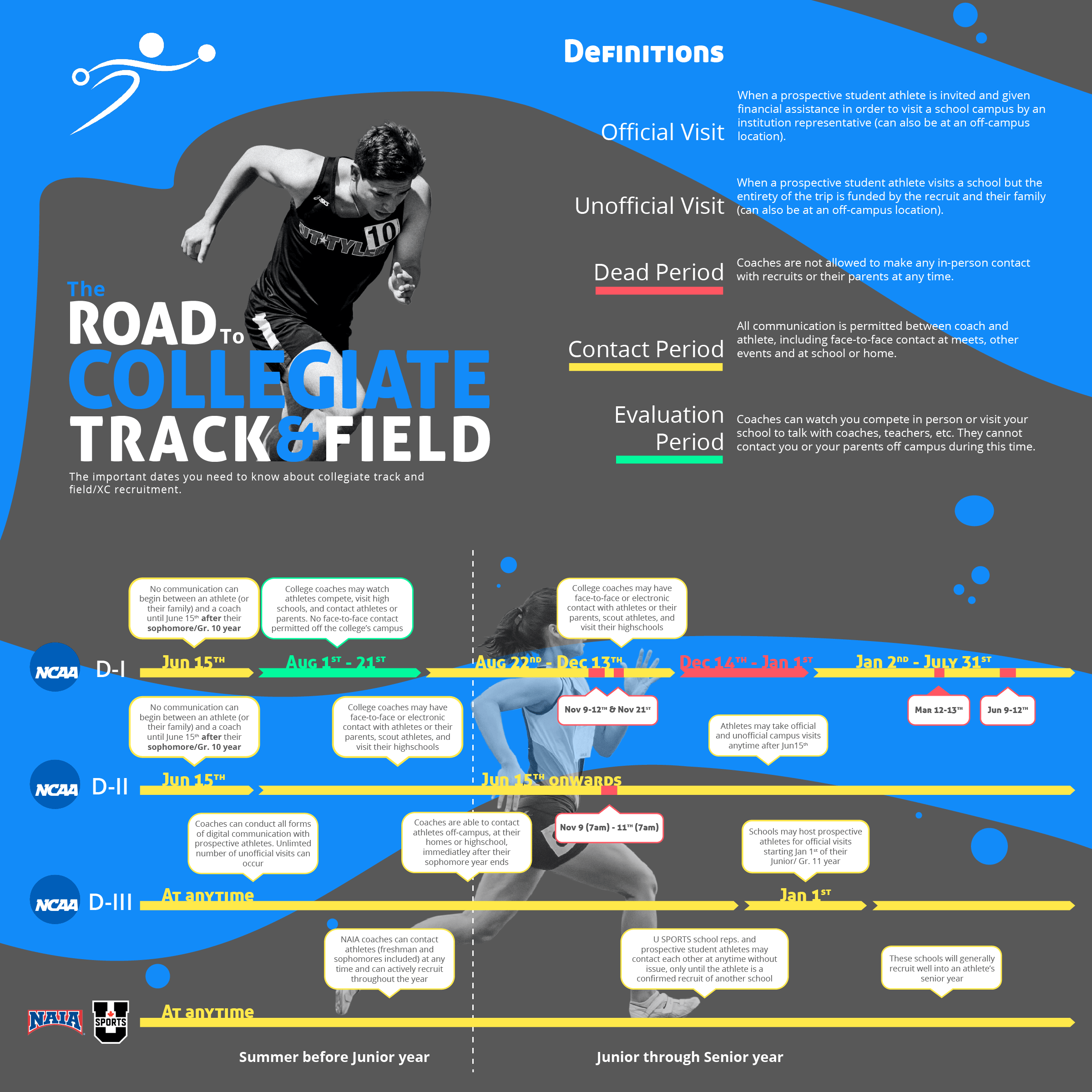 Collegiate track and field/xc recruitment can be a stressful time for a student-athlete. At Streamline Athletes we aim to make that process easier and less stressful, so we've put together a handy graphic (above) to outline some key dates for your journey. Read along for a summary of the graphic.
The collegiate recruiting landscape in North America includes a variety of associations who have different restrictions and rules on their recruitment. Some have a very strict timeline that coaches and athletes need to follow, while some are very open ended and have relaxed rules. We're here to break it down for you!
NCAA Division I
The NCAA Division I has by far the most strict recruitment rules for all of their collegiate sports, including track and field/xc. There is no need to be intimidated by the rules of NCAA D-I recruitment but it is always good to be aware of deadlines and dates.
June 15th
June 15th after an athlete's Sophomore/Grade 10 year is the opening period for the formal aspects of the recruitment process. Before June 15th of an athlete's Sophomore/Grade 10 year there can be no communication between an athlete or their family, and a college coach. This includes all digital communication like phone calls, texts, email, direct messages, etc.
August 1st - 22nd
This period is considered an "evaluation period" where coaches may watch athletes compete, visit athlete's high schools, and contact athletes and parents. During this time, there is no face-to-face contact permitted between coach, athletes (or their parents) off of the respective college's campus.
During this evaluation period starting August 1st, athletes may begin official and unofficial visits to the schools they are interested in. There is a limit of 5 visits per student-athlete during this time, and there can only be one visit per school.
August 22nd onward
The period from August 22nd onward of a student-athlete's Junior/Grade 11 year through their Senior/Grade 12 year is considered a "contact period" where there is full communication permitted between coaches, athletes, and their parents. This includes all face-to-face and electronic communication.
During this period there are a few dates called "dead periods" which are short periods of time where there can be no in-person contact between the coach, athlete, or their parents. These dead period dates are:
November 9th - 12th (dates around National Signing day - Nov 11th)
November 21st
December 14th - January 1st
March 12th - 13th
June 9th - 12th
NCAA Division 2
The rules for NCAA D-II are much less strict than those for D-I, but they do have their similarities.
June 15th
Much like D-I there can be no communication between a coach and an athlete (or their family) until after June 15th of the athlete's Sophomore/Grade 10 year.
Unlike D-I, in D-II all types of communication between coach, athlete (or their parents) are permitted at this time. There is no evaluation period in D-II that restricts coach contact. As of June 15th the coach may scout the athlete in-person, visit their high school, contact them or their parents electronically and in-person. Athletes may also take official and unofficial campus visits anytime after June 15th.
There is only one dead period to be aware of in D-II which is from November 9th (7am) to November 11th (7am), which is the period leading up to National Signing day.
NCAA Division 3
The NCAA D-III has the most relaxed recruitment rules out of all the NCAA divisions. While there are very few restrictions set on coach and athlete contact during recruitment, most coaches will begin the formal recruitment process near the end of an athlete's Junior/Grade 11 year and continue for the duration of their final year of high school. It is common to see some coaches recruit athletes well into the spring of their Senior/Grade 12 year.
Off-campus contact
Coaches may contact student-athletes off-campus at their high schools or homes immediately following the end of their sophomore/grade 10 year.
January 1st
Beginning January 1st of an athlete's Junior/Grade 11 year, D-III schools can host prospective athletes for official visits. While official visits are restricted until after this date, a student-athlete may take an unlimited number of unofficial visits at any time throughout the year.
NAIA
NAIA coaches may contact student-athletes (which include Freshman/Grade 9 and Sophomores/Grade 10) at any time, and can actively recruit throughout the year. Many coaches will generally recruit well into an athlete's Senior/Grade 12 year.
U SPORTS
Representatives of an institution and prospective student-athletes may contact each other at any time without consequence only until the athlete is a confirmed recruit at another institution. Just like the NAIA, U SPORTS coaches will generally recruit well into a student-athlete's final year of high school.
Things to Remember
Regardless of the association the school you want to go to falls under, there are some important things to remember along the way.
There are no restrictions on athletes requesting or receiving admissions materials and brochures, researching universities, and touring campuses in their own time.
Athletic recruitment is different to university admissions. There are separate requirements for getting into a school and signing to an athletic program.
COVID-19 has affected recruitment significantly and some championships are being cancelled - this is constantly changing so keep yourself up-to-date on what has changed with the schools you are targeting.
Taking initiative and doing your own research has an immensely positive impact on your likelihood of being recruited. Not every coach can contact every athlete, be in charge of your own recruitment process. Streamline Athletes can help you with that.
As always we are here to help you with your collegiate track and field recruitment, and our goal is to make it as stress-free and simple a process as possible.
Got questions on the recruitment process, how the Streamline Athletes platform works and more? Check out our FAQ Blog for more information!
Make sure to go to StreamlineAthletes.com and create your FREE athlete profile and get recruited the Streamline way!
Processing your application
There was an error sending the email, please try again
Great!
Check your inbox and click the link to confirm your subscription
Back to Homepage