How to use Streamline Athletes for collegiate track & field recruitment
Are you a high school track and field athlete? A collegiate athlete interested in exploring new schools to continue your academics and athletics?
Navigating the sea of college and university options available to you as a runner, jumper, or thrower can be overwhelming. It's easy to miss opportunities or make decisions without the right information.
Whether you're in grade 10 and want to better understand the collegiate track and field landscape, a high school senior looking for your best track scholarship opportunity, or a transfer with specific search criteria for your next school, Streamline Athletes was designed with you in mind. As former varsity track/XC athletes, our team built Streamline Athletes to make life easier for university-bound athletes who compete in our specific sport.
This article covers how to use Streamline Athletes to get to the right university for you to pursue both your academics and your track and field and/or cross-country career. It'll show you how to:
complete your profile;
explore university track and field/cross-country programs;
add opportunities to your list;
start conversations with coaches from your list.
StreamlineAthletes is a rapidly growing company, so we'll be introducing international associations soon! Right now, you can browse and filter through every collegiate track & field/XC association in the USA and Canada.
Let's get started.
1. Signing up for Streamline Athletes
If you're already on StreamlineAthletes.com, click the blue "sign up" button.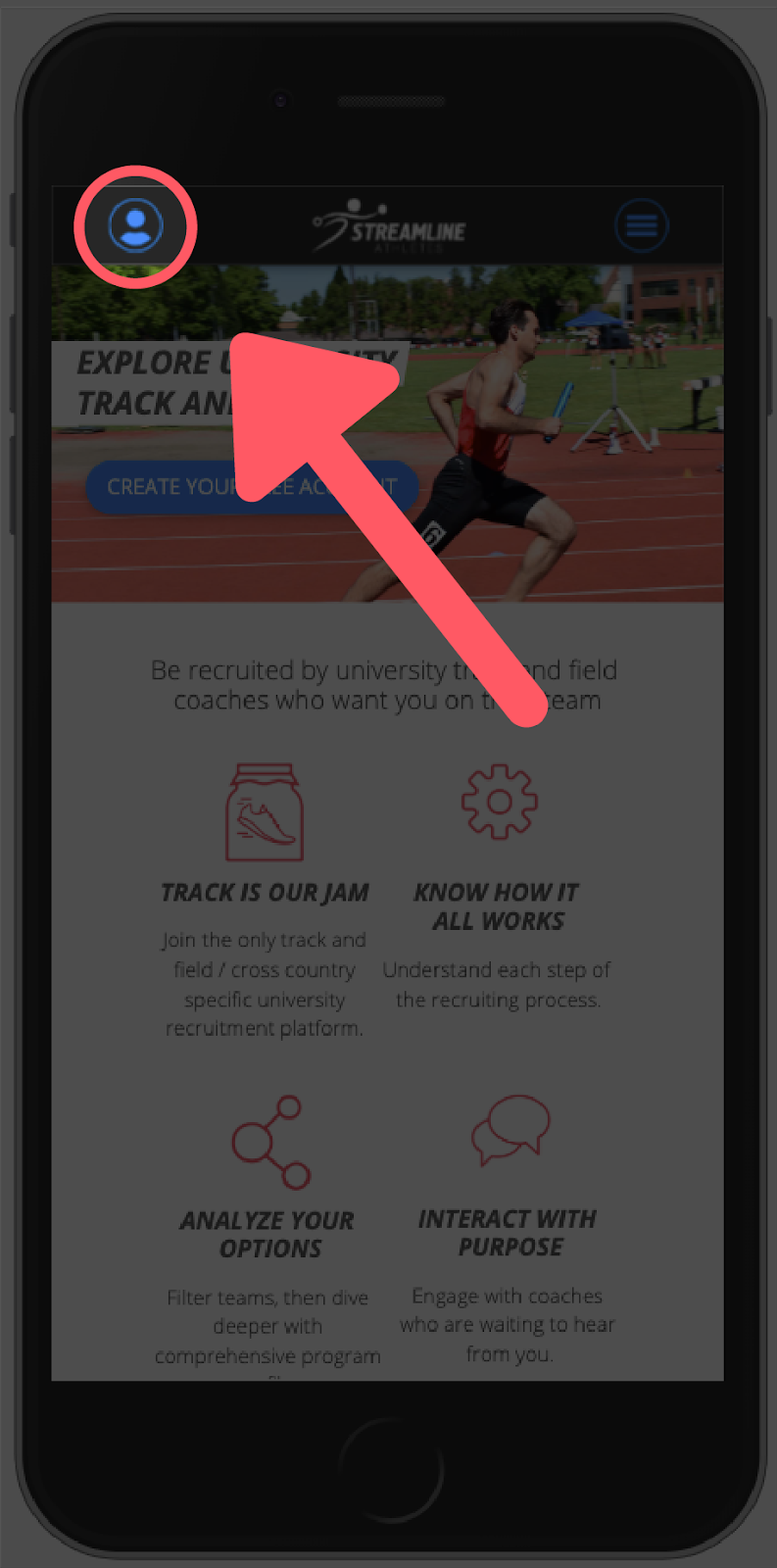 If you're not on the site, use this as a sign up button.
Select whether you'd like to sign up with Facebook, Google or e-mail. If you choose Facebook or Google, we'll use the email address and profile picture you have associated with whichever you choose, so pick the one with an email address you frequently check (this is where coaches will contact you!) and the photo you want for your Streamline Athletes profile.
If you just sign up with your e-mail, Streamline Athletes will request access to your Streamline Athletes account. Simply click "Accept" and then you will be sent a verification e-mail. Click "Verify Link" in the e-mail sent to your inbox and you will be good to go!
Double check your info, enter your phone number, and if you're under parent or guardian supervision or are 18+ years old, ensure you've checked the first checkbox. Check the second checkbox to receive occasional relevant content from us.
Hit that blue "create account" button.

Hit the "next step" button.
Before we can take you to your new Streamline Athletes dashboard, select a membership type. Basic is free, PLUS offers more and Plus Elite offers even more. Check out the differences here!  
Once you've chosen your membership, press the glorious button:

Welcome to your Streamline Athletes dashboard! 🎉
---
2. Completing your Streamline Athletes profile
After those quick sign-up steps, you'll be introduced to your Streamline Athletes profile. This is where you'll add and update your personal information, track and field and cross-country events and performances, academic information, extra information, and highlights.
Before you can be in touch with a coach, you'll need to complete three of these sections:
Personal information (the section with your name at the top)
Events & Performances
Academic Information
These three sections will contain the key pieces of info any university coach will need in order to invite you for a visit, offer you a roster spot, or offer you a track and field scholarship to join their program.
Below are checklists about how to quickly complete these three sections of your Streamline Athletes profile with the right stuff.
Personal Information
Click/tap the "edit" icon on the top right corner of the section.
Make sure your first and last names are the same as they appear on your academic records and athletic meet results.
Choose the event group that best describes your athletic specialization(s).
Double check the information you entered during sign-up for accuracy. What grade you're currently in is super important, as collegiate coaches need to know how soon you can be enrolled in their university and training with their team!
Next, enter your home address information.
Press "Save".
Events & Performances
Click/tap the "+" icon on the top right side of the section.
Click/tap the drop down menu under "season" to add your discipline.
Select an event from the "Event" dropdown menu.
Add a time, distance, or height result in the "Performance" field.
Is that time, distance, or height a personal record? If so, check the "PR" box.
Enter the date of the performance.
Paste a link to the official results from the meet at which you recorded your performance.
Repeat with more performances of the same or different events!
Press "Save".
When you add a link to an official result we can verify your performances and add a "verified" icon. This increases your chances of being recruited!
Academic Information
Click/tap the drop down menu under "season" to add your discipline.
Click/tap the blue "add year" button.
Enter the name of your school in the "School" field.
Select the academic year from the "Academic Year" dropdown menu.
Enter your grade or year of study from the "Grade/Year of Study" dropdown menu.
Enter the method your school uses to evaluate grades Select with GPA, Average (%) or Cote R under the "Evaluation Type" drop down menu.
Enter your cumulative grade under "Score"
Press "Save".
After completing the Personal Information, Events & Performances, and Academic Information sections of your profile, you'll be able to contact coaches!
However, we do recommend completing the Extra Information, Highlights, and From You sections of your profile as well. These sections offer space to provide more than the bare minimum to university track and field coaches.
---
3. Exploring programs and adding them to your list
This is where the fun begins.
Streamline Athletes is the only platform dedicated to university track and field and cross-country. Using our Explore Programs feature, you can sort and filter universities based on what's important to you.
Here's how to use Explore Programs:
Hit the "Explore Programs" button ("Programs"on your phone or tablet)
Next is applying your filters:
You have the ability to filter through geographic, athletic, academic, or extra (like, scholarship, tracks, and languages). Only interested in a NCAA college with both an indoor and outdoor track and scholarship potential? Apply these filters on the side bar and you'll see only the programs that match this criteria.
Use the arrows in each sortable column of the Programs section to sort the results from top to bottom.
You can also use the blue arrow next to "Filters" to hide that section and focus just on the Programs table.
To learn more about any of the programs, click/tap on the name of the school to visit a page dedicated to that university and its track and field and cross-country teams. If you like what you see, use the "add to your opportunities" button to store that program in your own list of collegiate opportunities.
Don't worry, by adding a program to your list, you're not notifying the coach. This is simply how you can create your own list of options.
To add programs to your Opportunities, use the "Add Opportunities" button.
---
4. Contacting coaches
Before contacting coaches, it's important to know that the number of coaches you can contact is limited. Basic (free) athletes can contact a maximum of two coaches. PLUS athletes can contact up to five at a time and PLUS ELITE can contact up to 9.
Here's how:
Click/tap on the "Opportunities" button on the main navigation menu.

Programs you've added to your personal list will be shown in the collapsable "List" section.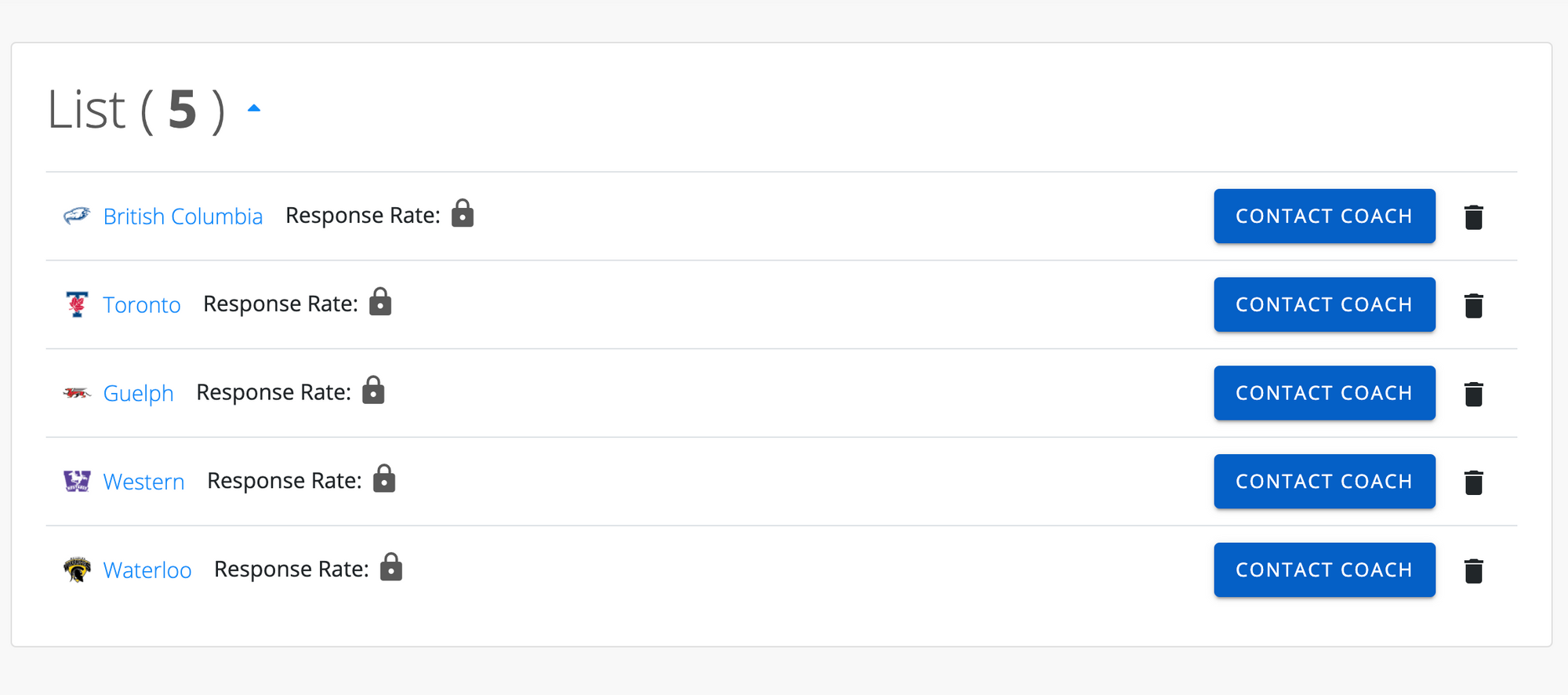 When you're confident in the two (Basic) or five (PLUS) or nine (PLUS ELITE) programs you'd like to contact, use the "contact coach" button. This will create a conversations section above your list where you can see the programs you've made an effort to be in touch with.
Next, Streamline Athletes will send the coach(es) the right information about you, your athletics, and your academics. One of three scenarios will occur:
Coach lets us know he/she is interested! We'll introduce you and one of your ongoing conversation slots will remain occupied.
Coach lets us know he/she is not interested. We'll remove the program from your Conversations (it will appear in a new Archived section) and you'll be able to contact another coach instead.
Coach fails to respond. After 14 days, we'll archive the attempt and you'll be able to contact another coach instead.
If you're not sure which two (Basic) or five (PLUS) programs you'd like to contact, you can explore further using Explore Programs or you can simply click on the name of the school to read more. You can also use "trash can" icon on Opportunities to remove programs from your list.
---
5. What's next?
After signing up for Streamline Athletes, completing your profile, conducting your research, and contacting coaches, the journey is yours.
Ask questions, go for visits, and come back to Streamline Athletes to discover more track and field/cross-country programs.
---
6. More: Are you a Parent/Guardian?
Streamline Athletes is constantly continuing to grow. We now have the option for parents/guardians to create accounts within the platform as well! These accounts allow parents and guardians the opportunity to manage athlete profiles, explore universities and collaborate with athletes on opportunities lists.
If you are a parent or guardian wanting to create a Streamline Athletes account simply follow the steps outlined above. However, there are some minor differences.
First and foremost, make sure to select "Parent/Guardian" in the drop down menu that asks if you are an athlete or parent/guardian. Once you have filled out your own name, e-mail and phone number (optional) and have clicked the box that certifies you are over the age of 18, click "Create Account".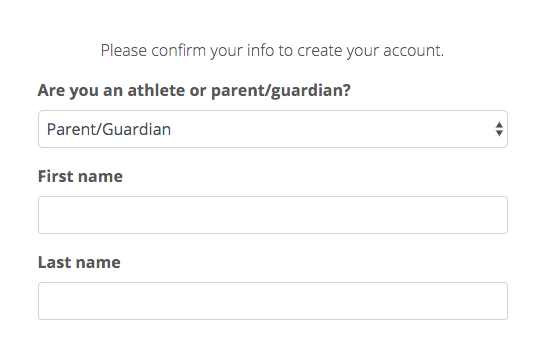 You will then be directed to an "Add Athletes" page where you will be given two options: Create Athlete OR Connect to an Athlete. With the "Create Athlete" option you will be able to create an account for an athlete who has never signed up for an account of Streamline Athletes. With the "Connect to an Athlete" option you will be able to link your account to an athlete who already has a Streamline Athletes account.
Once you have selected either option and filled in the necessary information, click "Done".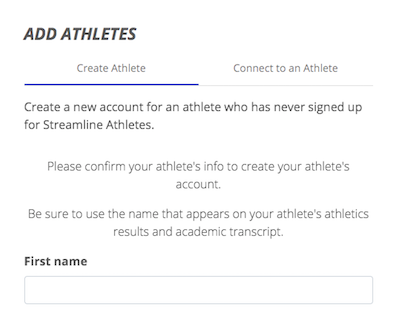 You will now be taken to your dashboard! Here you can complete your athlete's profile, including performances and grades. Once the profile is complete you will then have the chance to explore university options and work together with your athlete(s) to discover which university will be the best fit for them.
---
Streamline Athletes is dedicated to helping high school track and field athletes make confident decisions about where to study and compete at the collegiate level. Don't hesitate to reach out @  info@streamlineathletes.com if you have any questions about our product or starting your recruitment journey.

Processing your application
There was an error sending the email, please try again
Great!
Check your inbox and click the link to confirm your subscription
Back to Homepage