How to Contact College Coaches and Maintain a Relationship
In this article we share advice on how to contact college coaches using Streamline Athletes along with emailing tips + an email template.
Contacting coaches can be an intimidating and stressful process — with Streamline Athletes, we make it easy and simple so you can contact college coaches with just the click of a button! Not to mention, Streamline Athletes works in just three easy steps!
To create a profile, you will simply need to input your academic information, athletic performance(s),  your basic personal information, along with any achievements or accomplishments you wish to highlight.
Congratulations – now that you have completed your Streamline Athletes profile with your athletic performances, academics, and basic information, AND have been verified successfully by someone on our team (meaning they have checked that you have filled out everything correctly, including adding a legitimate athletic performance to your profile), you will be deemed a 100% recruitable athlete! Now you can start your recruitment journey - this means discovering the perfect school for you and communicating with coaches!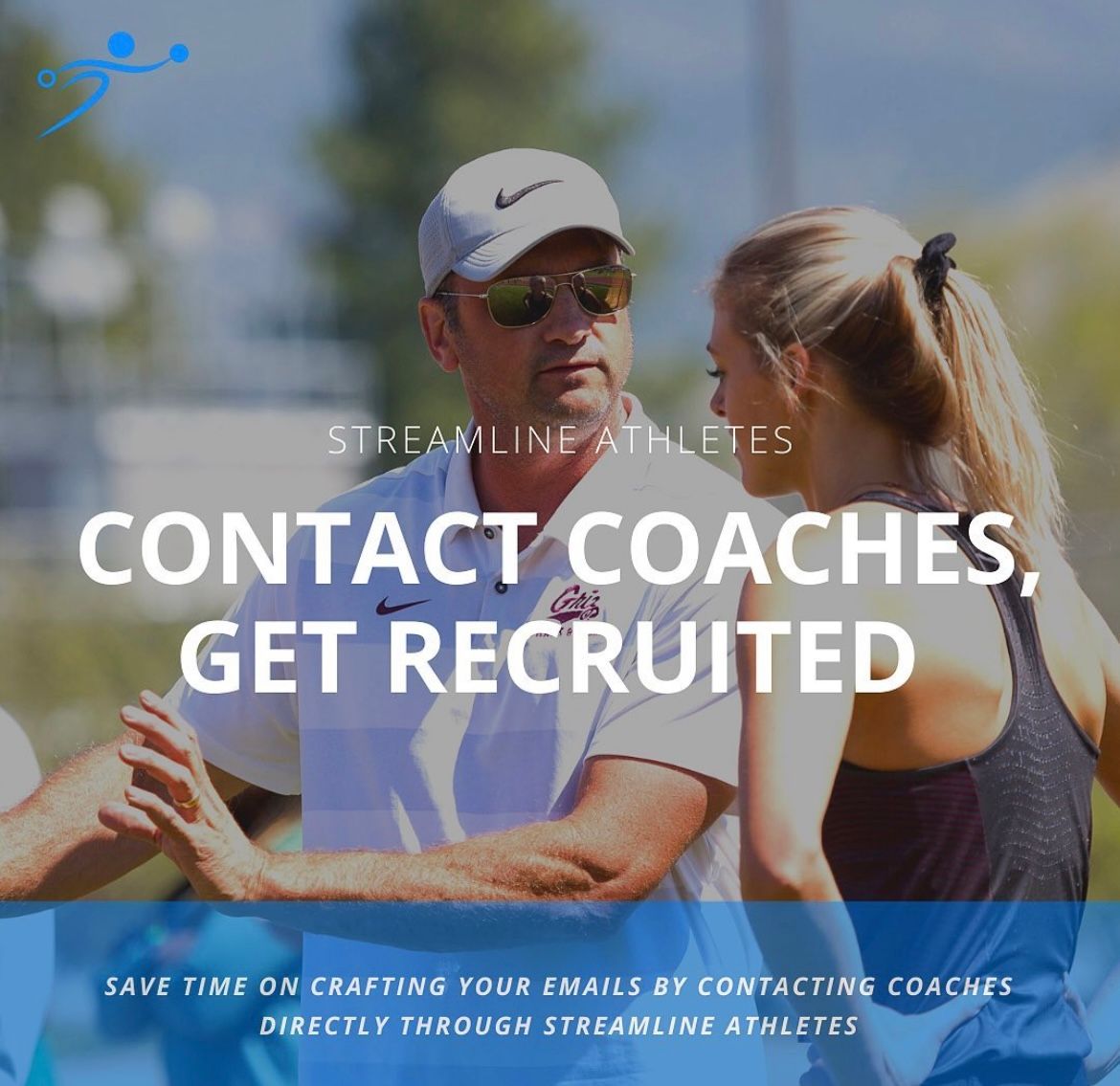 Initial Contact
Now that you are a 100% recruitable athlete, you have the opportunity to reach out to coaches from your dream school(s)! Not sure what to say or how to get their attention? We've got you covered. With well over 1700 colleges/universities across North America on our platform, you can browse and narrow down your own list of top schools and add them to your 'Opportunities List' - a list of all the schools you have selected as interest points for yourself. From this list you can start reaching out to college coaches by clicking 'Contact Coach' and Streamline Athletes sends the initial email for you. Our team knows exactly what information to deliver to coaches and we'll put you in touch as soon as the coach responds. Save time on crafting your emails by contacting coaches directly from your Opportunities list on Streamline Athletes.
What to do after initial contact
After we have sent the initial email for you, it is YOUR responsibility to be actively checking your inbox to respond to coaches. Coaches want you to be active in your recruitment to show your dedication and passion for your sport. You can find the general information on what to include in your emails by reading our 'How to Contact a College Coach' blog.
A coach has reached out to you — now what?
No need to panic! The first step is to make sure you have gathered all your basic information, athletic performances, and academic information in one place. Streamline Athletes makes this simple and easy for you, as you would have inputted all these details when creating your athlete profile!
But what sets you apart from other athletes? What are your academic, career, and athletic goals? What drives you? How do you want to be recognized by college coaches? Coaches are getting hundreds of emails from athletes all around the world - it is important to showcase and highlight who you are, simply and concisely. These are all important questions to ask yourself when you are thinking about your next steps.
You can do yourself a favour and create a folder on your computer with all your information and even an email template so that when the time comes to respond to a coach, you can do so efficiently! Respond to a coach promptly, (ideally within 24-48 hours) - this a respectable time frame to keep in mind and we encourage all athletes that are serious about their recruitment to do so.
---
What to include in an introductory email:
Typically, coaches will start to reach out to you on June 15 after your Grade 10/Sophomore year of high school — something to keep in mind during your recruitment process. For specific recruitment timelines throughout all athletic associations, check out our Key Dates on the Road to Collegiate Track and Field blog.
We know that this process can be overwhelming and stressful! The first 2-3 sentences are a make or break when reading a lengthy email. It is important to show that you have done your research on the school/program of the coach you are talking to and how you would fit in/make an impact. To make your life easier, we've created a template that you can follow once a coach emails you directly:
Tip to all athletes: We don't recommend bringing up funding/scholarship opportunities right away in your discussion with coaches. There is a proper and respectable way to communicate with coaches.
A good subject line is KEY (grad year, sport, location, a quick personal highlight).
In one to two sentences, reintroduce yourself with a summary of the basic information you have inputted in your Streamline Athletes profile (athletic performances, academic information, etc).
What makes you stand out and why? What are you most proud of in your athletic career? What are your career goals?
Add a reference!
(include name, who they are, contact details).
A short video of your best performances with a link to watch. If you don't have a video, don't fret! You can add more detail in other aspects of your email.
Give them your schedule —  Ask them to come out and watch you at a meet! Give them your sports team name/number, all the dates/location and times.
Tell them when and how you will follow up with them.
---
Template
This is just a general frame on how you can format your introductory email to college coaches. You will have to personalize it and make it unique to you – this is just an example!
Dear Coach _____________,
I have been interested/following/dreaming, etc, about going to ________________ college/university and I am passionate about ______________ or impressed by your team's __________________. I am reaching out to you because ______________________ and I believe I would be a great fit to this team because _______________________.
My name is ______________ and I am attending ______________ high school in ______________. During my athletic career, I have accomplished _______________ with my best times/stats being _________________. My academic stats are _________________ and I am planning on majoring in _________________.  I believe my strengths are _________________ and ________________ therefore, I would be a great match for your team.
I will be in ___________ city, competing in __________ race, for ______________ conference at ______________ date/time. I noticed that you will be attending the upcoming meet and would appreciate it if you could take the time to watch or take a few minutes to chat. I have attached my schedule for this race along with many others for this season. It would be an honour if you would see me compete in person!
If you have any questions, please feel free to contact me at _____________ or my coach (name) and (email) for more information about me as an athlete and my passion to be a part of your team!
Thank you for taking the time to learn more about me.
Sincerely,
Name + contact info
Class of
Sport + event
School
Contact info
---
Still got questions? We're here to help! Check out our FAQ Blog! Feel free to contact us if you have any questions @StreamlineAthletes on all social media.

Processing your application
There was an error sending the email, please try again
Great!
Check your inbox and click the link to confirm your subscription
Back to Homepage