The top 10 Ontario high school track and field records ever
Searching for the right university, going through the recruitment process, and managing the pressures of high school can be overwhelming, to say the least.
Streamline Athletes helps high school track and field athletes make confident decisions about where to study and compete at the collegiate level. (This article was originally posted on Athletics Ontario).
---
Don't get me wrong, every Canadian province has impressive high school track and field records on both the men's and women's sides. But as a BC kid who never experienced the intriguing lore of OFSAA growing up, I was keen to dive into their senior provincial records to find which ones are - objectively - the best.

I pulled up the OFSAA record book and referenced World Athletics scoring to determine which performances are most likely to stand the test of time.

Here are the top 5 senior girls and boys OFSAA track and field records in history...
Top five senior boys records in OFSAA history

5. 110m hurdles - 13.33 - Gregory MacNeill - Mother Theresa CSS, London (2010)
A decade ago, Gregory MacNeill ran a blistering time of 13.33 in the 110 hurdles: a mark that paved the way for MacNeill's collegiate track and field career with the University of Toronto Varsity Blues in between brief stints with the Wisconsin Badgers and Guelph Gryphons.
While there's an argument to be made that MacNeil's 2010 record maybe shouldn't count since the hurdle height was 0.914m (compared to the old OFSAA height of 0.991 and the pro height of 1.067) it still deserves a spot in the top five on the boys side.
In addition to success at the collegiate level, MacNeill also represented Canada at several championships, although injury prevented him from competing on the olympic stage. Here he is five years ago speaking about his training, teammates, coaches, the facilities at the U 0f T, and trying to make Team Canada's Olympic roster

4. 800m - 1:48.26 - Andrew Heaney - Cardinal Newman CSS, Toronto (2007)
In 2007, Andrew Heaney dropped a wicked 1:48.26 in the OFSAA 800 metre final - and he did it essentially solo. From line to line, Heaney cruised out front to snag the all-time best mark by an Ontario high schooler.
I was able to find this race on YouTube… Check it out (but ignore the commentary as there's a bit of offensive language that I and Streamline Athletes don't condone):
Heaney opted to stay in Ontario for his university career, running for the York Lions.

Also, a fun fact: Heaney's time just broke the previous 800 record of 1:48.64 by Kevin Sullivan, who went on to become a three-time Olympian and is now coaching at Michigan.  

3. High jump - 2.24m - Michael Ponikvar - Denis Morris HS, St. Catharines (1998)
Also the Canadian record, Michael Ponikvar's 2.24m OFSAA high jump record set in 1998 doesn't seem to be going anywhere anytime soon. I Googled this guy and holy smokes did he ever have a high school career. As per his Wikipedia page:
Four-time OFSAA Champion
Two-time Canadian Junior National Champion
OFSAA midget, junior, and senior boys high jump record holder
Gold medal at the '97 Pan Am Junior Championships
1998 top ranked high schooler in the world

After high school, Ponikvar had an outstanding collegiate and professional career as well. Representing Stanford, he won the PAC-10 Championship three times and was also a three-time NCAA All-American. Despite hitting Olympic qualifying marks more than once, Ponikvar's career was sadly cut short due to injury and he was never able to compete at the Olympic Games.
2. 400m - 45.71 - Myles Misener-Daley - Westdale SS, Hamilton (2019)

This is ridiculous. And recent.
Just last year, Myles Misener-Daley of Westdale Secondary School set the U20 400m Canadian record with a time of 45.71 beating Shane Niemi's previous Canadian U20 record of 45.83.
Check out the race 👇
---
This is a cool edit, too...
---
Misener-Daley has potential to crack the Team Canada roster for Tokyo 2021 and to become one of the country's best performers by 2024. After all, it's been awhile since we've seen a Canadian international contender in the 400 metre event.

Heck, maybe Tyler Christopher's (who rocked a full body speed suit complete with skin-tight hood before they were banned) 400 metre national record of 44.44 is in danger in the next few years…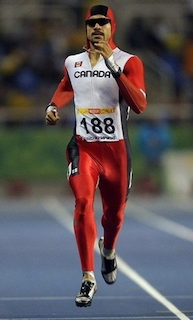 1. 3000m - 8:00.2 - Greg Andersen - Parkside HS (1987)
Imagine running eight minutes flat for three kilometres. Crazy. Now imagine doing it in high school! Crazier.

Greg Andersen ended his high school career as a grade 13 with an incredible 8:00.2 in the senior boys 3000 metres event at the 1987 OFSAA Championships, closing the final two laps in right about two minutes flat.

I was somehow able to find a ridiculously high quality video (considering this was 33 years ago) of the record-breaking race:

However, I wasn't able to find much else about Andersen's career. According to some message boards (take this with a grain of salt), he ended up at Dartmouth, had a decent collegiate career, but may have suffered from injury and/or overtraining along the way.

Nonetheless, Andersen's 1987 8-flat takes the cake here as the best boys OFSAA performance of all time.
Top five senior girls records in OFSAA history
5. Shot put (4kg) - 16m - Trinity Tutti - Eastdale SS - Welland (2018)

Trinity Tutti is a rising track and field star. In highschool she set 6 provincial records in shot put, discus and javelin. Even more spectacular, her throw of 16m is the provincial high school all-time best mark and was set in her grade 11 year!  

In 2019 she competed at Canadian Track and Field Championships and USATF Powerfest meet where she set the U20 Canadian record for discus (56.95m) and shot put (17.24m) respectively. Her shot put throw ranks her 2nd in the world among U20 athletes. Check out her ridiculous throw:

Trinity Tutti has already impressed olympic scouts and could potentially crack the Canadian Olympic team for Tokyo 2021. If not, it is safe to say that she will be a force to be reckoned with for years to come.

4. Highjump - 1.84m - Julie White - Brampton Centennial SS  - Brampton 1975

Julie White currently holds the longest active Ontario provincial record of 45 years.  Set in 1975, her mark of 1.84m is insane! To put it in perspective, this mark would have placed 12th in the 1996 Olympics.  There is no doubt in my mind that this record will stay for many years to come.

When attending college she branched out to different events, competing in the 55m hurdles, long jump, and even the 1600 relays setting.  She set records and became Boston University's first female athlete to earn the all-american honours.

However, Julie only competed in the 1996 olympics where she placed 6th despite being only 16 years old.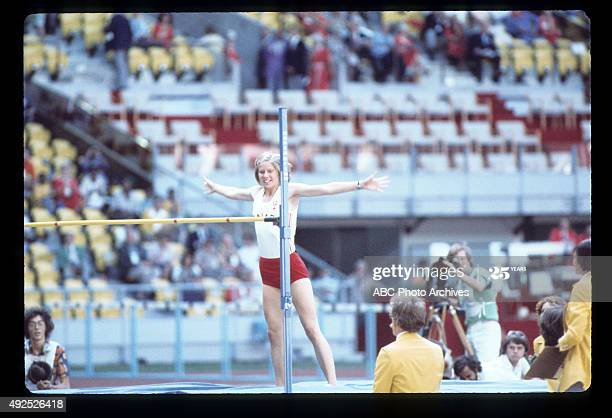 3. 100m -  11.77 sec - Christian Brennan  - St. Mary CSS - Hamilton - (2011)
Imagine the thrill of competing at the provincial championships and not only taking home gold but breaking the provincial record as well. It's exhilarating! Now imagine doing this 3 times in the same year. In 2011 Christian Brennan set 3 junior provincial records in the 100m, 200m and 400m races. Crazy!

Christian had a decent collegiate career. She is a 2 time all-american athlete competing for both Oregon and LSU and competed in 2 National Canadian Championships finishing 3rd and 5th. So far she has not lived up to her olympic potential, never competing in the games. However, she is only 25 years old and could make the 2021 olympic team.

2. 100m Hurdles - 13.33 sec - Keira-Christie-Galloway - St. Matthew HS - Orleans - (2016)
Keira-Christie-Galloway finished her high school career with 6 medals at the provincial high school championships. Her record of 13.33 seconds beat an 18 year old record of 13.41 set in 1998 by Perdita Felicien.

This hurdle superstar has continued her success post graduation. She has earned All-american honours, broken the U18 and U20 Canadian record in the 100m hurdles and has represented the red and white in 2 global championships and the Pan Am games.
Check out this video where she storms ahead of the competitions.

Keira is only 20 years old and is only improving. Prior to Covid-10 she was studying at Arizona State University preparing for a run at the Olympics. I can't wait to see her compete!

1. 200m Dash - 23.69 sec - Khamica Bingham - Heart Lake SS - Brampton - (2012)

In 2012, Khamica electric race set a new provincial record (23.69 sec) and kick started her career.
She has one impressive career:
Olympic Games: 2016 - 25th (100m), 6th (4x100m relay)
Pan American Games: 2015 – 6th (100m), BRONZE (4x100m relay)
Commonwealth Games: 2014 –7th (100m), 4th (4x100m relay)
IAAF World Championships: 2015 – 26th (100m), 17th (200m), 6th (4x100m relay); 2013 – 6th (4x100m relay)
IAAF World Championships (junior): 2012 – 4th (100m)
Pan American Championships (junior): 2013 – 6th (100m), SILVER (4x100m relay)
IAAF World Championships (youth): 2011 – 5th (100m), 3rd in SF (200m)
In 2014, Khamica was the only female or male athlete to qualify for the 100m in the 2014 commonwealth games despite just recovering from a stomach virus.  At the 2016 olympic games she missed out of the 100m semifinals by just one place.  However, she was a part of the Canadian 4X100m relay team which finished 6th (this was the first Canadians finals appearance since 1984).
Check out the historic run here:
---
Start Your Journey Today
Start your own journey today! Streamline Athletes is here to help track and field/cross country athletes discover their best options, both academically and athletically in the collegiate track and field landscape. All you have to do is create a free account and get started.

Processing your application
There was an error sending the email, please try again
Great!
Check your inbox and click the link to confirm your subscription
Back to Homepage