University of North Dakota cross country teams on course for bright future
As head coach of the University of North Dakota men's and women's cross country programs, Tom Scott has high hopes for the Fighting Hawks. Since opening his tenure at North Dakota two years ago, the team looks to be on a strong upward trajectory.
"One of the first goals was to become relevant in the conference and in the conversation of being a team that can win a conference championship. So it's exciting to see that in our second season here we're already starting to see that progress," says Scott. "When Coach Vahrenkamp and I got here two years ago, we really wanted to turn the program around."
As for recent success, the men's and women's teams both made the cross country (no pun intended) trip to the Paul Short Run at Lehigh University on September 30th. The men's team placed 18th out of a field of 47 while the women took 14th or 44. Considering Paul Short is regularly one of the most competitive meets of the season, a top half finish for both squads shows strong performance from Coach Scott's outfit.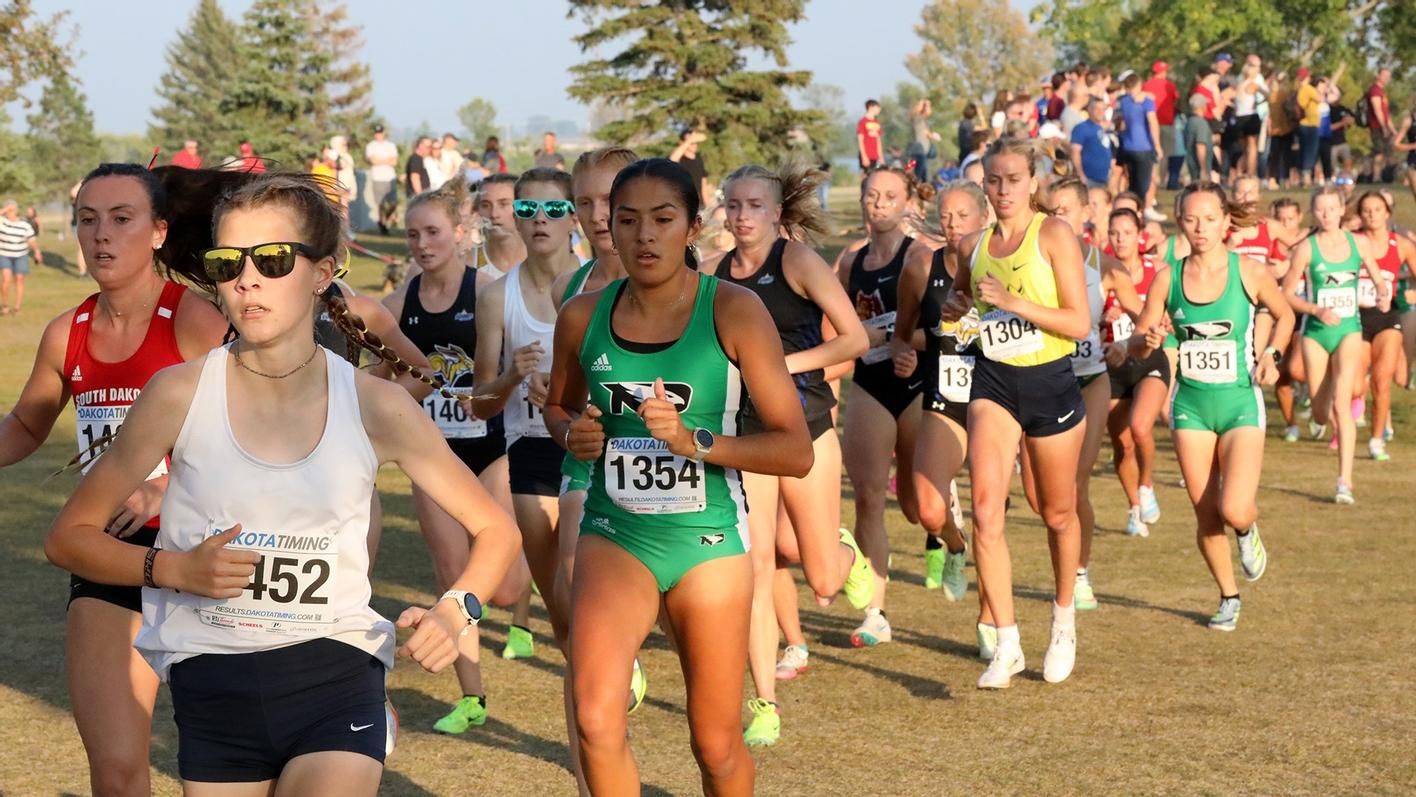 "If we look at the guys, they ran very, very well. We averaged about the same time that we did earlier in the year on a much faster, flatter course. So it's a good indication of the improvement there. We know we can do better, it wasn't a perfect day by any means. On any given day, you're going to have one or two guys that don't do well," says Scott. "It's very similar on the girls' side. We pulled a couple of our athletes' red shirts and brought in a young lady from Turkey who runs 16:20 in the 5k. She debuted at Paul Short and she had an amazing showing. She got fifth overall out of 400+ athletes that were there…She beat some girls that were at the NCAA Championships indoors last year and some girls that have run sub-nine in the 3K. So she's in a really really good place."
With sights set on the conference championships in October, Coach Scott has used prior races in the season as well as Paul Short as a gauge for the teams' performances against conference rivals.
"The team in our conference that's been the team to beat the last four or five years is South Dakota State. They only beat us by one point at a meet earlier this year [in the men's race]…We beat the team that got second last year at conference, we were one point behind the team that won, so we're in a really, really good place."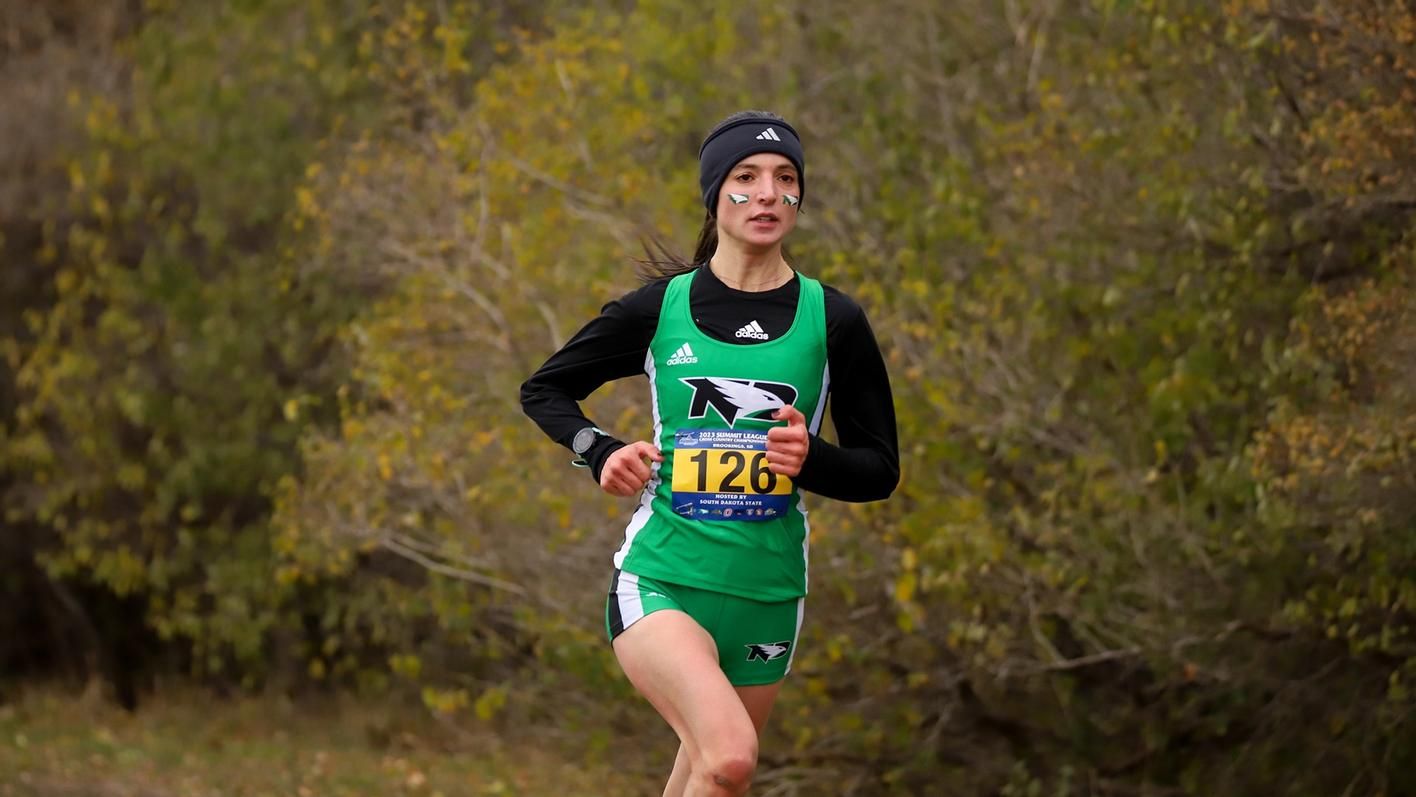 ---
Edit: The North Dakota Fighting Hawks men finished 3rd, women finished 4th in the Summit League Championships on October 28th. Meanwhile, UND's Yonca Kutluk became the first Fighting Hawk in Summit League history to take home the women's title and Championship MVP award.
---
Along with preparing for conference championships, Coach Scott also has a game plan for the crucial jump the men's team will have to take at the regional championships, stepping up from an 8,000-meter race to the NCAA-standard 10,000 meters.
"One thing we do a lot is on the aerobic side of things…you just have to be a little more aerobically strong…We do big volume workouts twice a week. So usually on Tuesdays, we're doing a little bit over distance. We're doing 11 to 12K worth of work. And then on Fridays, we're doing eight-mile tempos. So that way, when we get to 10K, which is a six mile race, we've been doing workouts that are more volume and we're ready" says Scott.
As for methods for developing the program, Coach Scott has established that the key to making a great NCAA running program starts with the recruits.
"It's not easy. You've got to make a lot of sacrifices and you've got to put the work in when nobody's watching over the summer. And then you've got to be ready to race when it matters. And then the second thing, this is super, super important for developing a championship culture, is being a great teammate. I want recruits that are going to be great teammates," elaborates Scott. "We've got about 95 athletes on the team. Five of them are international. So, we've got a lot of people from all over the world, and so I want to make sure that when they get here…they feel like family, and they have that support system within each other, within the coaching staff, and ultimately, they have a great experience because of that."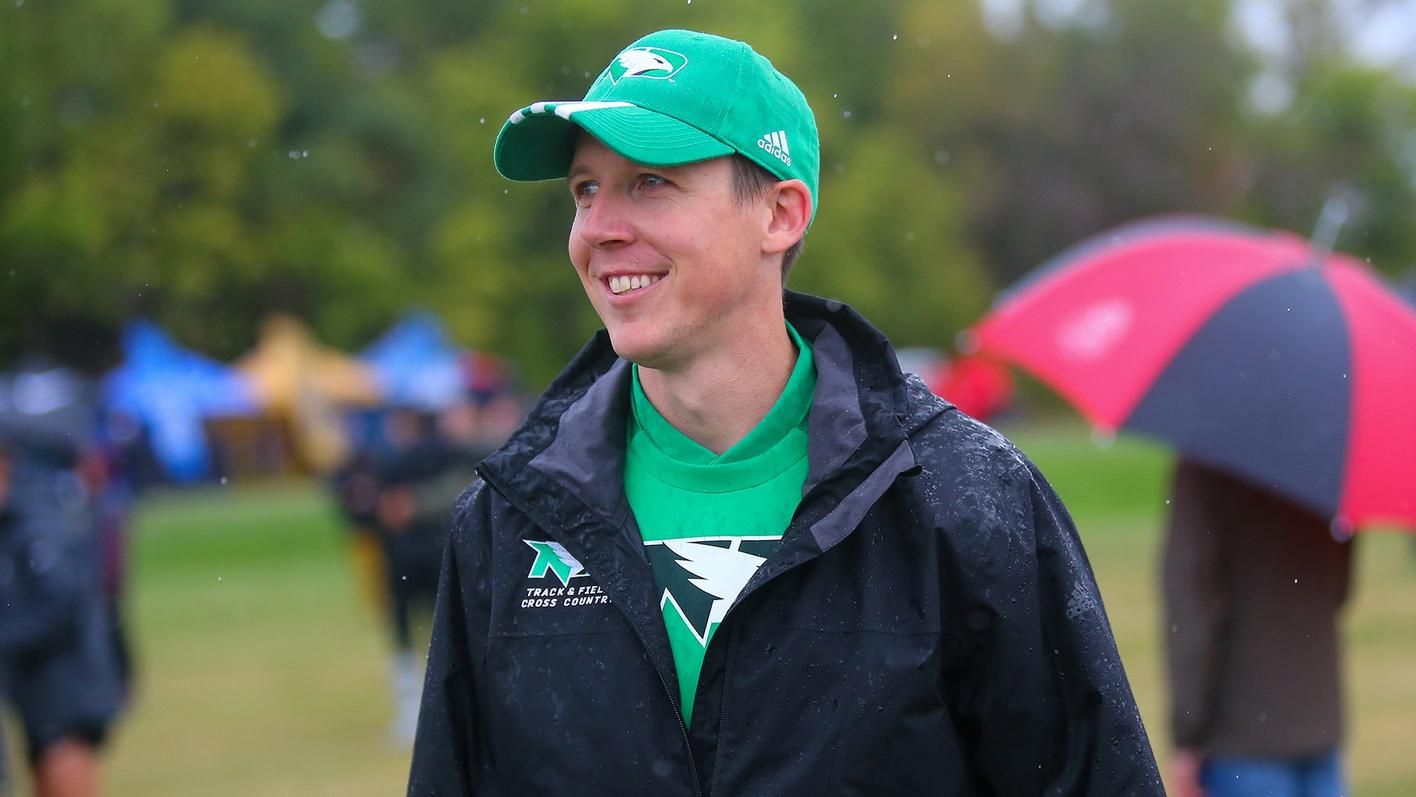 In order to fulfill the title of NCAA student-athlete, one must be a student as well as an athlete. Academics is an aspect of Coach Scott's team that he takes pride in. Both the men's and women's teams hold some of the highest GPAs - not just across NCAA cross country, but across all collegiate sports at any division - with the women's team having an average GPA of 3.86 and the men's team averaging a 3.56.
"It shows that they can do very well on the track and field and cross country side of things, but they're also able to balance that and be amazing students as well," says Scott.
The university is one of the best in the state, offering the same full range of majors and post-graduate programs as any other top flight state university.
"Academically, we're the flagship institution of the state. We've got a medical school here. We've got a law school here. We've got all sorts of engineering. We've got basically every program you could think of. And I think the professors here are very, very accommodating. They work with us and it shows," says Scott on the academics available at North Dakota.

The future for the North Dakota cross country program looks bright under Coach Scott as they continue to carve out their place at the NCAA Division I level. The team will be making their next outing at the Summit League conference championships on October 28th and the NCAA Midwest Regional on November 10th. Then, potentially, a trip to Charlottesville for the National Championship on November 18th is in the near future for Scott's Fighting Hawks.

University of North Dakota Fighting Hawks Track and Field/Cross Country Recruiting Standards
If you're looking for a roster spot at an NCAA Division I track and field/cross country program like the Fighting Hawks' at the University of North Dakota, it's key to make sure you have the qualifications it takes to make that possible - that means achieving athletic and academic marks in high school.
Academic standards for recruitment opportunities to the University of North Dakota
Holding a high school GPA of at least 2.75 is vital for admission into the university. Any GPA lower than this cannot guarantee acceptance into the University of North Dakota. If you are able to achieve a GPA of 3.5 or higher, you may qualify for one or four-year academic scholarship opportunities.
The following table details this academic standard information and converts the aforementioned GPA marks to letter grade and average percentage marks. Please note, academic standards are fluid and therefore subject to change and conversions from GPA to other grading schemes are not exact.
Athletic standards for recruitment opportunities to the University of North Dakota
In addition to holding a strong enough grade average, track and field/cross country student-athletes also need to be high achievers in their event discipline(s) in order to have a shot at a roster spot with UND.
With a performance that at least meets the marks on the table below, student-athletes may qualify for walk-on roster spots with the University of North Dakota. However, even more fluid from month-to-month or year-to-year are athletic standards. They change based on a team's current roster, committed recruiting class, budget, and more. The best way to know if you're a fit for UND (or any other collegiate track and field/cross country program) is to book an advisory session with Streamline Athletes. We'll get to know you and your goals before providing a step-by-step action plan to get recruited by teams looking for athletes like you and that meet your goals.
Please note that the performances below do not indicate scholarship standards. To find out where you may qualify for a track and field/cross scholarship, book your advising session today.
Women's and Men's athletic recruiting standards
---

Processing your application
There was an error sending the email, please try again
Great!
Check your inbox and click the link to confirm your subscription
Back to Homepage