CSU Pueblo: Individualized training approach creates a strong team environment
Located at nearly 5,000 feet above sea level and boasting 320 days of sunshine annually, the Colorado State University-Pueblo campus offers student-athletes a great environment to study and train. With a fast new track, throws, jumps, and pole vault areas, and access to miles of dirt trails, the facilities are well-suited to athletes in all event groups.
"The ThunderBowl features 6,500 seats, a synthetic turf field, a ten-lane all-weather track (resurfaced in 2020), throwing, jumping and pole vault areas, as well as a 27,000-square-foot field house, which includes a 2,700-square-foot athletic training room, equipped with a 12-seat cold plunge and an underwater rehab treadmill and team meeting areas, student-athlete study-areas and lounges, and track and football coaches' offices."
- CSU Pueblo Thunderbowl, CSU Pueblo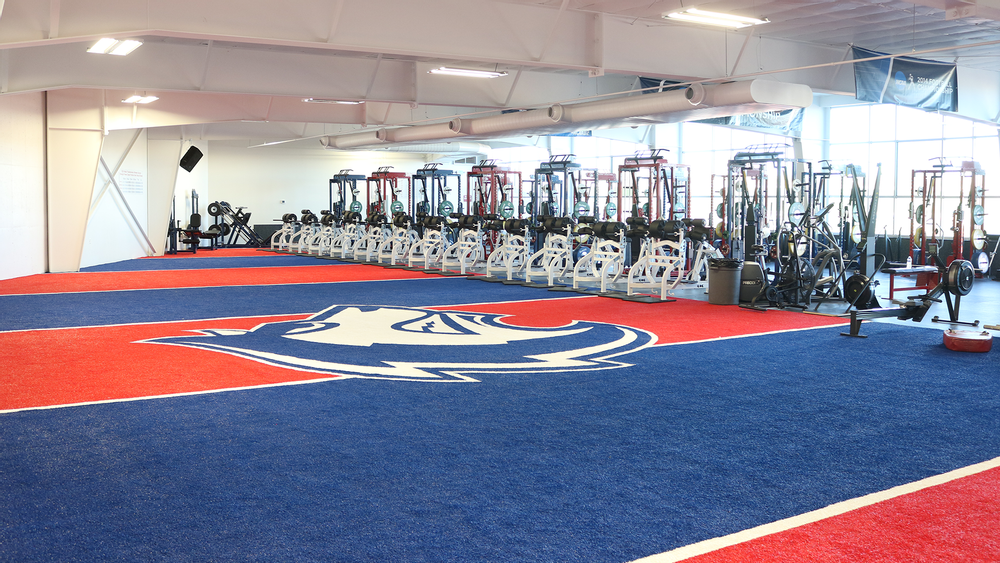 Coach Matthew Morris runs a top-tier Division II program drawing on talent from the United States and abroad, including several athletes from European countries ranging from the U.K. to Germany.
"Helen Braybrook, a sophomore out of the United Kingdom, makes her mark as a member of Colorado State University Pueblo's track team. Finding a passion for running at the young age of four, she took this passion to the collegiate level."
- From the U.K. to the Thunderbowl Stadium: Braybrook leaves her impact, CSU Pueblo Today, Ashlyn Drury
The ThunderWolves compete in the Rocky Mountain Athletic Conference (RMAC) against schools from Colorado, New Mexico, Nebraska, Utah, and South Dakota.
In 2023, the women's team finished sixth at the NCAA DII Cross Country Championship and just outside the top 10 in both indoor and outdoor track. The men's team finished 10th indoors and 13th at the outdoor championship meet.
Individually, Yasmine Hernandez claimed the National Championship at 1500 meters in 2022, clocking 4:15.72. A sprinter in high school, she made a smooth transition to the middle-distance events, establishing a personal best of 2:03 at 800 meters. Hernandez earned a Bachelor's in Nursing and an MBA while at Pueblo and continues to run post-collegiately.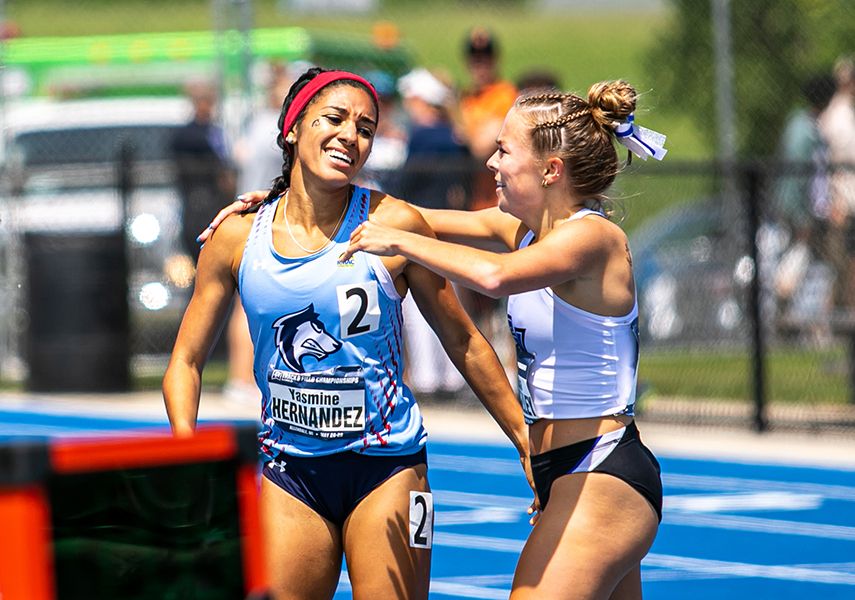 On the men's side, Coach Morris also guided Reece Sharman-Newell to a runner-up finish at the 2023 Division II NCAA Outdoor Championship. Sharman-Newell holds a personal best of 1:45 and hails from the United Kingdom. Fellow ThunderWolf Kaleb Tipton finished 6th in the final, running 1:48.
Success is not limited to the middle distance events at Pueblo – shot putter Nate Miller was runner-up at the NCAA Division II Outdoor Championship and nominated for RMAC Man of the Year.
Coach Morris emphasizes the need to fit training to each athlete in his program. He describes his coaching philosophy as an "experiment of one," tailoring his approach to the individual based on his or her background and goals. For example, athletes coming out of the British club system frequently log lower mileage than their American counterparts competing for their high schools. Morris says that one of the most enjoyable parts of his work is finding athletes with significant upside and helping them reach their potential. With a patient and personable approach, he believes that Pueblo offers unique opportunities for long-term development.
Graduate student Sophie Kretschmer was impressed with Coach Morris and the program, recently making the move from her native Germany to compete in the NCAA. After completing a bachelor's degree at home and running a half-marathon personal best of 1:13, she found it difficult to establish a solid training situation and began exploring the possibility of moving to the United States for competition. Initially, she focused her search on Division I programs like Boise State, Arkansas State, and Syracuse.
Through working with Streamline Athletes, Sophie learned that D-II offers much of the same support and a high caliber of competition as well, leading to productive conversations with Coach Morris. She felt that she would be treated as "part of a team and not just a number." The support of the team environment is a refreshing change, as opportunities to train and compete with others were at times limited in Germany. Currently, the team is at the forefront of Kretschmer's mind as the cross country season kicks off.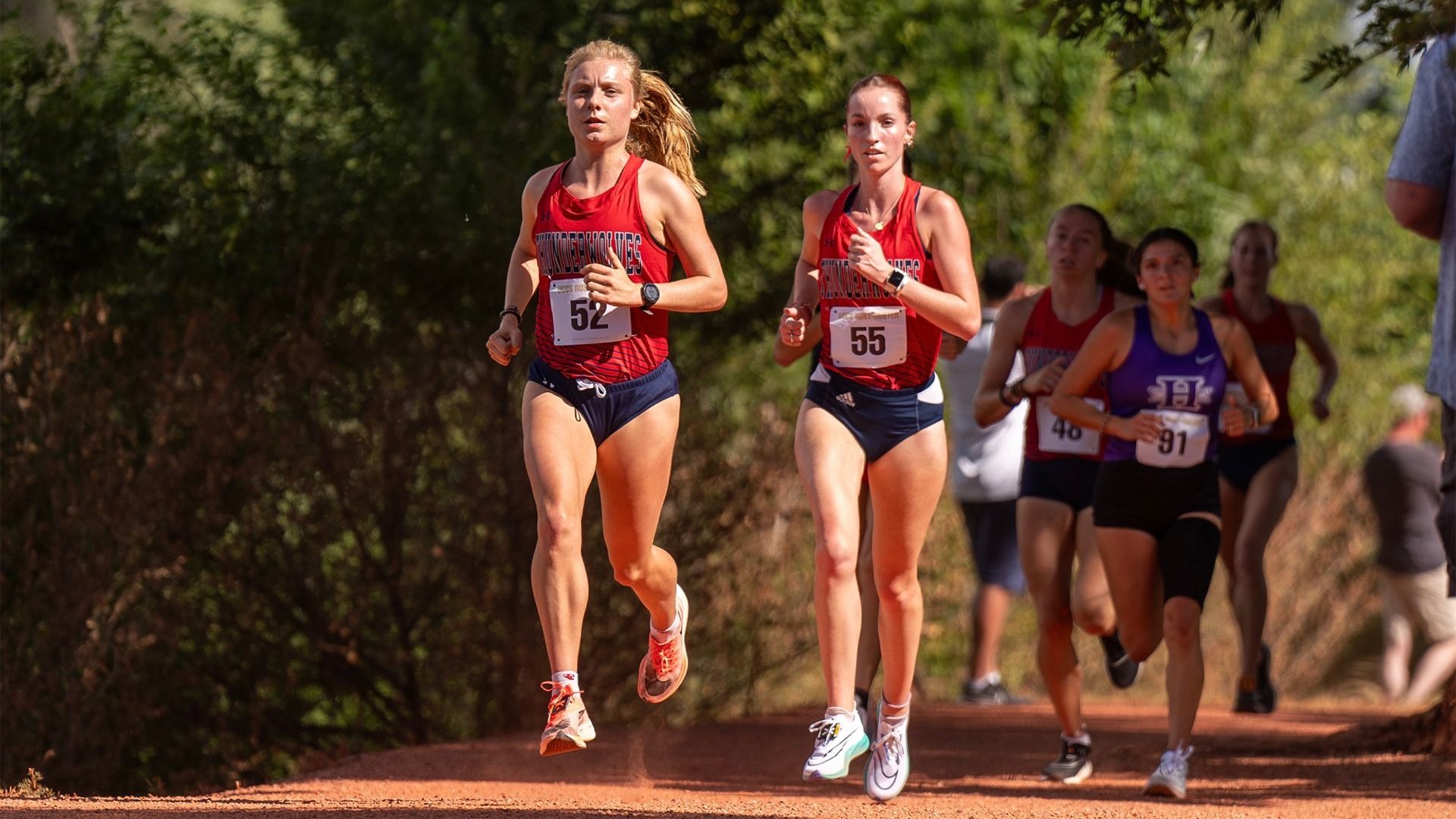 In the first race of her NCAA career, at the UCCS Rust Buster, Kretschmer finished 3rd, setting a nice tone for the early season and pacing the ThunderWolves to a strong second place finish.
Sophie looks forward to competing at distances from the 3000 meters indoors up to the 10,000 meters outdoors and improving her personal bests across all events. Off the track, she's working towards a Master's in Business Administration.
Student-athletes at CSU-Pueblo also excel in the classroom. The women's track team posted an aggregate GPA of 3.76 for the spring 2023-23 semester, while the men averaged a 3.26.
The ThunderWolves now look to the RMAC Championship in cross country on October 21st as they prepare for the core of the season. With indoor track hot on the heels of cross country, there's no doubt Morris and his athletes are already making preparations for the next phase, too.
---
Colorado State University-Pueblo track and field/cross country recruiting standards

As a top Division II track and field and cross country program, CSU-Pueblo's standards vary depending on their current recruiting needs. At times, Coach Morris' standards can be more challenging for a high school or transferring student-athlete to reach than many Division I programs. It's also important for student-athletes and their parents/guardians to know that track and field recruiting standards often have large degrees of separation between walk-on opportunities and scholarship opportunities (even if only partial athletic scholarships).
To see whether or not you may be a fit for CSU-Pueblo or other collegiate track and field programs:
Upgrade to Streamline Athletes Plus from within your Account Settings
Complete your profile (100% complete)
Visit "Explore Programs" and apply the match filter (only available with a Plus membership)
View programs where you're a match based on your athlete profile
Please note that other websites and recruiting services do not possess the data required to indicate prospective matches for student-athletes; they often use publicly available data to inform their models/suggestions without inside information from teams. Streamline Athletes uses verified recruiting standards that comes directly from coaches who are actively recruiting track and field student-athletes.
Have questions? Seeking a personalized recruiting plan with step-by-step actions to take for successful recruitment? Your best option is to book a personalized advising session with Streamline Athletes. You'll know exactly what to do and when to do it, including which schools to contact - all based on your recruiting goals, budget, athletic performances, and academic standing.

Processing your application
There was an error sending the email, please try again
Great!
Check your inbox and click the link to confirm your subscription
Back to Homepage