Dhruvil Patel: Making NCAA DIII history & north central's recipe for success
Searching for the right university, going through the recruitment process, and managing the pressures of high school can be overwhelming, to say the least.
Streamline Athletes helps high school track and field athletes make confident decisions about where to study and compete at the collegiate level. We hope to highlight collegiate track and field recruitment stories of all sorts to provide soon-to-be high school graduates with more insight as to how they can start and progress their own journey.
---
Born and raised in Skokie, Illinois, Dhruvil Patel threw down some solid high school performances, but it wasn't until his time in college that he really stepped into the spotlight. Check out Patel's insane progression from high school to his final year at North Central College, where he competed for five years:
Over the past 42 years, no DIII athlete has run 5,000m as fast as Dhruvil Patel: 13:51.40. Patel's 10,000m time of 28:50.87 would have ranked him 21st on the Division I qualifying list in 2019.
Coming out of high school, Patel was offered scholarships by some Division I programs; he even took four college visits. But, trusting his high school coach, Patel took the fifth visit to North Central College — a Division III program 30 miles west of Chicago. After visiting the campus and talking to the team's legendary head coach, Al Carius, Patel knew it was the right fit for him.
Reflecting on his journey to North Central, Patel says, "I used to focus on Division I schools, but I realized divisions don't really matter. As long as you have a good coach and you make the best out of every opportunity, you will be successful."
North Central's History of Success in Division III
The titles speak for themselves. North Central's men have won 19 Division III Cross-Country Championship Banners and 12 Track and Field Championship Titles. When looking at 10 fastest 10,000m performances in the history of Division III, NCC appears three times (2nd, 3rd, and 4th), including Patel's 2019 mark.

Team Culture at NCC
According to Patel, the track and field team at NCC is very tight-knit, which helps foster a culture of mutual support among runners in workouts and races. He says, "It's easy to find the motivation to train hard when you have a whole team that is so supportive of one another."
"Racing with a team-driven mindset allows you to surpass yourself since you are running for something bigger than just yourself. Your team relies on you."
As NCC's head coach Al Carius would say, "You can win a basketball game with 4 but in cross-country, you need 5!"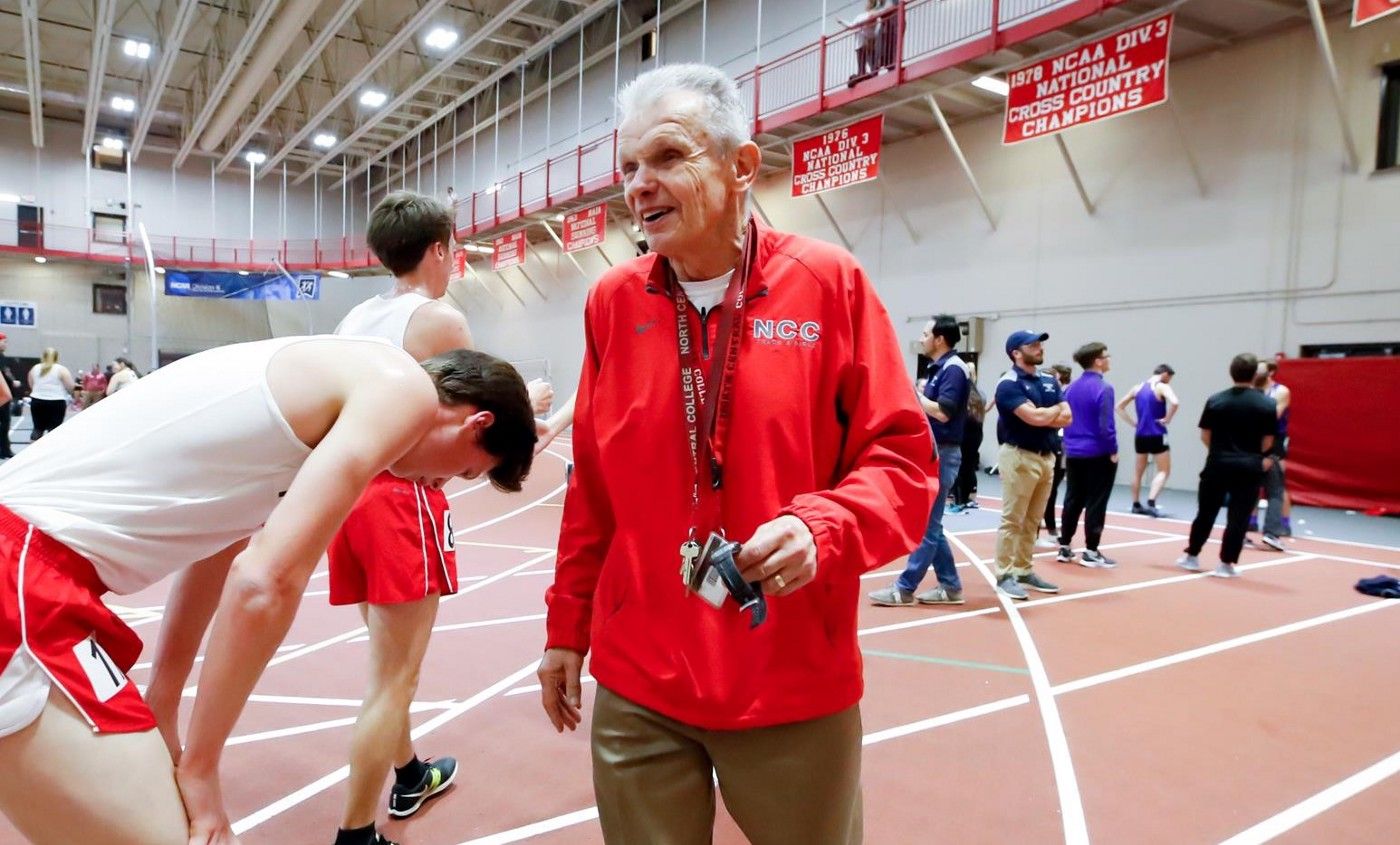 Coach Al Carius's Secret Sauce
Al Carius has been coaching the program for 52 years and has developed one of the strongest men's distance programs in DIII. Carius has a training philosophy with three key ingredients:
1. Consistency
Brick by brick, NCC's distance runners get up to an average of 100 miles a week during their senior cross-country season. However, this type of volume can only be achieved with consistent work.
When Patel arrived at NCC, he was only averaging about 40 miles a week and through Al Carius's training philosophy, he was able to reach his current level of fitness.
2. Passion
Coach Carius does not believe in forcing athletes to go for runs. He wants athletes to have a passion for running and doesn't want them to get sick of it. With this laid back mentality, he's developed a renowned distance program.
"Some athletes enter the program as nobodies and leave being DIII All-Americans," says Patel.
3. Feel
There's a certain Coach Carius quote that resonates with Patel:
"Nobody else knows you better than you know yourself."
Al Carius tells his athletes to listen to their bodies and go by feeling. He is very flexible and will tell his athletes to push on days when they feel good and to slow down if they're not feeling it that day. It's as simple as that. With this approach, he allows athletes to recover properly and avoids injuries to his athletes.
Typical Workout Weeks at North Central
During the XC season, Patel used to do the same workouts each Monday and Wednesday. Mondays are mile repeats, Wednesdays are hills. With two intense workouts per week and one long run, the rest of the time is dedicated to recovery and increasing mileage.
Patel remembers being assigned a particular training plan during the summer following his freshman year. Carius told him, "Just run. If you feel bad on one day, don't go too hard, and if you feel good on others, go harder."
No specific distance or pace was prescribed. This is all he was assigned. The main objective was to slowly build up the weekly mileage.
Patel Goes Pro
Patel is currently representing the Minnesota Distance Elite and still focusing his energy on the 5,000m and 10,000m events. Before the 2020 season was halted, Patel placed 10th at the 15km USATF Championships held in Jacksonville Florida on March 7th. Long term, he's eyeing a transition to the half-marathon and marathon.
---
Start Your Journey Today

Processing your application
There was an error sending the email, please try again
Great!
Check your inbox and click the link to confirm your subscription
Back to Homepage