Just breathe! Improve your training with yoga
Have a quick think about what goes into your training. Your laundry list may include mileage, technique work, hours in the weight room, sessions with a sports psychologist, stretching, rolling, nutrition, sleep, mobility work, time spent pool-training, massage therapy, physiotherapy, acupuncture, [insert your tactic here].
Many athletes' lists also include yoga. For one such competitive Canadian distance athlete, Katherine Moore, yoga has been a central part of her training and her life since she began practicing and teaching in 2002. Katherine is a Vancouver-based yoga instructor that ran track and field as a high school athlete who then picked up distance running as an adult after years away from the sport. She runs half marathons (1:21.12), full marathons (2:47.27), and is currently training to break her best 10km time (36:20) which was set in 2009 at the Vancouver Sun Run.
Streamline Athletes caught up with Katherine to learn more about how athletes like Canada's 10,000m record holder Natasha Wodak use the tool of yoga to get to know themselves, their bodies, and their weaknesses.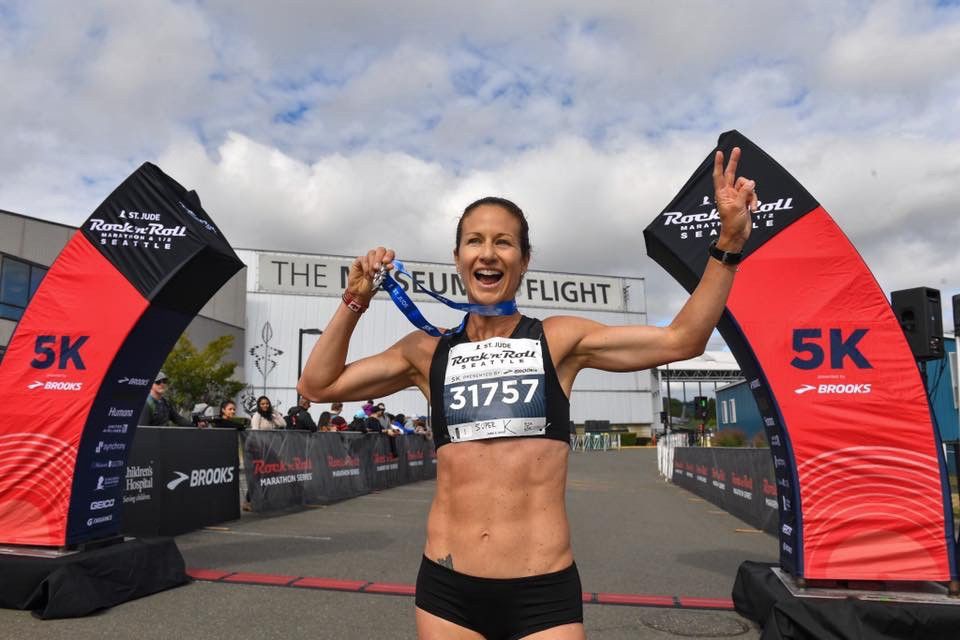 What is yoga?
The first thing Katherine wanted to make clear is contrary to what many people think: yoga is not about stretching. Yes, the poses cause your muscles to stretch and contract which is good for you physically, but yoga at its core is about connecting with your breath. Slow, controlled breathing helps you become present in your body while the accompanying postures compliment that by creating balance in your muscles.
There are many, many variations in the yoga world. Strength building yoga practices like Vinyasa, Power, and Ashtanga differ from slower, more meditative approaches like Yin and Iyengar. Some classes use music, some use different props, and some depend entirely on the teacher leading it.
There are also temperature variation styles like Bikram, taught in a humid, 105-degree room. Some people like hot yoga because of its detoxifying effects. For Katherine, hot yoga helps her running muscles open up more easily and has taught her to relax in the face of discomfort.
Whatever type of yoga you prefer is a super personal choice but the principle of breath remains the most important component. Katherine says that the way you practice yoga should be dependent on why you need it in the first place: how do you feel and what is your aim?
Did you know yoga can help athletes with injury prevention and recovery?
Injury prevention
A balanced body is a healthy body. Injuries from muscle imbalance like hamstring and hip flexor strains, rotator cuff issues, tendonitis in the knee, and IT band stress, are all too common in the world of track and field. When certain muscles underperform, those that are forced to take over face the risk of becoming overused. Most everyone has a dominant side but full-body yoga flows and postures can work wonders in helping athletes become more balanced.
For Katherine, soft tissue injuries have come and gone, but yoga always helps to bring her back to balance. Runners, especially distance athletes, can be very linear in their muscular development and it's so important to work on, strengthen, and treat the body as a whole.
When people think about yoga, they often associate it with being flexible, but the differences between flexibility, stability, and mobility are important to keep in mind.
Flexibility: how far joints can move, or how much your soft tissue can stretch.
Stability: the ability of a system to return to a position when disrupted, or how much control you have over your movements.
Mobility: how much control and strength exists as those joints move — the preventer of injury.
Here is why your 15-minute stretch after practice isn't quite the same thing as a well-rounded yoga practice. Mobility, an umbrella term that includes both flexibility and stability, is a key component of injury prevention. Tight hamstrings, poor range of motion, and incorrect alignment are all symptoms of poor mobility that athletes compensate for every day in training. By allowing you to find control and practice strength through range of motion, good yoga practices help you work on mobility — and, by default, flexibility and stability.
Yoga can also help athletes with their mental approach to their sport.
Mentality
Athletes like you are competitive, driven, and motivated to win. You are faced with "fight or flight" situations in training and during competitions that call on your sympathetic nervous systems to react to extreme stress and perform under internal and external pressures. Katherine explained that yoga serves to teach a more "rest and digest" approach. It utilizes your parasympathetic nervous system by causing your heart rate to slow and muscles to relax.
An athlete's ability to focus is paramount to success. Yoga is all about focusing on your breath while consistently checking in with your body. You're meant to keep your mind from wandering to other places, keeping it clear of distractions and letting the now be the centre of attention.
Paying attention to your breath causes a wonderful side effect: you become more aware of what your body is feeling from head to toe. You begin to feel your muscles contract and expand more acutely while staying in tune with your thoughts.
Another key principle in yoga is Drishti: a gazing technique that develops concentration. It is the practice of setting your eyes on one point and relaxing your gaze while remaining focused. It's central in helping you balance during difficult poses but translates perfectly to athletics. In Katherine's experience, when her eyes are steady, so is her mind. Drishti has helped her in yoga, running, and in life.
Getting started with yoga
As is true with most new activities, it's important to give yoga a fair shot. Katherine recommends attending around eight classes with at least two different teachers and ideally more than one style in order to form an informed opinion about what your body likes best.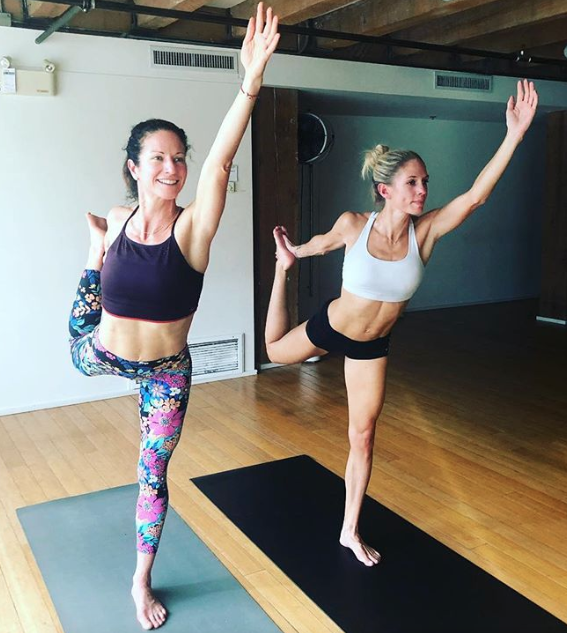 It takes time. Take Natasha Wodak, Canadian Olympian and national 10,000m record holder (31:41), for example. A good friend and training partner of Katherine's, Natasha started taking her yoga classes about six years ago. Natasha was, as most elite athletes are, super competitive in class. She wanted to do it RIGHT and perform well, comparing herself to those around her, striving to get better and better. It took her many classes and lots of discussions before she understood: yoga isn't about getting anything. It's not about becoming the best, the most flexible, or the most advanced.
Yoga is about looking within, finding your breath, practicing patience for yourself, and celebrating what your muscles can do. It's about moving your body with intention and practicing patience. Natasha uses yoga as a way to unwind from the high-intensity track workouts and give her muscles some nourishment and attention. She uses it to focus on simply breathing in and out while giving her body some TLC.
And so should you!
---
Read more about Natasha Wodaks collegiate journey here 👇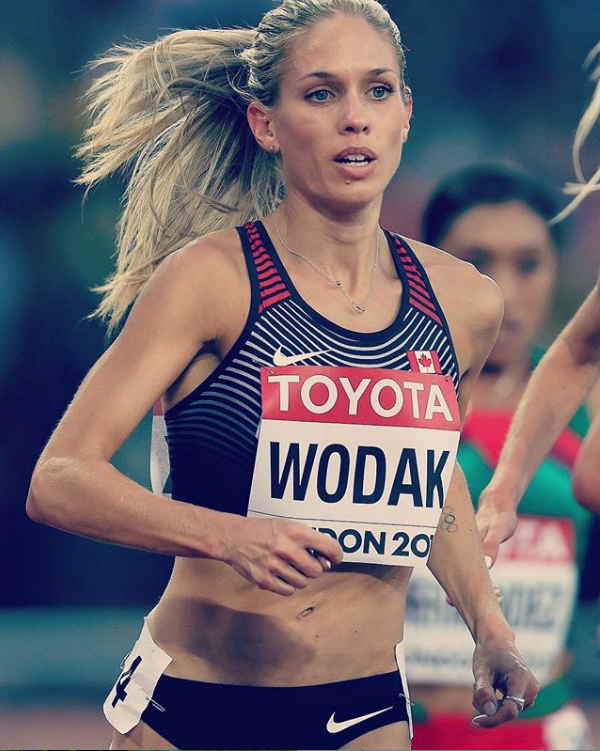 Katherine Moore started Running Into Yoga, where you can find more information about her upcoming yoga classes, her yoga and running retreats, and workshops. You can also find her on Instagram @runningintoyoga.
Get Started with Streamline Athletes Today!

Processing your application
There was an error sending the email, please try again
Great!
Check your inbox and click the link to confirm your subscription
Back to Homepage