Deanna Price: There's no place like home
Finding the right university as a student-athlete can be challenging. It is a scary, exciting, and altogether overwhelming choice for soon-to-be high school graduates.
Streamline Athletes hopes to shed light on university track and field recruitment stories of all kinds.
---
2019 was a big year for hammer thrower Deanna Price. She claimed the American record and kept the momentum going to become the first-ever American woman to win a medal in the hammer throw at a World Championships… but she didn't just win any medal… she won the whole darn thing! In addition to being an absolute champion, she is one of the sweetest and most humble athletes with whom I've had the pleasure to cross paths. Having said that, Deanna admits that it hasn't all been butterflies and rainbows.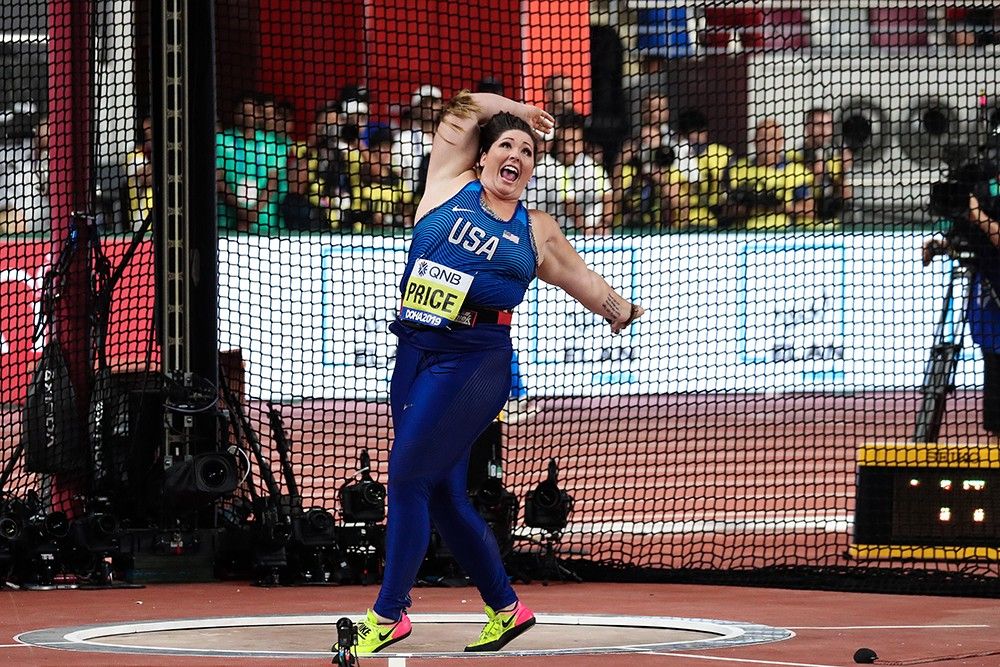 In this article, you'll learn about Deanna's rise to success through overcoming financial and injury stress, her experience choosing a university program, and how much value she places on her support system.
An all-around athlete
Deanna grew up in the small town of Troy, Missouri in a family with a passion for baseball and softball. As such, she grew up playing softball, basketball, volleyball and sports of all kinds. In high school, at Troy Buchanan, she was introduced to the sport of track and field. Deanna's mom, Ann Price, was a three-sport athlete, a middle-distance running star, and is Deanna's biggest hero. With her mom coaching her until her sophomore (second) year of high school, Deanna was following in her footsteps as an all-state track and field and all-state softball athlete.
After seeing her impressive arm on the softball pitch, her friend's dad, Gary Cooper, convinced her to try her hand at throwing. After giving discus and shot put a chance, it became clear that she was a talented thrower, qualifying for the state meet in her first year.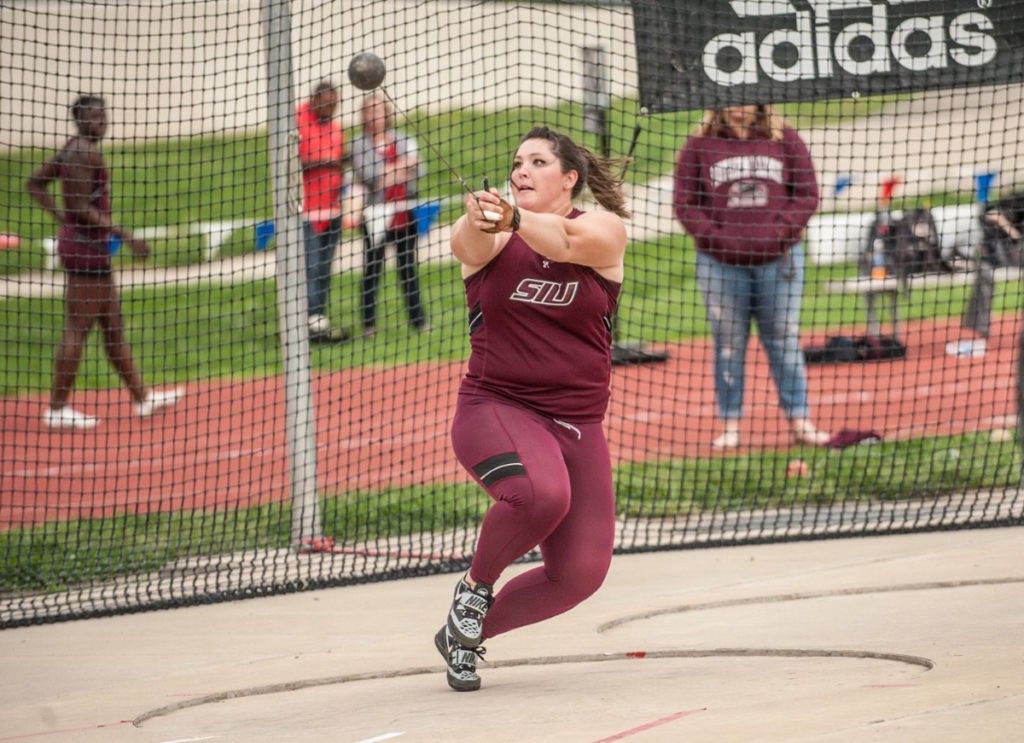 "[Coach Gary] had this big slab of concrete in his backyard and he taught me some turning technique," Deanna said with a laugh, remembering how she was introduced to the hammer.
With such a full plate of practices and competitions, Deanna was only able to string together a few months of hammer training during her high school years but managed to throw well enough to start considering a collegiate track and field career.
Being financially realistic
During the 2008 recession that rocked the United States, Deanna's parents lost their jobs within one month of each other. The emotional toll was huge but the Price family stuck together. Any savings that were put aside for Deanna's university education had to be reallocated to run the household; earning an athletic scholarship became imperative for Deanna.
It's so important to have open discussions with your family about post-secondary school costs. It's necessary to have realistic scholarship expectations and a plan for grants, family support, or other funding measures when deciding which schools to pursue.
Throughout high school, softball remained Deanna's primary passion, and when she began her recruiting process she was pretty sure it was the sport she would pursue. However, being a first-generation college student, neither Deanna nor her family knew what to do to 'be recruited.'
"I guess if they want me, they'll find me," said Deanna when asked about her recruiting efforts to reach coaches. "We'll just see what comes!"
What she did know was that it was important for her to do well on the entrance exams that are used for college admissions. To attend an NCAA or NAIA institution, a score from either the SAT or ACT tests are required. Deanna knew she struggled when taking tests, so she took both to widen her net.
Being a talented athlete is only part of the equation. Scoring well on the SAT or ACT can open up doors for other funding sources, in addition to making you a more attractive candidate for the track and field team.
Deanna was contacted by big-name schools like Princeton, Stanford, Alabama, and Texas. She took unofficial and official visits for both softball and track and field at a few schools, citing that her visits really helped to make her decisions.
"I wanted to be closer to home because I'm very close with my family," said Deanna. "The big schools wanted to fly me out and take me to their big football games, they wanted to impress me, but that just didn't work for me."
Being wined and dined is pretty standard on official recruiting visits, especially with a top-tier recruit like Deanna. Click here to learn everything you need to know about taking university visits →
She visited the University of Missouri and said that the experience was solid. The coaches were great, the campus was nice, but it was still a large school and just didn't feel like home.
As she started to make some serious decisions about what she wanted in a school, it came down to two programs: Southern Illinois University and Lindenwood University.
Deanna's best fit
Here is a list of the most important considerations Deanna made about each school. Some of this might apply to you, but every athletes' needs are different.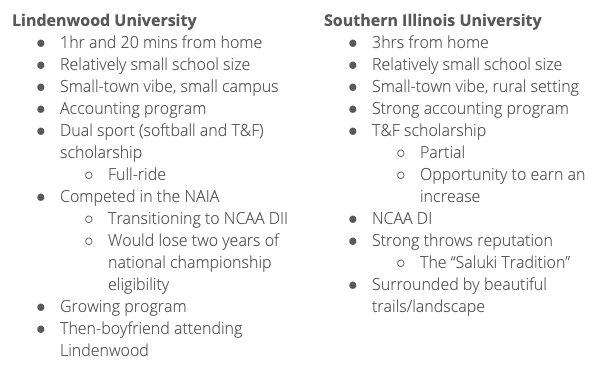 "Athletes should go and figure out the personalities of the university and the people they are going to be working with," said Deanna. "Ask yourself, is this going to be a positive environment for you?"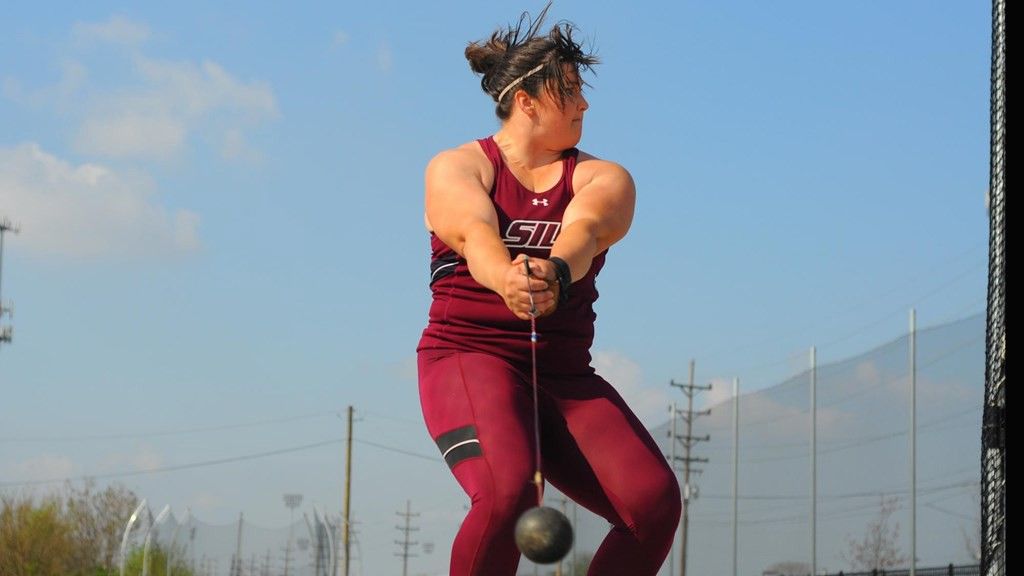 And she doesn't just mean the coaches. Since Deanna lived within a reasonable distance of SIU, she visited the school more than once, getting to know her potential future teammates, professors, and administrators.
Looking at the whole picture was important to Deanna and Lindenwood just wasn't it. The school was working to fast-track their transition from the NAIA to the NCAA Division II, which would have meant the sports teams would have to sit out of national competitions for two years, something that Deanna just couldn't do.
It's important to keep your own goals in mind when you're picking a school. Deanna wanted to compete at the NCAA nationals. Whichever association, conference, and school was going to best support that goal was a huge influence on her decision.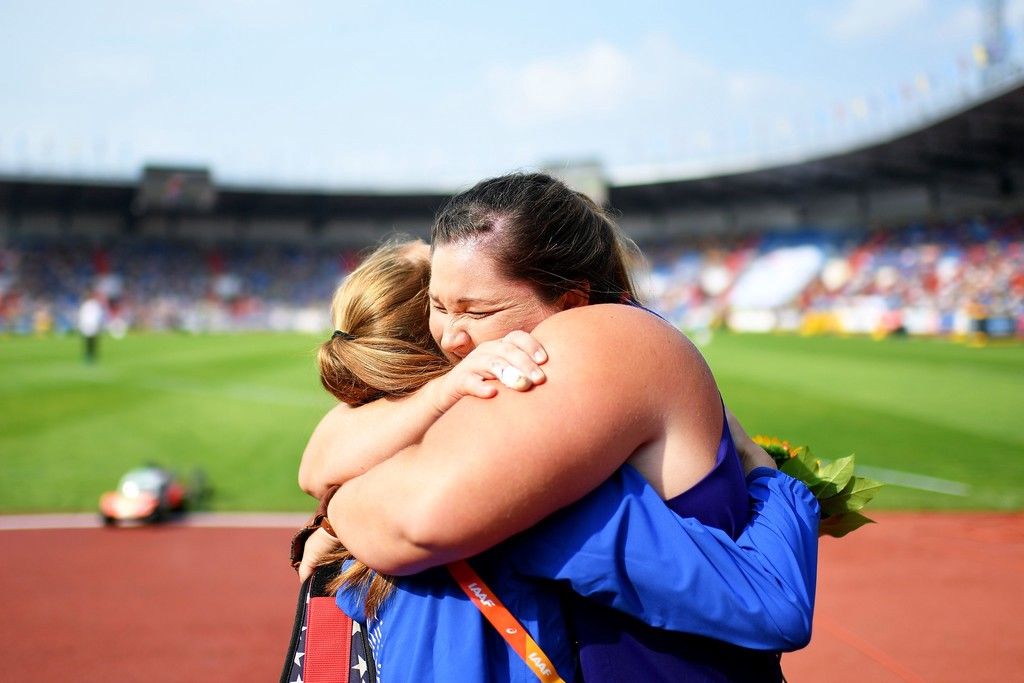 Deanna's desired area of study was also at the centre of her decisions. Her advice for young athletes is simple: Make sure you get an education that is worthwhile and something that you'd want to do for the rest of your life. The multi-sport athlete wanted to study accounting and the importance of her education was ingrained in her by her family.
"When you're done with your athletic career, what are you left with?" said Deanna. "Being an athlete is a triangle: sleep, eat, and train. At the centre of that triangle is being a student."
Life at SIU
Choosing SIU meant more than just picking a school to study at. It meant following her dreams in track and field and leaving her softball ones behind. Deviating from her family's softball tradition was a scary thing for Deanna, but since softball had been removed from the Olympic games in 2012, she knew that track and field was the right sport for her future.
Even though her scholarship offer at SIU wasn't a full-ride, Deanna knew that she had weighed her options well and that this was the best decision she could make for herself. She looked into grants and other ways to fund the remainder of her education costs.
"I asked right away what it would take to earn a full-ride," Deanna said. And she did just that! After making it to nationals in her first year, she was awarded a full athletic scholarship as a sophomore.
Many student-athletes bank on receiving a full-ride or earning a full-ride after a year or two of competition. Of course, this happens, but full-rides are not the norm and most programs only have a handful of athletes receiving them each year. Having a plan in place for every scenario is worth the worry.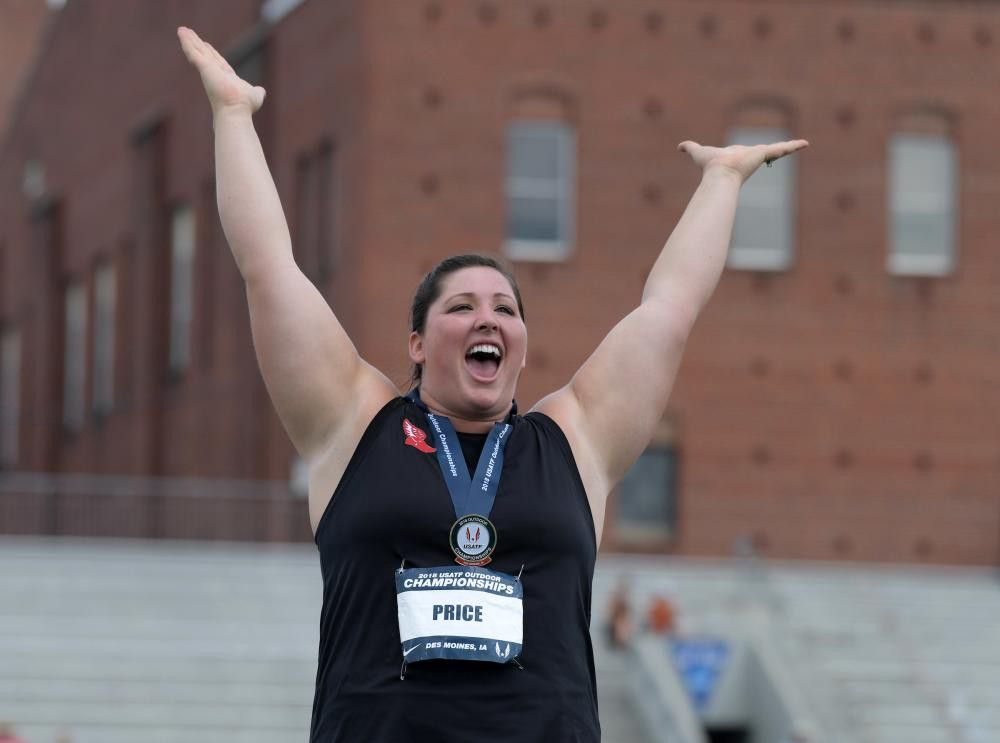 It wasn't all easy though. Deanna faced injury trouble every year at SIU. In her freshman year, she broke her arm. In her second year, she tore her abdomen. As a junior, she tore muscles in her knee, and she had bulging disks in her back in her senior year.
Also in her senior year, Deanna's coaches changed. Her former coaches made career-moves to a different institution, but that didn't mean that Deanna lost sight of her goals.
"Bad things happen to both good and bad people," said Deanna about tough times and injury. "It's how you overcome it that defines you. I refuse to let injuries define me and instead see them as learning opportunities to become a better athlete."
What's happening now?
Deanna Price represented Team USA when she took home the World Championship hammer throw gold in Doha, Qatar in September 2019. She is also only one of five women to ever win back-to-back NCAA Division I titles in the hammer. Deanna also represented Team USA at the 2016 Summer Olympics, placing 8th, and is preparing diligently to better that mark at Tokyo 2021.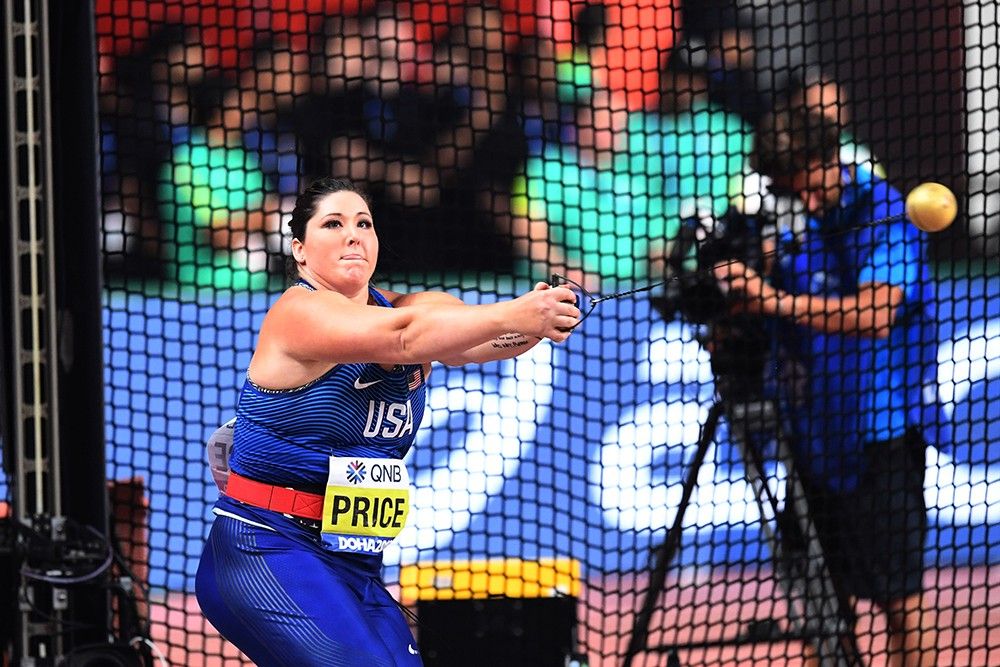 She lives and trains near SIU with her husband and coach, fellow SIU alum J.C. Lambert. They are the proud parents of two sweet little doggos, Maverick and Bella.
J.C. also coaches throws for the Salukis, starting in 2016 when he led Deanna to her second NCAA title and first Olympic games.
It's your turn
Are you a track and field student-athlete that dreams of competing at the university level? Find your best fit for university with Streamline Athletes. Discover your opportunities by researching schools, comparing programs, and contacting coaches today.

Processing your application
There was an error sending the email, please try again
Great!
Check your inbox and click the link to confirm your subscription
Back to Homepage