CSU-Pueblo (NCAA Div 2): The perfect fit for Britain's Thomas Staines
When you are born into an athletic family, there is always pressure to succeed, especially when your parents are Olympians and running shoe store owners — the case for ​CSU-Pueblo​'s Thomas Staines.
Thomas was born in the UK but moved to Colorado Springs with his family when he was a child. A die-hard fan of the Premier League and the Tottenham Spurs, Thomas focused on soccer during his youth and most of his early high school years. As soccer season wrapped up, his high school's cross-country coach asked him a life-changing question.
"My coach asked me if I wanted to go with the team to Arizona and I said, 'For sure.' It was only on the way there that I realized that not only was I going to race a 5 km for the first time, but the race was the Southwest Nike Cross Nationals (NXN) regional meet."
Staines arrived for one of the largest cross-country races any American high school athlete could participate in. While NXN would peak even the most experienced athletes' nerves, Staines' nervousness was amplified by the fact he was racing only on his soccer fitness.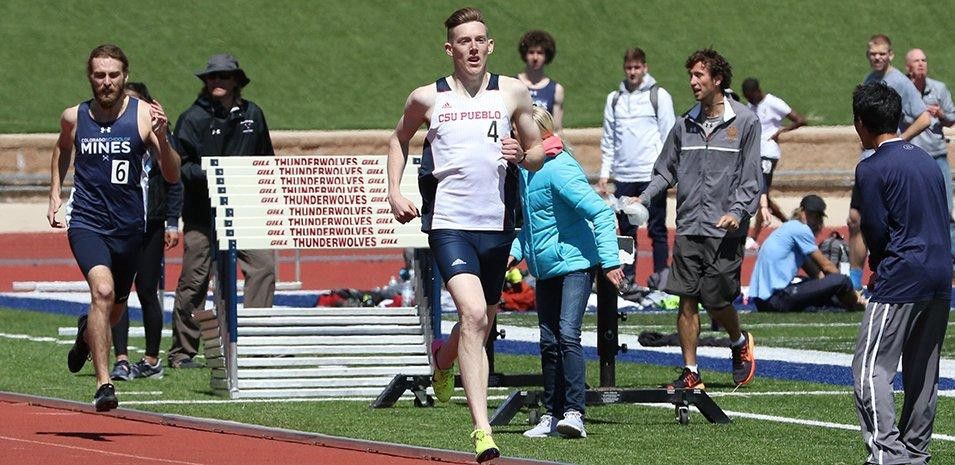 "I was so nervous. My coach's plan was for me to sit and hold on to one of my teammates for the majority of the race. The gun went off and that athlete I was supposed to sit on pulled a muscle and dropped out three feet in. I was freaking out, I had no concept of what I was doing."
Fortunately for Staines, the work he put into his soccer (and perhaps some genetics) came into play.
"It ended up not being too bad, I felt really good that last mile and I ended up picking a ton of people off to finish in the top four on my team. I loved the experience. Despite running being an individual sport, the team aspect was incredible, we had no egos, we were just running for each other and I could get behind that."
From that moment Staines shifted his focus to cross-country and track and field.
Staines improved after he was bitten by the running bug and was running around 1:54 in the 800m by his junior year of high school. He started getting contacted by post-secondary schools and reaching out to programs he thought could be a fit.
"At first I really liked the idea of getting away from my parents. I was originally looking at schools in California. However, my major is automated industry management and there are not too many programs that offer it out there with competitive track teams, one of the few was Colorado State University-Pueblo."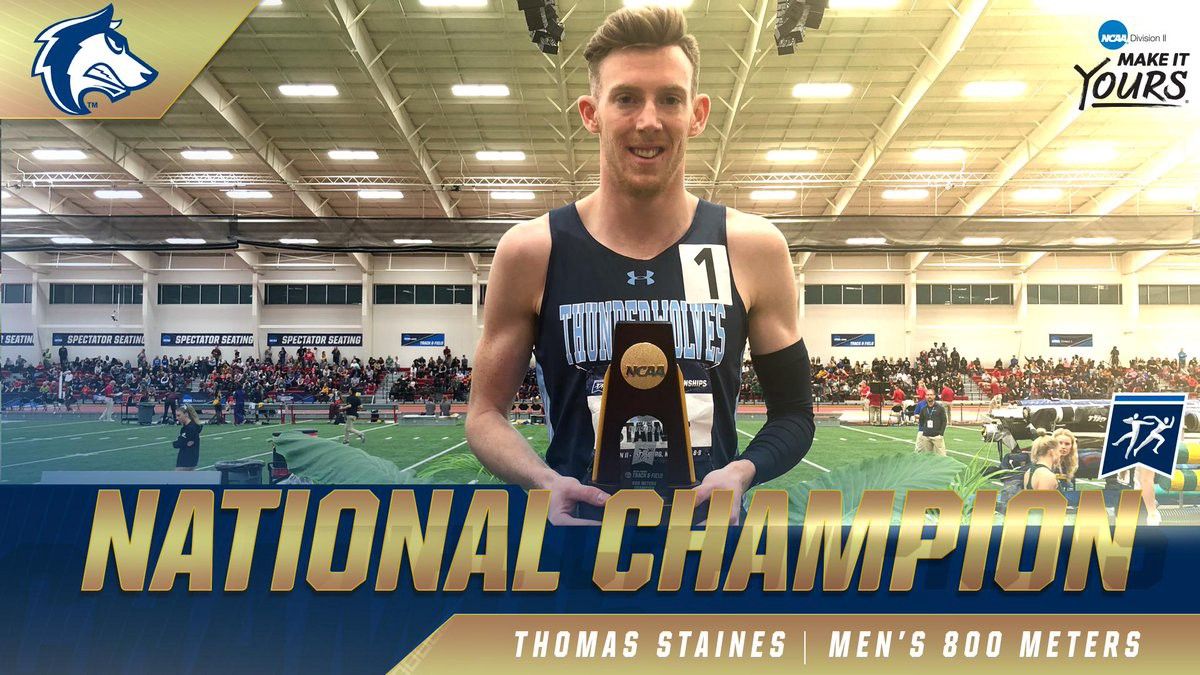 Thomas' intended major was particular enough to narrow his list of opportunities down right off the bat. For athletes that know what they'd like to study, there's no sense in falling for a track and field program that just isn't an academic fit.
"After connecting with the coach and the team there, it seemed like a great fit so I was pretty keen on that school. In the end, it meant I wouldn't get really away from my parents as it was only 40 minutes from home" he laughed.
When asked if he would do anything differently with his recruiting journey, Staines shook his head. The Division I schools he spoke to just didn't really interest him.
"Of course, everyone wants to go Div I. It's easy to watch Division I runners at nationals and see how cool they are, but what you don't see are all the talented runners who didn't make it or who got injured trying to make it," said Thomas. "It was a blessing in disguise that I went [to CSU-Pueblo] and great for my progression."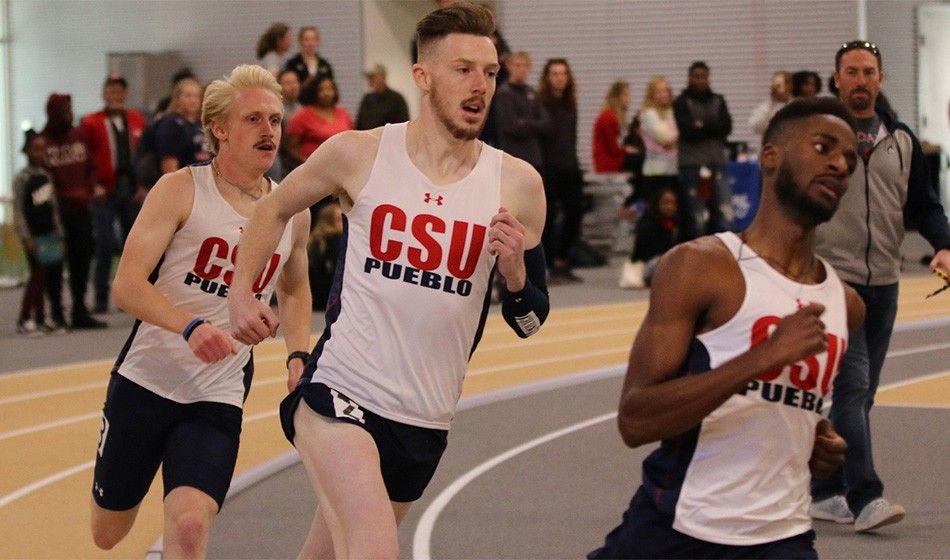 Another huge reason that Staines committed to CSU-Pueblo was his connection with the head coach, M​att Morris​.
"I wanted to go somewhere to run fast. I got the sense that [Coach Morris] had my best interests at heart. You often hear about coaches who can 'make or break' the athlete. With Matt, he really takes the time to individualize the training program for his athletes and I knew I wasn't just another one in line."
While the school and the coach were a fit for Staines, he initially struggled to adjust to the academics and course load before enlisting the help of his coaches and teammates.
"At first, I didn't take advantage of the many academic resources offered. My coach and the academic support staff helped me get back on the right track and now I am doing much better. It's still hard though and I am lucky to have a lot of smart friends, too."
Though he may have had initial challenges with school, it was nothing like that on the track. After a successful freshman year qualifying for Division II nationals, Staines had an explosive sophomore year.
"I had just had my wisdom teeth pulled out so I didn't know what to expect from my first indoor meet that year. I ran 1:47.80 (800m) and I was over the moon!"
He would go on to run 1:46.5 at NCAA's in the same distance, become the DII champion that year and run 1:45.5 at the Music City Distance Carnival in Nashville soon after. With all this success, it is worth mentioning that Staines' impact was not limited to this continent. Staines is also a British Athletics record holder in the indoor 600m, with a time of 1:15.31.
"I'm proud of the achievement but it almost happened too fast to actually savour the success. I raced one [600m] for training purposes and just missed the record. After learning that I was only a quarter of a second off, I told my coach it was a goal of mine; we scratched and changed my next race plan and I broke the record the following week."
I mention his accolades and his record to highlight that despite all of these amazing individual achievements, Staines stays true to his team-first​ mentality.
"The men's DMR [Distance Medley Relay] is without a doubt my career highlight so far. We were 2nd [at NCAA DII nationals] two years in a row, both times we broke the meet record only to lose to teams (​Adams State,​ Western Oregon)​ who broke it by even more. In my junior year, with two seniors on the team, to finally achieve winning was incredible."
What advice does Thomas have for high school athletes aspiring to compete at the next level?
"Don't get caught up in the divisions; wherever it feels like you as an individual fits in best is where you should go. It is also worth noting that while the location is important, go somewhere where all other aspects of the college experience are good for you, too."
With the approval and support of his coaches at C​SU-Pueblo​, Staines is red-shirting this season to focus solely on the British championships to qualify for the Olympic Games in Tokyo and the European Championships in Paris.
"Trust in the process. It's cliché, but it's said a lot because it is true. You need to enjoy doing it because if you don't then there is no point."
Processing your application
There was an error sending the email, please try again
Great!
Check your inbox and click the link to confirm your subscription
Back to Homepage