Black History Month - A snapshot of Black history in track & field
Athletes have a lot to overcome. From rigorous training sessions to personal sacrifices, being an elite athlete requires an immense amount of both physical and mental strength.
Success in any sport is an incredible accomplishment. But in this post, we'd like to celebrate Black History Month with some of the firsts, wins and history-making moments from Black track and field athletes.
This list is missing many names, but we highlighted a few lesser-known stories, world-changing moments and some of our personal favourites in track and field.
---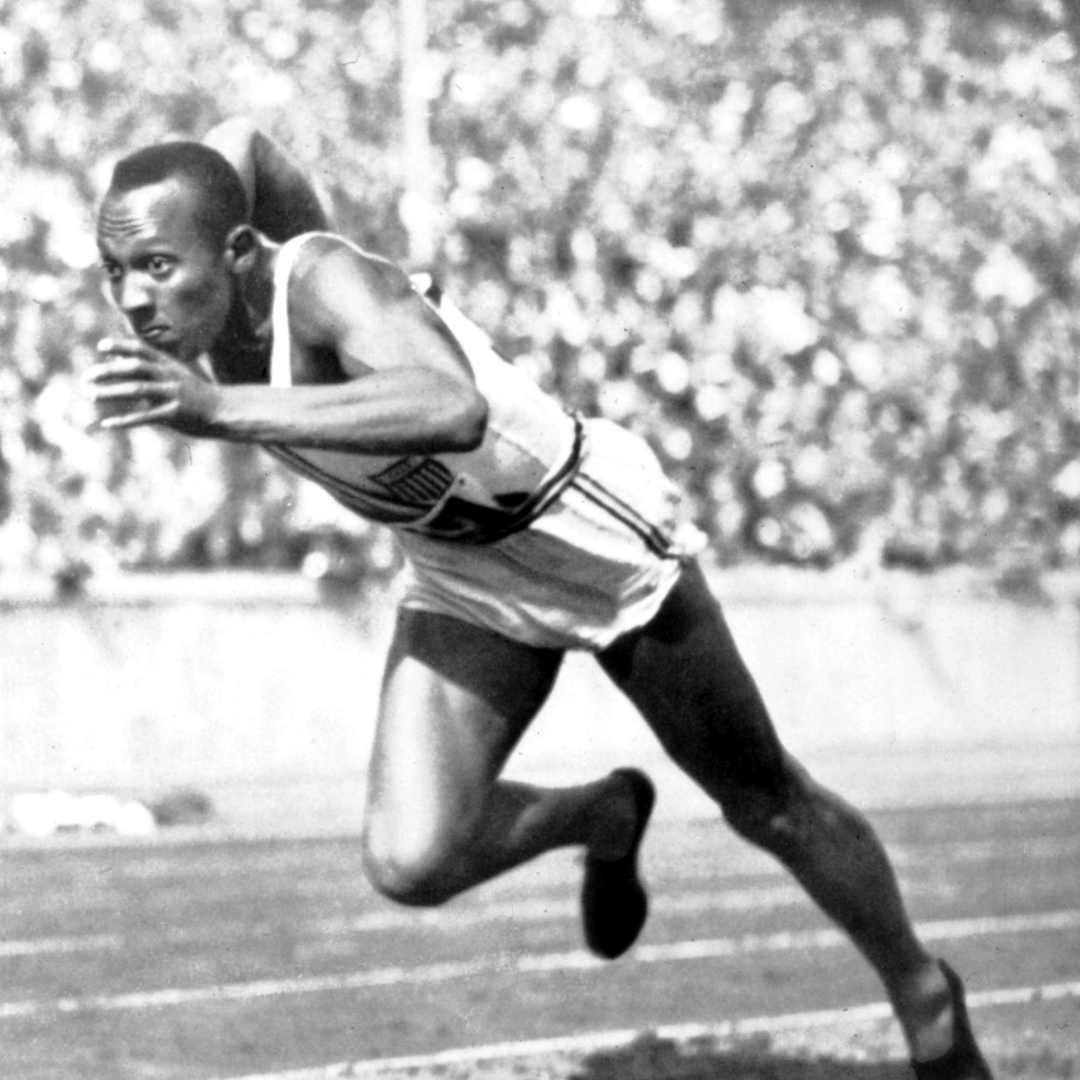 Jesse Owens
Jesse Owens is often remembered for winning 4 Gold medals at a single Olympic Games, Berlin 1936. He went home with a gold in the 100m, 200m, long jump and 4x100m relay.
During the '36 games, not only did he prove himself to be an immensely talented athlete, but he was also competing against the backdrop of a racially charged Nazi Germany. At this time, Hitler and his regime hoped to use the Berlin Olympics as an opportunity for their country to dominate. But Owens and his teammates commanded the Olympic stage, Black athletes from the US would return home with a total of 11 medals from the games.
Here's some more about the life of Jesse Owens:
He broke the 100-yard world record running 9.4 seconds at the National High School Championships in 1933.
He attended Ohio State University but did not receive a scholarship. Instead, he worked part-time, in addition to school and track. During his collegiate career, he won 8 NCAA Championship titles between 1935 and 1936.
At the 1935 Big Ten Championships, he set 4 world records on the same day: the long jump, 220-yard dash and 220-yard hurdles and equaled the 100-yard dash record.
When he returned to the US as an Olympic hero, he faced racial discrimination and struggled to find work and wasn't extended the typical invite Olympic medalists receive to meet the President.
In an effort to earn an income he decided to take up endorsement opportunities, but the US Olympic Committee wasn't happy, they removed him of his amateur status and one of the greatest athletes of all-time was banned from further competitions.
He would never return to the sport, but would return to Germany, travelling to Munich for the 1972 Summer Games as a special guest of the government. He also spent some time with Bowerman's US Olympic team.
---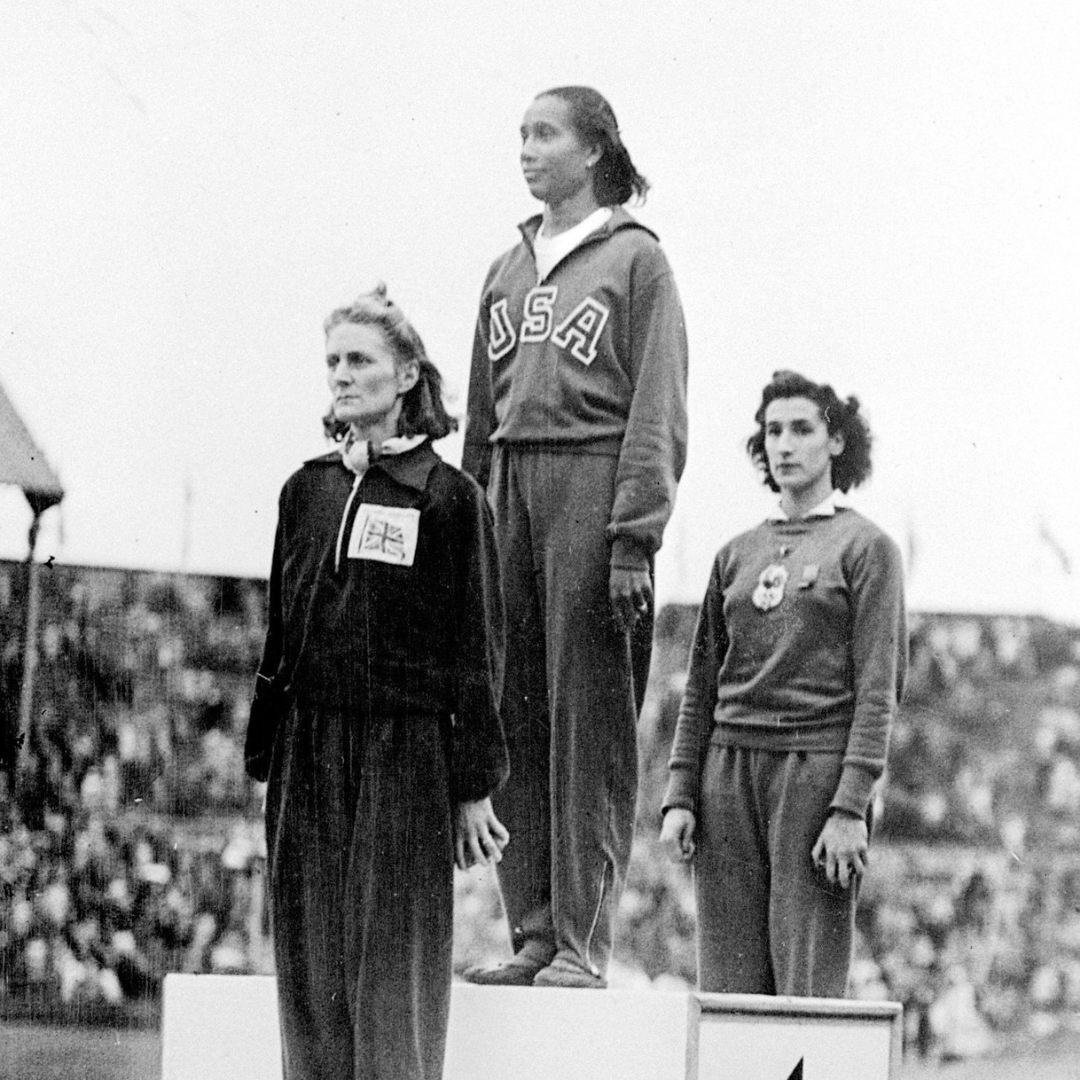 A game of firsts | 1948 Olympic Games
The first post-war games, the 1948 Olympics in London proved to be a history-making event for many reasons, but it was especially memorable for Black Women.
Audrey Patterson was the first Black woman to podium at an Olympic games. She won bronze in the 200m at the 1948 Olympics. This was also the first time the 200m distance was included for women in the games.
A few days later, Alice Coachman would become the first Black woman to win an Olympic gold medal, beating her competition in the high jump. Unlike Jesse Owens, she came home to a much warmer response and was honoured with parades in her home state of Georgia and in 1952, Coca-Cola chose her to become a spokesperson, making Coachman the first Black American to earn an endorsement deal.
Patterson also had a long-career in the sport after her Olympic win. In 1965, she founded a track club for girls aged 6-18, it quickly grew to a mixed club for girls and boys with over 125 young athletes, producing Olympic sprinters Jackie Thompson and Dennis Mitchel. She went on to manage the U.S. women's track team that toured the Soviet Union and Germany in 1969 and in 1982 she founded the Martin Luther King Freedom Run in San Diego.
---
Wilma Rudolph
In 1960, Wilma Rudolph became the first American woman to win three gold medals in track and field at a single Olympics.
She was a survivor. As a young child, Wilma battled polio and scarlet fever several times. Her illness meant she needed a leg brace and was told by doctors that she would never walk again. By age 11 she had defied the odds and began playing sports again. She was a talented athlete, an All-American basketball player in high school who would soon become the fastest woman in the world.
She was always regarded as an inspiration for athletes. Here's a personal favourite quote of hers:
"Winning is great, sure, but if you are really going to do something in life, the secret is learning how to lose. Nobody goes undefeated all the time. If you can pick up after a crushing defeat, and go on to win again, you are going to be a champion someday."
---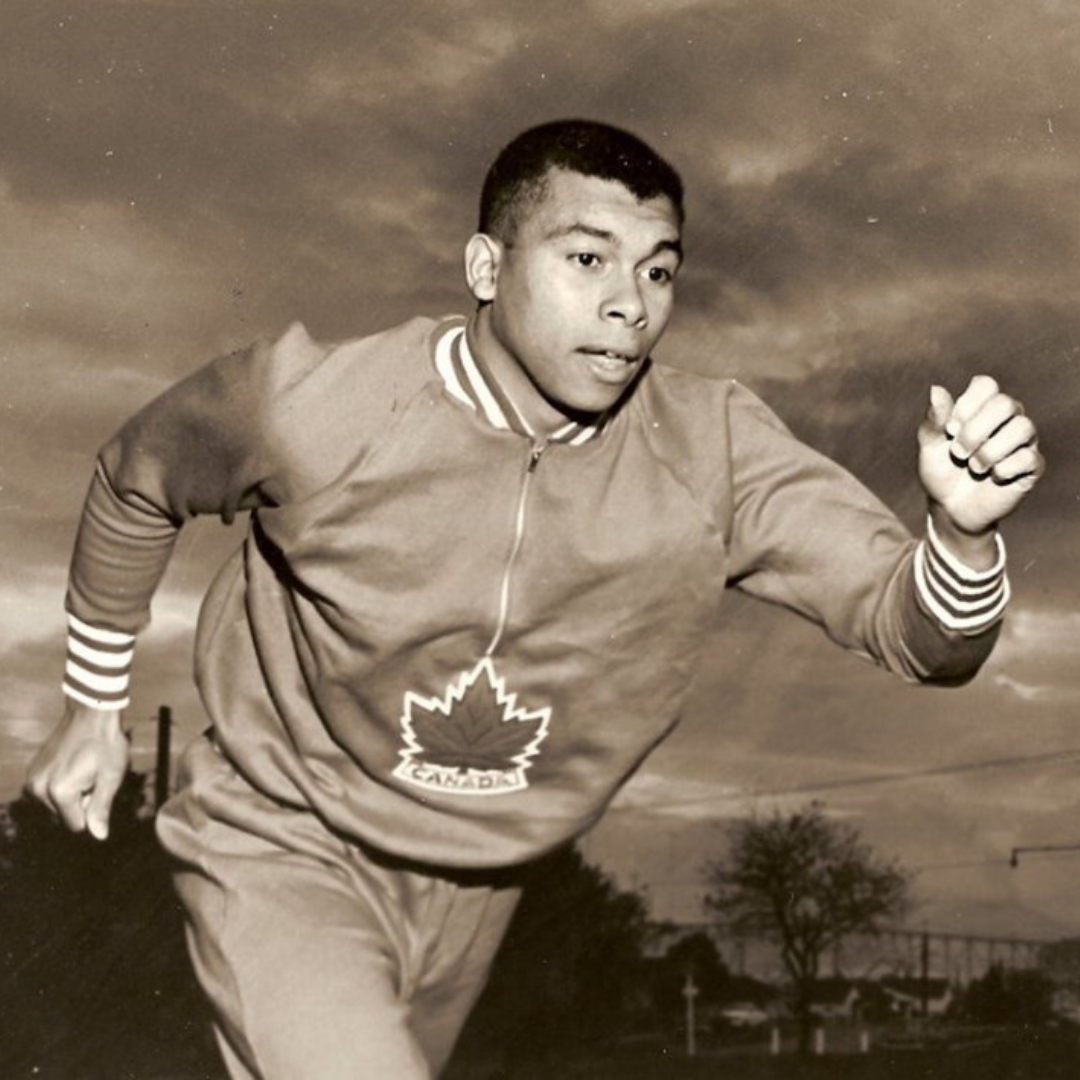 Harry Jerome
Jerome trained and competed under Bill Bowerman at Oregon and went on to become one of Canada's most successful athletes. During his career he set several world records, starting with running 10 seconds flat in the 100m, setting a new world record at the age of 19.
He had a disappointing start to his Olympic career in 1960, pulling a muscle in the 100m semi-final. Injury struck again as he ruptured a muscle in his thigh at the 1962 Commonwealth Games. Doctor's doubted he would be able to make a comeback but Jerome was about to prove everyone wrong.
He won the bronze medal in the 100m at the 1964 Olympics in Tokyo, set a new world record in the 100-yard dash two years later, then went on to win consecutive golds at the Commonwealth and Pan American Games the following years.
Beyond the track, Harry was an educator. He spent much of his time advocating for better youth training and facilities as he was passionate about promoting track and field to high school students. He travelled the country holding coaching clinics at schools across Canada.
He was awarded the Order of Canada in 1971, founded a sports awards program in 1975 that is still used today, he sat on the BC Human Rights Commission and spent much of his retirement advocating for equal representation in sports, media, and advertising.
---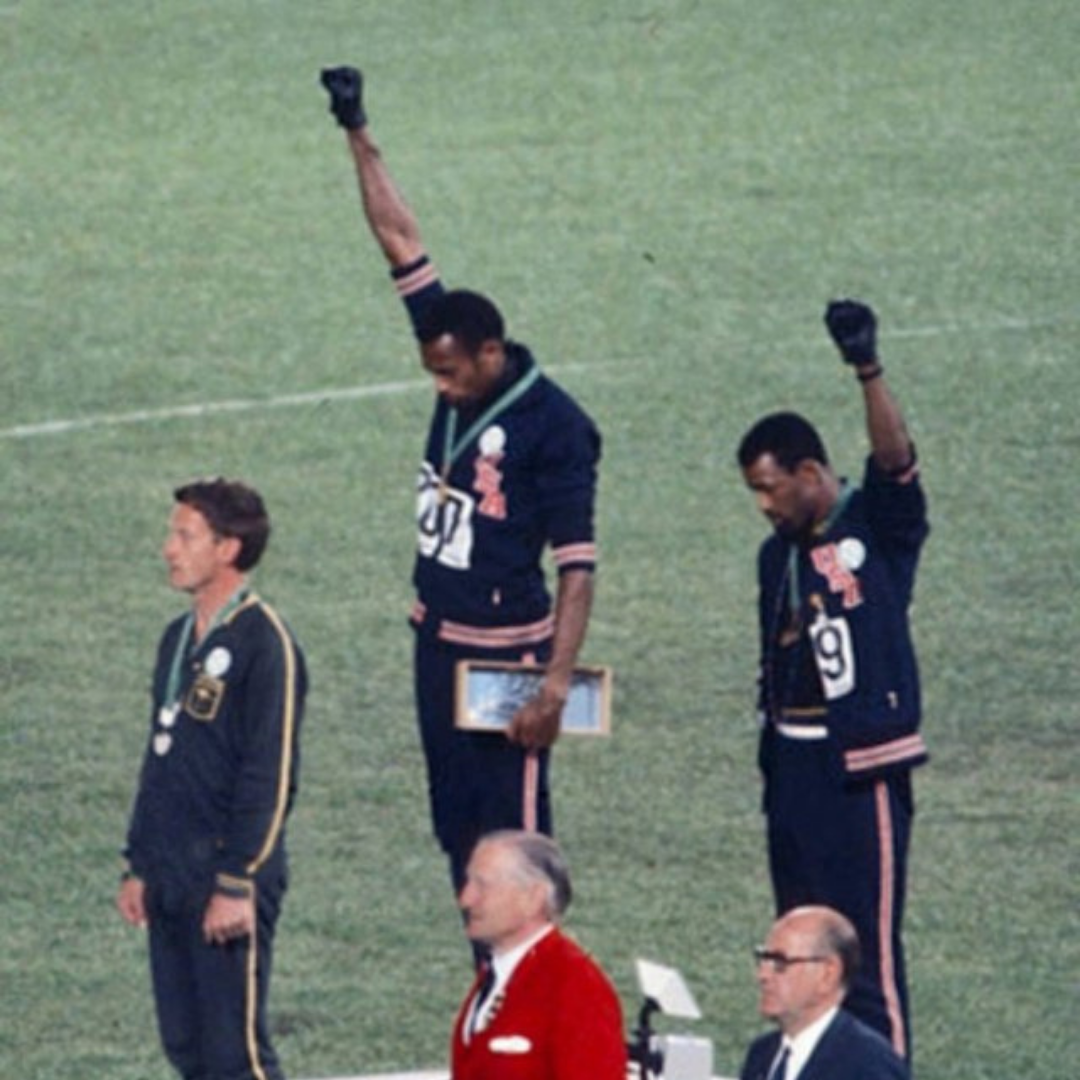 Protest on the Podium
Tommie Smith and John Carlos (Mexico City 1968) | Vincent Matthews and Wayne Collett (Munich 1972)
1968 - Mexico City
When Tommie Smith (gold) and John Carlos (bronze) received their medals for the 200m at the 1968 Olympic Games in Mexico City, they each raised a black-gloved first during the US national anthem, a protest during a deeply divided time of the Vietnam War, the civil rights movement and the assassinations of Martin Luther King Jr. and Robert F. Kennedy . All three athletes on the podium, Smith, Carlos and Australian Norman would each wear a human-rights pin on their jacket.
As they left the podium they were booed by the crowd. Shortly after Smith said:
"If I win, I am American, not a black American. But if I did something bad, then they would say I am a Negro. We are black and we are proud of being black. Black America will understand what we did tonight."
Unfortunately the aftermath of this protest echoed a story similar to Jesse Owens. Both Smith and Carlos were heavily criticized. They were expelled from the games by the IOC, they were largely shunned by the US athletic community, their families received death threats and an ESPN reporter would describe them as "a couple of black-skinned stormtroopers" who were "ignoble," "juvenile," and "unimaginative."
Both men would go on to pursue successful careers in the NFL, and the protest has since been acknowledged and memorialized as one of the most powerful moments of the past century. Here's a quote from IOC committee member Akaash Maharaj (2011):
"In that moment, Tommie Smith, Peter Norman, and John Carlos became the living embodiments of Olympic idealism. Ever since, they have been inspirations to generations of athletes like myself, who can only aspire to their example of putting principle before personal interest. It was their misfortune to be far greater human beings than the leaders of the IOC of the day."
1972 - Munich
Four years later Vince Matthews and Wayne Collet would earn gold and silver medals in the 400m, when the national anthem played both stood on the top of the podium and stood casually, refusing to show the anthem the respect they didn't get in return from their country. It was received much the same as the '68 protest and both athletes were quickly dismissed from the games by the IOC.
US Olympic coach Bill Bowerman, alongside Jesse Owens, would later convince the IOC to reverse their decision but the US Olympic Committee would not. The athletes would not return and Bowerman's heavily favoured men's 4x400m relay team would never make it onto the track. This is a lesser known story than the '68 protest, but arguably an equally important moment in history.
---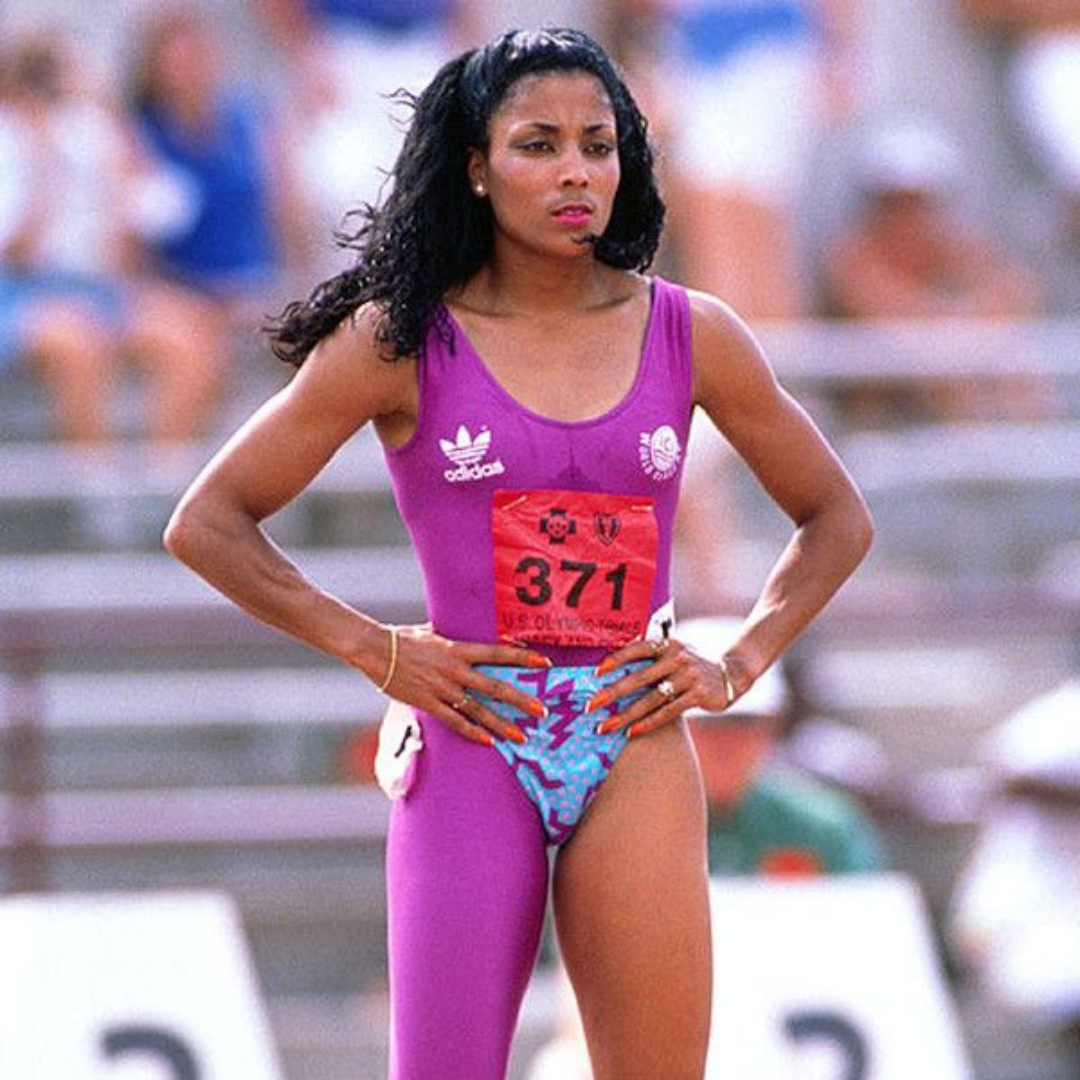 Florence Griffith-Joyner a.k.a Flo-Jo
The fastest woman of all time, Flo-Jo's 100m (10.49) and 200m (21.34) world records set in 1988 still stand.
Her Olympic career began in her hometown of Los Angeles in 1984, where she won a silver medal in the 200m. She returned to the Olympic stage in 1988, this is where she would solidify her legacy. In the '88 Olympic trials, she ran 10.49 in the 100m setting a new world record. At the Olympic Games later that year in Seoul she won the 100m final in 10.54, broke the 200m world record in the semifinals, then broke it again in the final with a time of 21.34. She closed out the games with a gold medal in the 4x100m and a silver in the 4x400m.
Not only was Flo Jo the fastest woman on the track, but she was also the most stylish. Her hair, nails and race looks were almost as highly anticipated as her performances. To this day the likes of Beyonce and Serena Williams continue to recreate her iconic asymmetrical race suits.  
---
Carl Lewis
In a career that spanned almost 20 years, Carl Lewis won nine Olympic golds, one silver and 8 World Championship golds, competing in the 100m, 200m, 4x100m and the long jump.
Lewis competed in four consecutive Olympic games (1984, 1988, 1992 and 1996), taking home the gold in the long jump on all four occasions. The 1984 games in Los Angeles would be a clean sweep in the 100m, 200m, 4x100m and long jump, matching Jesse Owens' legendary performance by winning 4 golds in a single Olympics.  
---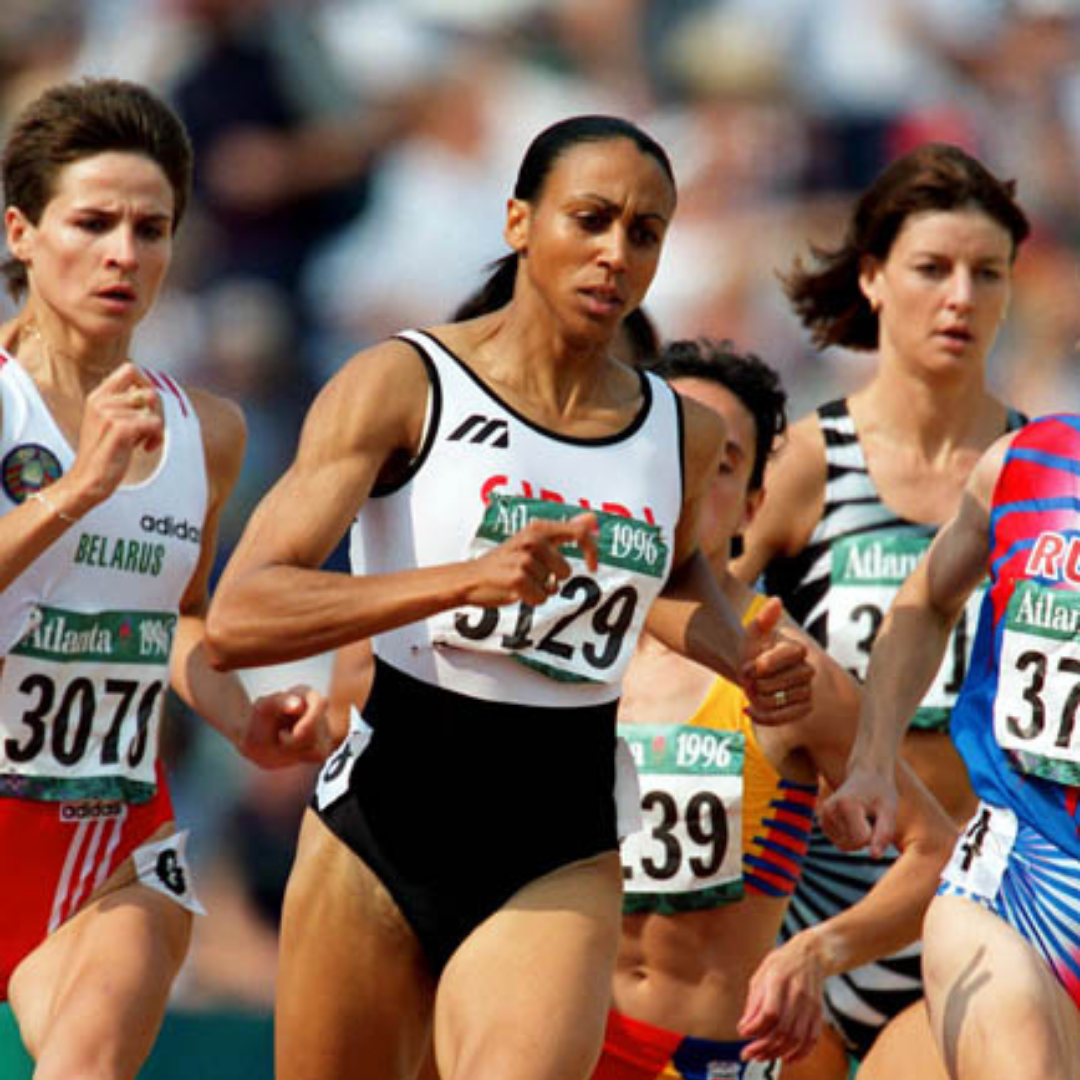 Charmaine Crooks
Charmaine Crooks started running competitively at age 16 and made the Olympic team the next year. However, her Olympic debut would be put on hold after the 1980 Moscow games were boycotted by both the US and Canada.
She made her mark four years later in Los Angeles, bringing home a silver medal and a new Canadian record in the 4x400m relay. She would close out her career as a five-time Olympian.
Beyond the Olympics, Charmaine's athletic career includes multiple World Cup, Commonwealth and Pan Am Games podium finishes,  in a career that spanned more than a decade. Crooks was the first Canadian woman to go sub-two minutes in the 800m event and is an 11-time National Champion across both the 400m and 800m.
Off the track, Charmaine was and continues to be a leader. Here are just some of her impressive contributions to the sport:
Elected to the International Olympic Committee Athletes Commission in 1996 and from 2000 - 2004, she was a voting member of the IOC Ethics Committee and served on the Executive Board of the World Anti-Doping Agency.
In 2001 she became director of international relations with the Canadian Olympic Committee appointed to the organizing board for the 2001 World Athletics Championships.
In 2006 she received the IOC Women in Sport Award for her dedicated service.
She was one of the Vancouver 2010 Winter Olympic bid team members and was one of 20 directors of the Vancouver 2010 Olympic and Paralympic Winter Games Organizing Committee.
In 2013 she was awarded the Order of Canada for her contribution to sport. It is one of the highest honors and distinctions that a civilian can receive in Canada.
Most recently she was appointed acting vice-president of Canada Soccer's Board of Directors becoming the first woman and first person of colour to take on this role.
---
Phylicia George
Canadian Olympic track and field athlete and bobsledder. That's right, bobsledder.
Phylicia George is a two-time Olympic hurdler. In her Olympic debut in London she narrowly missed the podium, placing 5th in the 100m hurdles. After the 2016 Olympics in Rio, she received an unexpected message asking her to join the Canadian women's bobsled team. Just two weeks after she competed at the 2017 IAAF World Championships she began her bobsled training.
After some gruelling training Phylicia George was named in the 2018 Canadian Winter Olympics team in the two-woman bobsled, she went on to win a Bronze medal.
By the summer of 2018 she was back on the track at the NACAC Championships in Toronto, securing a bronze medal in the 4x100m, then returning to hurdles in 2019. While she's yet to podium in a Summer Olympic games, she joins a select group of just 136 athletes that are dual season Olympians. If she comes home from Tokyo with a medal, she will join a group of just 5 athletes that have competed and won medals in both games.  
---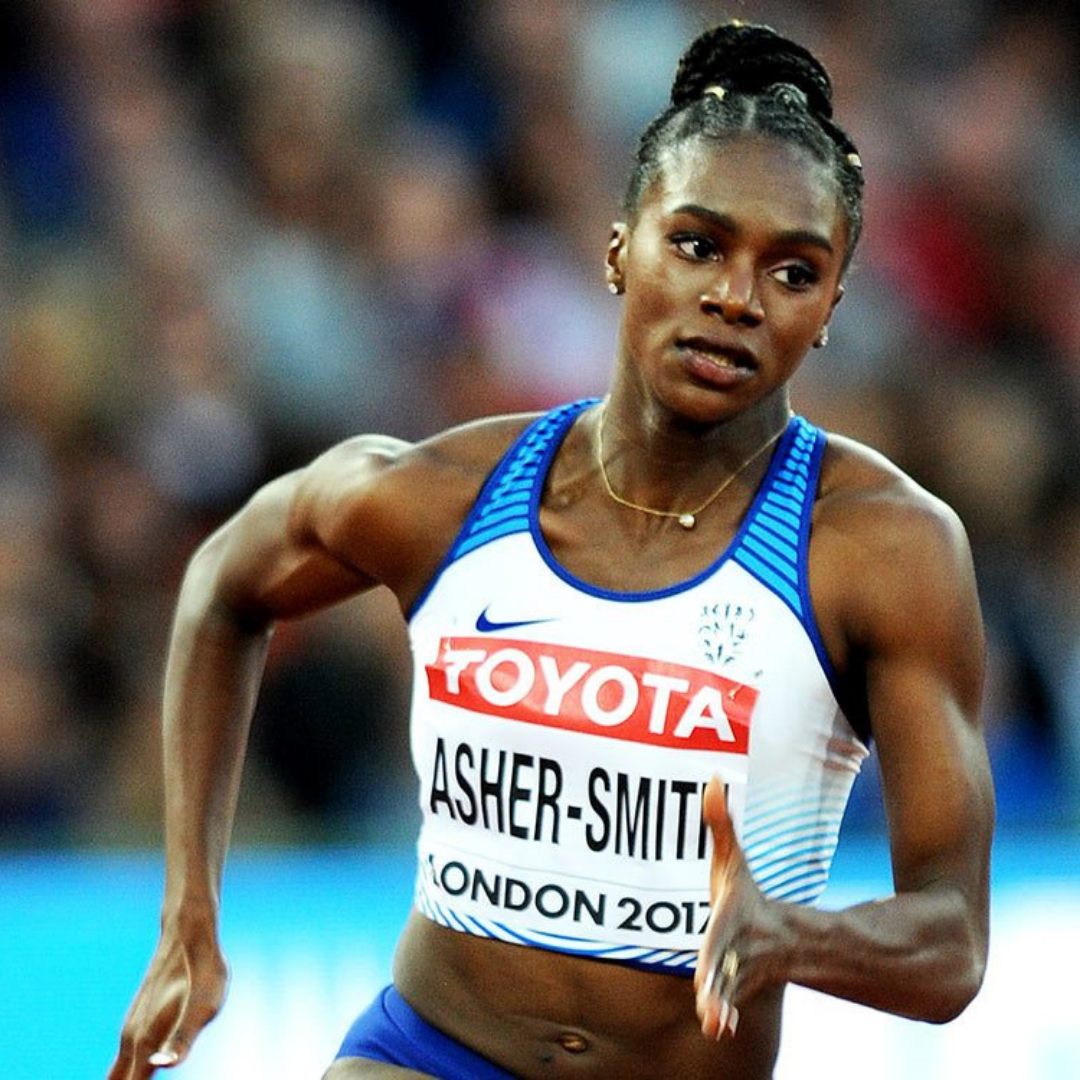 Dina Asher-Smith
One of the most exciting athletes in track and field today, Team GB sprinter Asher-Smith is the fastest woman in British history and has several national, Commonwealth, European and World titles to her name, including the British records in the 100 and 200 metres, with 10.83 (2019) and 21.88 (2019).
Dina doesn't slow down off the track either, she is an incredible example of an athlete and woman that refuses to settle for less. Here are just a few of her accomplishments:
In 2014 she was accepted to study history at King College London, a prestigious academic school ranked 35th in the world. She continued to train and compete at both junior and pro levels while studying.
She's an outspoken advocate for mental heath and body positivity, crediting much of her success to both mental and physical strength.
In 2020 she became the inspiration for Barbie's latest "Shero'', and was recreated in an athletic Barbie doll with the mission of inspiring limitless potential in young girls. The impact of the campaign in her own words:
"When I was growing up there weren't many dolls that looked like me full stop, let alone one that represented what I wanted to be without compromising musculature and small features of self expression. This may seem quite small but positively showcasing accurate images of sports women is so important. It has the potential to shape young people's perception of us, sport and as a result themselves and their own futures."
---
Track & Field Today
While many of the history-making moments described above were decades ago, we cannot close out this post without acknowledging the fact that far too often the Black community and POC still experience racism.
It's true that athlete participation can no longer be restricted based on your race and explicit acts of racism are not accepted in society or sport. But as we see again and again, systemic racism is something that the Black community and POC have to live with on a day-to-day basis.
In our sport that often means that:
Countless Black athletes can recount early childhood memories of racism in sport.
Black athletes often still experience racism in the sport.
Black athletes often recount their experiences of being profiled in their day-to-day life.
Brands have often failed to support Black athletes with the same level of opportunity given to their peers.
Huge strides have been made since the civil rights era. But to have come this far, and still have to say that Black people and POC are not afforded the same rights, treatment and respect as others is unacceptable.
In our society, we can do better. Within our sport, we can do better.
Black History Month gives us space to celebrate  the successes and educate each other on the impacts and injustices Black people have and continue to experience. While the month comes to a close, let this be the beginning of something greater and something better. A better world for Black people means a better world for the rest of us.
---
There are some incredible individuals and organizations that are doing great work, so we'd like to share some articles and resources that we recommend checking out:
Do you have some more resources, articles, interviews, or people that you love and think we should highlight? Let us know!
Processing your application
There was an error sending the email, please try again
Great!
Check your inbox and click the link to confirm your subscription
Back to Homepage