Success stories: Colorado State University Pueblo
---
The Goal
The CSU-Pueblo ThunderWolves track and field/XC programs are usually situated near the top of their conference in the NCAA D-II year over year. They are a highly competitive program pushing for national championships every year - and with that, they need a steady influx of top athletes coming into their program domestically and internationally.
Their goal is to create a focused and effective recruitment process that allows them to consistently recruit the top athletes in North America and abroad - even when competition for these athletes is high.
About Colorado State University Pueblo
Colorado State University Pueblo was founded in 1933 and is located in the historic and culturally diverse Pueblo, Colorado that is only 100 miles south of Denver. There are a variety of courses and degrees offered in 7 different schools: College of Education, Engineering & Professional Studies (CEEPS), College of Humanities & Social Sciences (CHASS), College of Science & Mathematics (CSM), Hasan School of Business (HSB), School of Nursing, Division of Extended Studies and CSU-Pueblo Online. With a student to faculty ratio of 15:1 and an average class size of 16, CSU-Pueblo is a smaller school with an intimate classroom setting and an emphasis on the student community.

Head Coach Matt Morris leads both the men's and women's track & field & XC teams who compete in the NCAA D-II Rocky Mountain Athletic Conference (RMAC).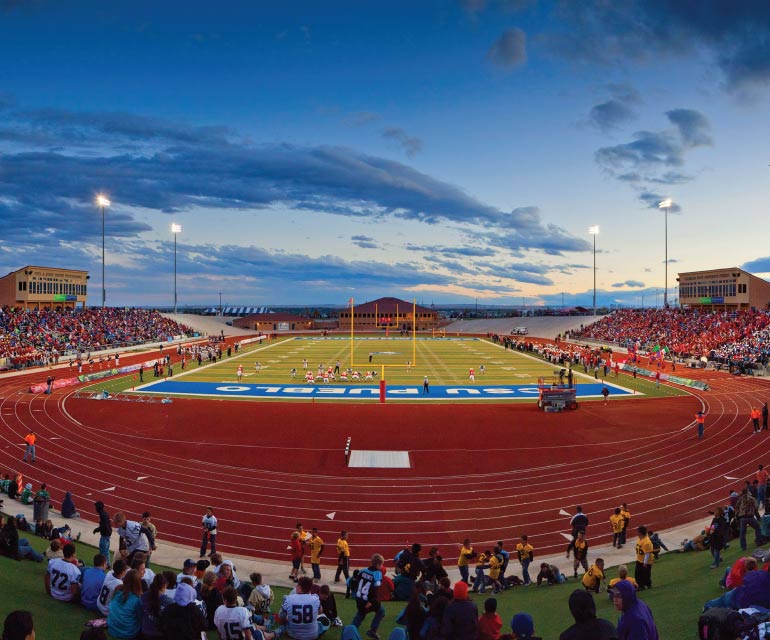 The Challenge
There are a handful of challenges Matt Morris and his program experience that are a result of their great positioning within the division.
Competing with high-performing D-I programs for their athletes. CSU is a contender for the national DII championship and to uphold their level of compete, they need to recruit top level athletes who also have their sites on NCAA D-I programs.
They cast a wide net with recruitment, often signing athletes in the US, Canada, and Europe. Recruiting international athletes has a high risk and cost factor - missing on such an athlete can set a program back. Coach Morris wants to be confident an international athlete will sign when so much time and money is involved.
Relying on recruitment services that send a high-volume of athletes without much thought on their fit. Many athletes sent by these services wouldn't necessarily be interested in CSU Pueblo, and would wait out on decisions from larger D-I programs before making commitments to a school of CSU's size - resulting in a drawn-out, inefficient recruitment process.

The Solution
Coach Morris had been frustrated with the other recruitment services he was using for sometime before connecting with us earlier in 2020 - where he quickly realized the value of the Streamline Athletes approach to recruitment.
The goal was to reduce the amount of athlete conversations Coach Morris has while increasing the quality - making sure each conversation had a high probability of resulting in a commitment.

How would we do this?
Have a transparent and detailed conversation to have a comprehensive understanding of their needs, goals, roadblocks.
Connect Coach Morris with athletes that meet his program's needs, but more importantly have an understanding of his program and a genuine interest in attending CSU-Pueblo.
Provide access to the Streamline Athletes platform and database of athletes so Morris and his staff can search, scout, filter and manage PSA's.
The Impact
The Streamline Athletes' process has enabled CSU-Pueblo to maximize their recruiting efforts and secure both domestic and international recruits year after year. By the time Coach Morris gets on the calls with athletes, there's already significant interest in attending the school. The access to international recruits help generate buzz in Europe and abroad, making CSU Pueblo top of mind when athletes are looking at North American schools.
The Streamline Athletes Advantage
Prioritizing the goals of the CSU-Pueblo program and how the athletes meet those needs - and vice versa - before facilitating contact between coach and athlete helped solve some of Coach Morris' challenges. According to Coach Matt and Coach Flynn, these were the primary benefits of recruiting with Streamline Athletes:
We are able to ensure there is mutual interest going into the conversation. This mutual interest greatly reduced the risk of recruiting an international athlete. Providing Coach Morris with the confidence that the athlete will be impactful and is committed to staying with the program, rather than transferring to a D-I program a year down the road.
As the name suggests, the Streamline Athletes recruitment process can work quickly. We emphasize connecting coaches to verified and qualified athletes, who have expressed interest in their program. That way once we connect the coach and athlete the bulk of the work has already been done, expediting the conversation.
An improved prospect:commit ratio. The Streamline Athletes platform drives quality conversations over a high volume of conversations - we want to ensure the highest-probability of signing with each contact made. This is one of the reasons Coach Morris was able to sign two top international athletes in less than a month.
The tools at Coach Morris' disposal as a partner of Streamline Athletes have already proven their worth, tackling some of the major recruitment challenges his program was facing. It's safe to say we're excited to see what's in store for the ThunderWolves.
Recruit like Colorado State University-Pueblo
With a little help from Streamline Athletes, Colorado State University Pueblo was able to fill some important roster spots.
We know that recruiting athletes can be hard, and as the only track and field/XC specific platform, we aim to make it easier.
---
Talk to a recruitment expert today.

Processing your application
There was an error sending the email, please try again
Great!
Check your inbox and click the link to confirm your subscription
Back to Homepage