What does NIL mean for track and field/XC athletes?
As many people in track and field and cross country know, on average it is not the most lucrative sport. It's a sport that does not see the funding or viewership that is seen in football, basketball, volleyball, and baseball/softball and often does not get much recognition from those outside of the sport with the exception of international events. NIL was brought in not only as a way to empower student-athletes and allow them to make money while in school but as a way to level the playing field amongst all student-athletes.
When the NCAA implemented the rules and regulations around NIL, which include not allowing athletes to use their school logos to benefit them in any NIL deals it helped track and field athletes to take advantage and be amongst the most represented sports within the first year of NIL being active. These rules level the playing field for track and field and cross country athletes competing at elite athletics schools that don't necessarily have the national draw, prestige, or attention that some larger schools benefit from. Therefore, amplifying the importance for athletes to maintain their social media presence and ensure that what they publish on social media is something that brands would want to associate themselves with. As reported by On3, over 67% of NIL deals done over the first year had a social media presence to them. Whether that included multiple posts on various social media platforms, a story on Instagram, or a collaborative post of sorts.
What does all of this mean for track and field athletes?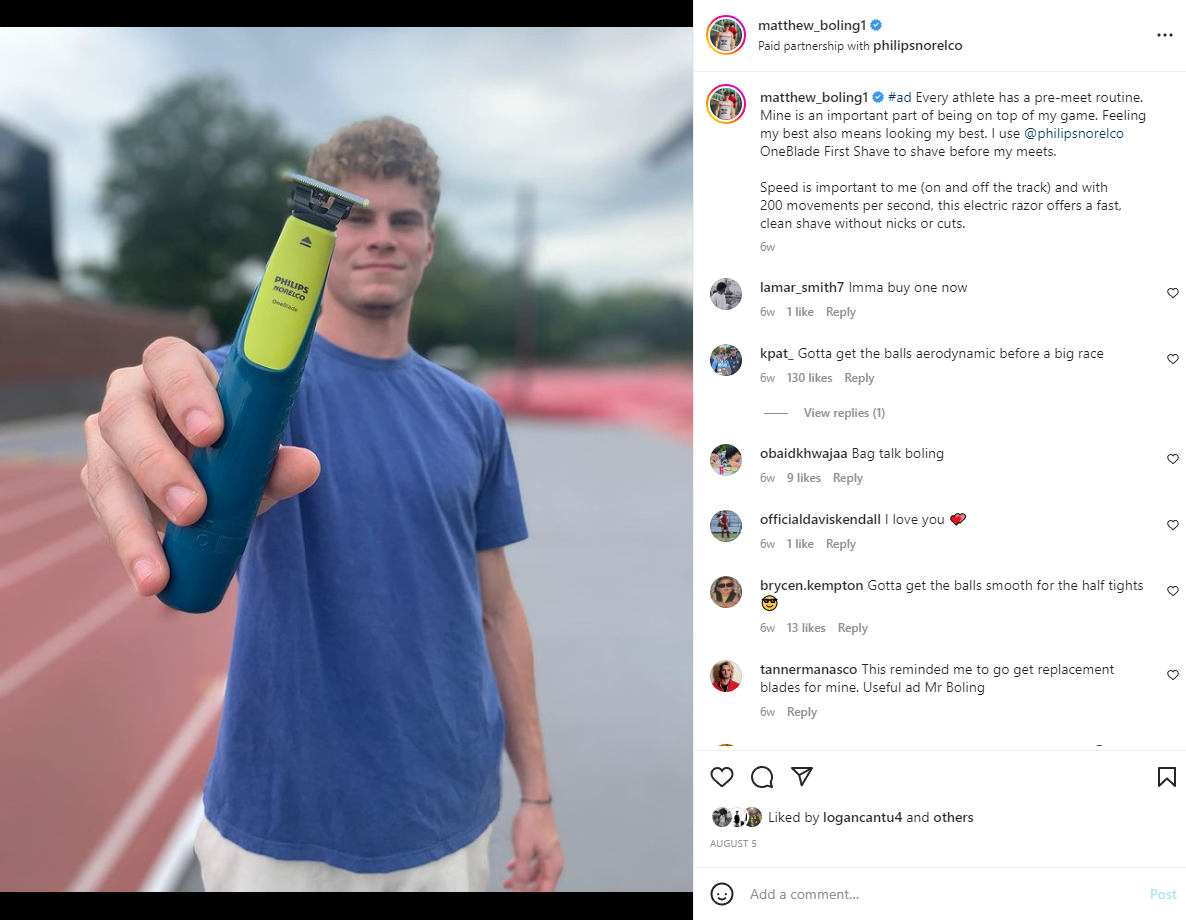 Put some time and care into social media and what your social presence represents. You should figure out what brands you want to work with and what those brands represent. The way to be successful in NIL is to align yourself with brands that not only have a positive image but also align with your values and what your own personal brand is. Approach these deals knowing that you and that brand will be partners for a period of time. If you grow, your value to the brand will grow and vice-versa. In the NIL space, quality work will be rewarded and if a brand enjoys working with you you can strengthen that relationship, which will lead to recurring and/or larger agreements.
A key piece for student-athletes to understand is that NIL is a space where creativity and how you present yourself is rewarded, especially when you use a two-way NIL marketplace like Matchpoint Connection. What a platform like Matchpoint Connection does is allow student-athletes to pitch their collaborative ideas to brands rather than waiting for brands to come to them, thus allowing track and field athletes to show brands that they want to put the work in and show initiative.
Learn more about our partnership with Matchpoint →
There was $917 million generated in NIL deals last year, $20.17 million of which went to track and field/cross country student-athletes. The way to pick up a larger portion of the NIL money is by showing brands you want to work with them and are excited to not only help yourself but help their brands grow as well.
The playing field has been relatively leveled by NIL and has placed a more considerable emphasis on what your personal brand is. For track and field and cross country athletes, this means being authentic and creative on social media, engaging with people, and growing your network. Ask yourself what you stand for and who you want to associate with, and put 100% into every deal signed.
Note: NIL deals are not reserved to NCAA athletes only. Athletes in the NAIA, JUCO, and USPORTS are free to sign endorsement deals.
---

Processing your application
There was an error sending the email, please try again
Great!
Check your inbox and click the link to confirm your subscription
Back to Homepage