The Western Mustangs: A storied track and field program under stalwart leadership
The University of Western Ontario, also known as Western University or simply "Western", is located in London, Ontario and is home to a successful track and field/cross country program across all event groups. Competing in the OUA (Ontario University Athletics) conference, the Western Mustangs contend for U SPORTS championship titles each year. In her 31st year with the program, head coach Vickie Croley has played an instrumental role in guiding the Mustangs to its current status over the years. She is set to be inducted into the Athletics Ontario Hall of Fame for her coaching accomplishments this year.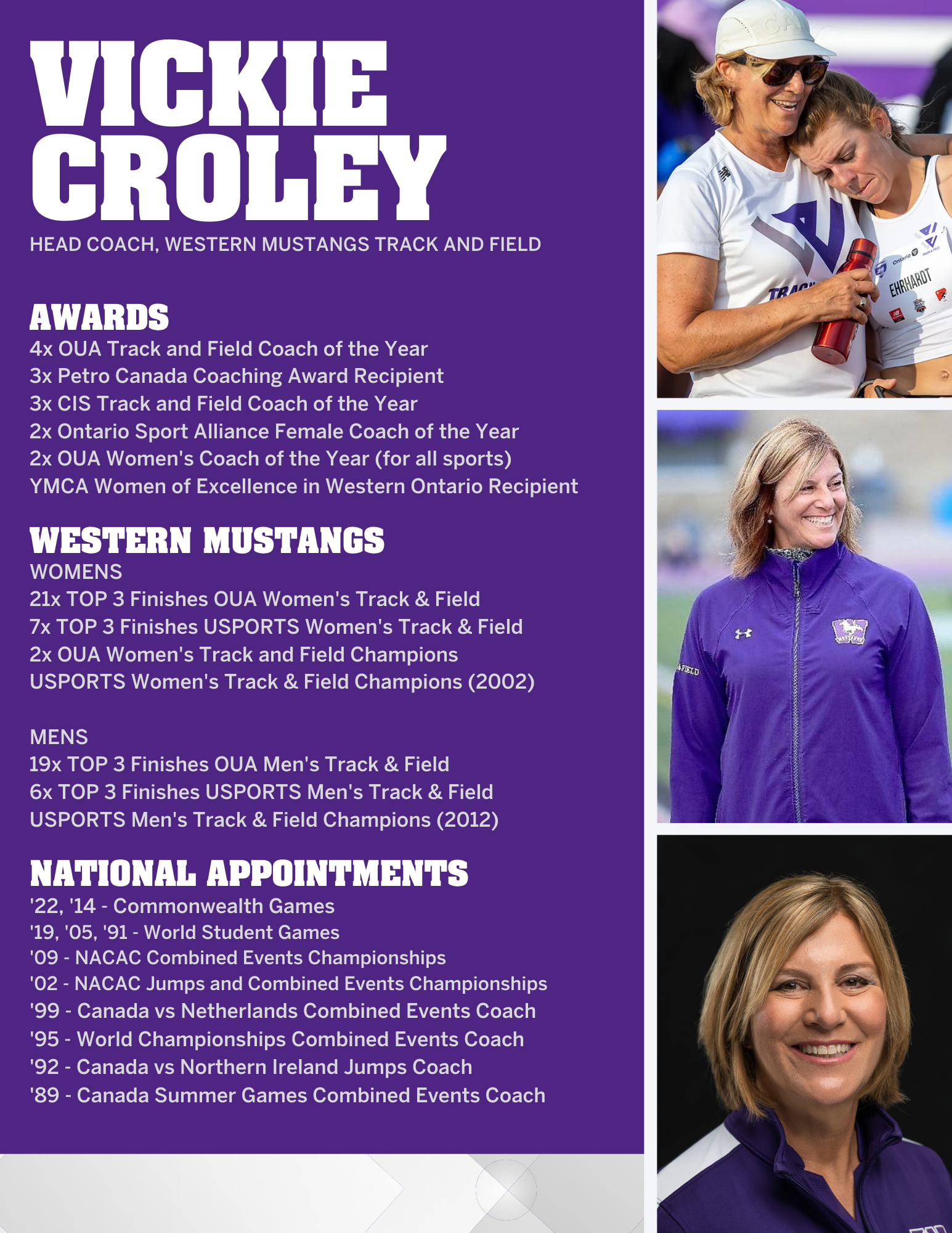 Western is home to a 200-meter indoor track at the Thompson Arena and Athletic Centre as well as a full 400-meter outdoor track at TD Stadium, which were respectively resurfaced in 2019 and 2020. The Thames River runs through campus and a variety of local parks and running trails are nearby. A large staff of assistant coaches works with various event groups to support the competitive roster, currently sitting at around 70 to 80 student-athletes. While working towards U SPORTS banners, athletes on the Western team also attend one of Canada's best academic institutions, consisting of Kings University College, Huron University College, and Brescia University College.
Currently, the distance runners at Western, coached by Guy Schultz, are at the forefront, with the championship season in full swing for the cross country athletes. Late last month, the women's team turned in a dominating performance at the OUA Championship meet, earning the team's first victory in over 20 years. Both the men and the women looked strong at the U SPORTS Cross Country Championships as well, which was held November 12th at home in London. The women earned a team silver medal with Erika Jordan landing on the podium in 3rd place individually, while the men finished 8th.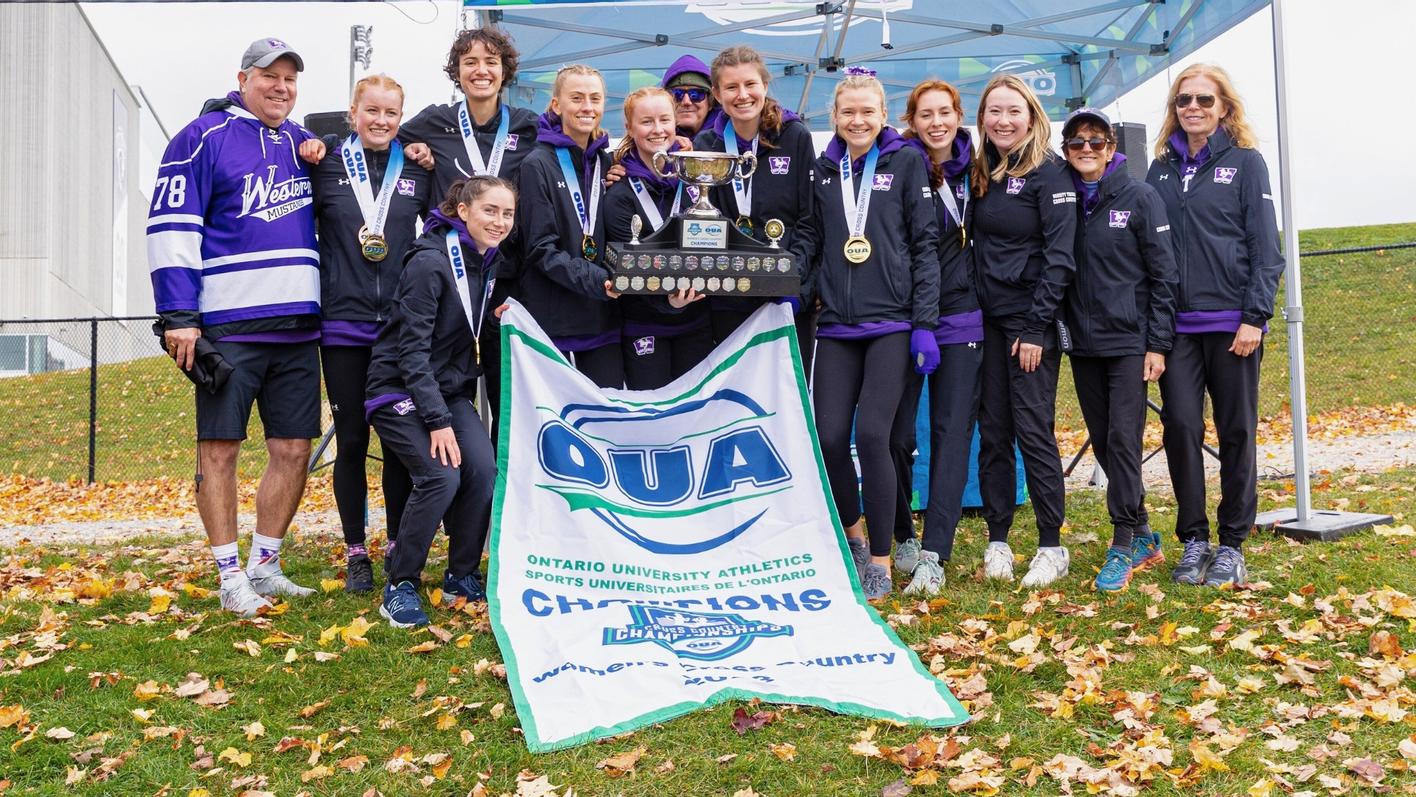 In March of this year, the women's track and field team finished runner-up, scoring across 11 different events, while the men finished fourth. Individual medalists for the men included Kenneth West in the men's triple jump, winning and setting a U SPORTS meet record, and Jared Hendricks-Polack, who took the title in the decathlon. On the women's side, Sophie Coutts was runner-up in the 3000m, alongside bronze medals from Ayasha Horner in the triple jump, Liv Sands in the shot put, and Margarita Belova in the weight throw. Many of the track and field athletes are currently deep in fall training but look forward to competing in the winter and spring months.
The Mustangs' success is built on a strong team culture, where student-athletes buy into a "we over me" philosophy emphasizing collective goals. This approach often leads to impressive results across the board. Western holds a team-building day each year for student-athletes where the athletes themselves discuss the values the team will operate by and how they will implement these values in training and competition. Core values that stay consistent year after year include trust and belief in the program, respect for other athletes, competitors, and officials, and pride in representing the Mustangs. Recruits aligned with these values will fit in well with the program. Coach Croley points to her athletes' high character off the track. Captains on the team are expected to take their leadership role seriously; one example is coordinating work with Indigenous children on a track and field day this past year.
Croley started at Western in 1993 as head coach of the women's track and field team and has seen her role shift and expand ever since. At the time, she was one of "maybe five" female head coaches in the entire U SPORTS system. Coach Croley is part of a strong legacy of female coaches, starting out under the tutelage of Sue Wise, whom she called a "fantastic role model"  during her time at McMaster University. An injury led Croley to transition from competing athletically under Wise to learning the ropes as an assistant coach. Wise herself had also been guided by female coaches when she competed, creating a precedent of strong female leadership. When Wise left McMaster for York University, Croley followed her, acting as interim head coach at only 26 years old while Wise took maternity leave.
The examples she had before her meant that Croley "never really saw [gender] as a roadblock." However, balancing family life with the rigorous schedule of full-time coaching presented challenges at times. Coach Croley took a short leave from her position at Western, fully supported by the university, after her then-ten-year-old daughter pointed out that she'd missed "everyone's birthday that year, including her own." When she returned, she fully embraced the position once more, but was a bit more mindful of taking on additional commitments such as coaching national teams. Her time away was certainly productive, though – she obtained her Level 4 coaching certification during the leave.

In general, Canadian policies on parental leave are much more generous than in the United States, perhaps making it easier for coaches in the U SPORTS system with families to balance dual responsibilities than those in the NCAA system. Policies and institutions have also become more flexible with time. Croley said that in the early '90s, Wise was not allowed to bring her baby to university practices, a policy that today would seem unreasonably rigid.
In addition to coaching the university athletes at Western, Croley also oversees a small group of post-collegiate athletes, including Damian Warner, a three-time Canadian Olympian who brought home decathlon gold from the Tokyo Games. Currently, she works with Warner primarily on the short hurdles, but she supervised more of his training in the past, dating back to 2010. Other athletes in this group include post-collegiate decathletes and triple jumper Caroline Ehrhardt, who set the Canadian record earlier this year and also works as an assistant coach for the Mustangs. Cross country Coach Schultz likewise coaches athletes looking to continue their competitive journey after college. Having such high-level athletes around the collegians creates a mutually beneficial situation, showing student-athletes the next level of athletics.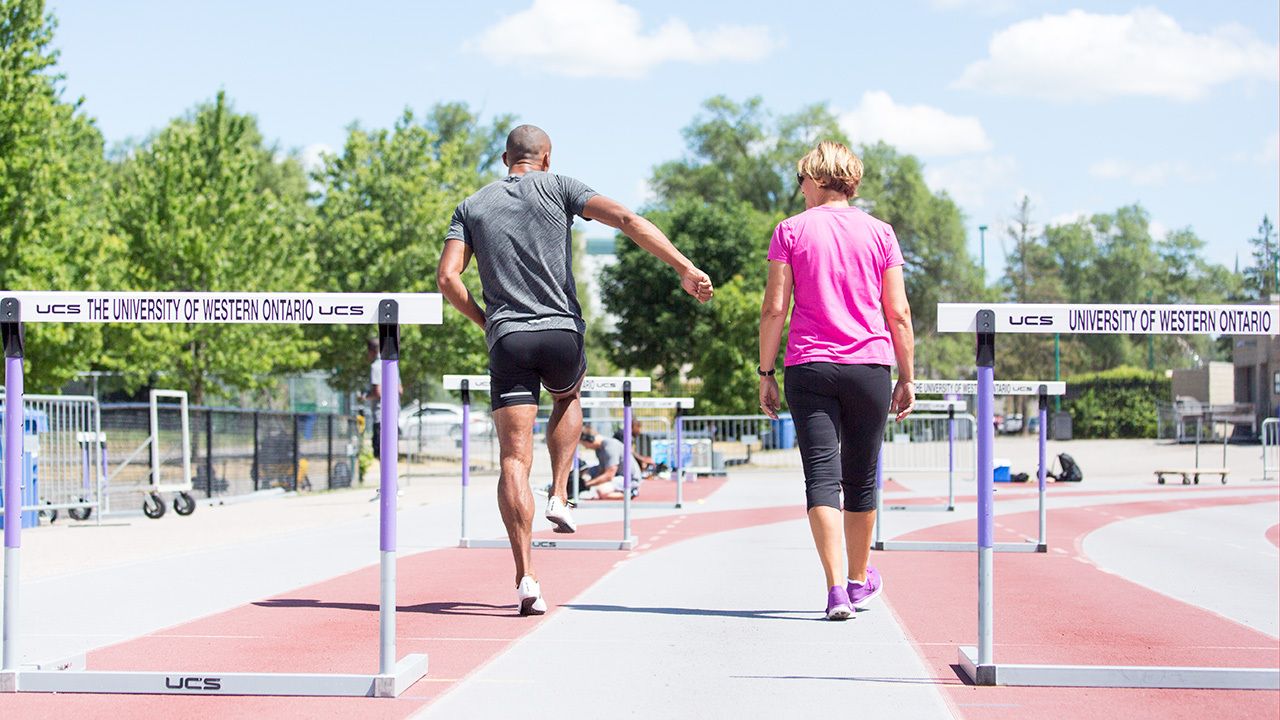 Whether they choose to continue their athletic careers or go into the workforce, student-athletes leave Western well-prepared. Student loans are unlikely to be a major burden, as tuition for most programs sits around $8000 Canadian per year for all Canadian students. Scholarships are also available on top of this affordable base rate.
The Mustangs hosted the U SPORTS Cross Country Championships this past weekend, where Western finished in second on the women's side led by a third place finish from Erika Jordan. On the men's side, Western took eighth overall. The UBC Thunderbirds were double-banner champs, winning both the men's and women's team titles.
Now, Croley and the Mustangs begin a build towards a long track campaign.
Western University track and field/cross country recruitment and scholarships
Coach Croley and her coaching staff at Western University are seeking immediate difference-makers who can step into the roster and help the Mustangs win conference and national championships. Earning a roster spot with Western's varsity track and field/cross country program is very difficult for high school student-athletes.
Scholarships are also limited in Canada compared to the United States, but since tuition is significantly lower at Canadian institutions, the overall cost can be much lower than many American colleges, even without a scholarship in Canada and with one in the US.

If you're a top high school track and field athlete who could be a difference-maker for Western, get in touch with Vickie via Streamline Athletes - make sure you have an account and a complete profile, then contact Western using the Streamline Athletes app (upgrade to Plus to contact an unlimited number of coaches).

Processing your application
There was an error sending the email, please try again
Great!
Check your inbox and click the link to confirm your subscription
Back to Homepage